It is time for shrimp, and today we are making Fried Shrimp with Bang Bang Sauce! Crush this backyard dish by using some Georgia Shrimp from my good friends at Anchored Shrimp. We are gonna dredge these guys in flour, buttermilk and panko then frying them over the fire. Making that sauce on the side, we will toss them in that and garnish with sesame seeds and scallions. Lets do this!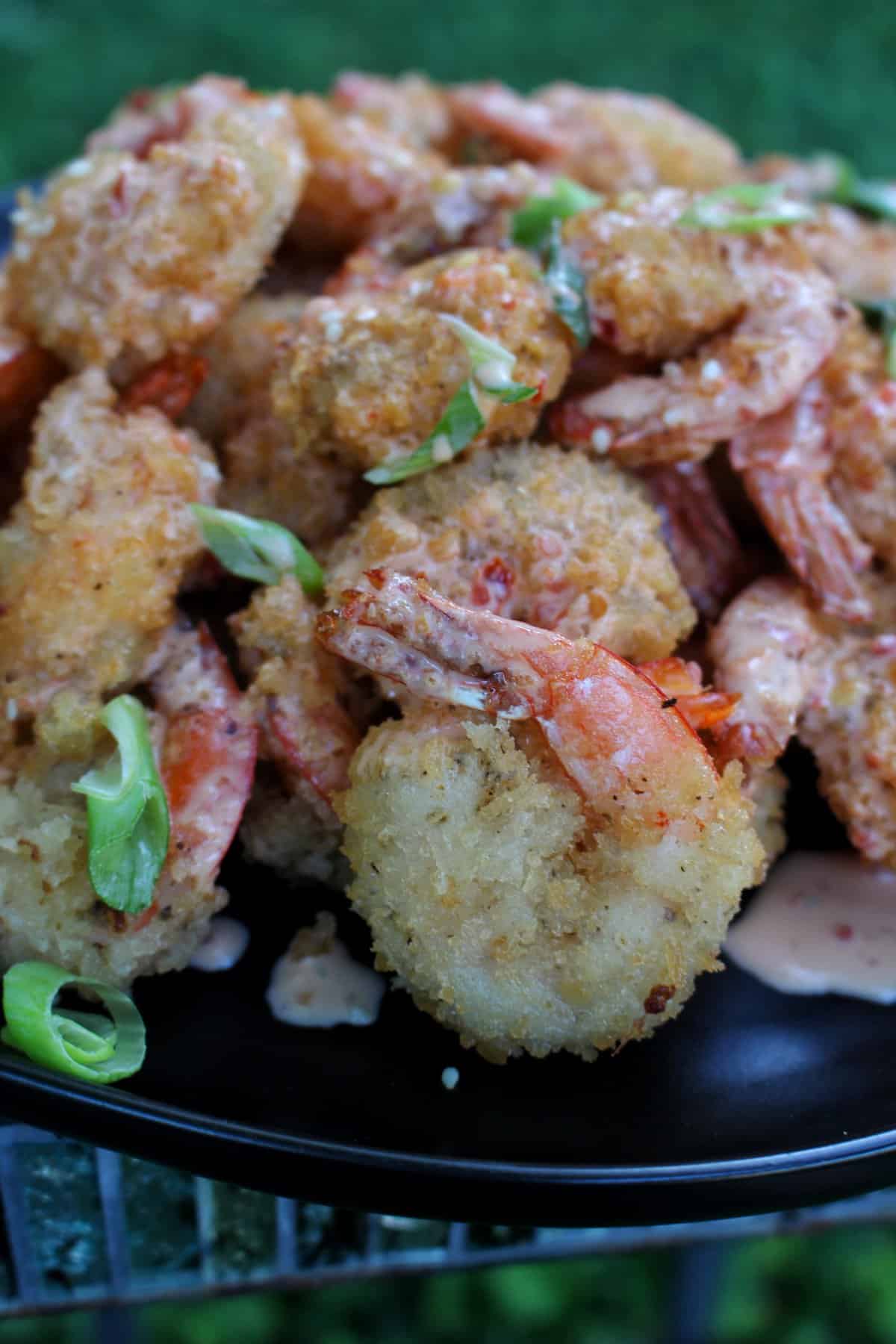 About Anchored Shrimp
This is some of the best wild caught shrimp I have ever had. As said before, Anchored Shrimp comes from the coast of Georgia and only harvests the wild fresh delicious shrimp. They are highly versatile whether you are making tacos or just grilling over some coals. For these though, I did fried shrimp over the fire and topped them with a Bang Bang Sauce to finish.
How to do Fried Shrimp
There are tons of ways to cook shrimp. Lots of fun recipes like Spicy Shrimp, Rum & Cola Shrimp or Shrimp Tacos. But, Fried shrimp is such an easy way to cook. The biggest portion of the cook is the dredging process. What is dredging?
Well this is the process of coating the outside of the shrimp in flour with seasoning first to create a base layer of flavor. Next, you will roll it around in the buttermilk to add some tang and create another layer for fried shrimp. And finally, you will roll it around in panko crumbs for that crunchy finish. All in all, this takes some time so prepare 15-30 minutes for just dredging.
Next, you will need to get your frying oil ready for the Fried Shrimp. This is a very risky process, so if you do not feel comfortable frying oil over open flames then feel free to do this inside! Get the oil to a nice 325F temperature. This will crisp up the fried shrimp without burning them in the oil. Fry the shrimp for only 2-3 minutes and you are done. Take them off and let it drain over some paper towels, and you are good to go. Now onto the Bang Bang Sauce.
The Bang Bang Sauce
One of my favorite sauces to eat, Bang Bang sauce is a nice blend of tangy, spicy with a little cream. Combining mayonnaise with rice vinegar, chili paste and honey makes for a delicious topping on your fried shrimp. Toss them in the sauce or just drizzle it on top for a killer flavor burst. You will be saving the rest of the sauce for other cooks the rest of the week.
Time to Eat Fried Shrimp with Bang Bang Sauce
All in all, it is so much fun to combine Georgia Shrimp from Anchored Shrimp and fire cooking. This time we fried shrimp over the fire and tossed them in a tangy but spicy Bang Bang Sauce. Make sure to try these Fried Shrimp with Bang Bang Sauce soon! Cheer!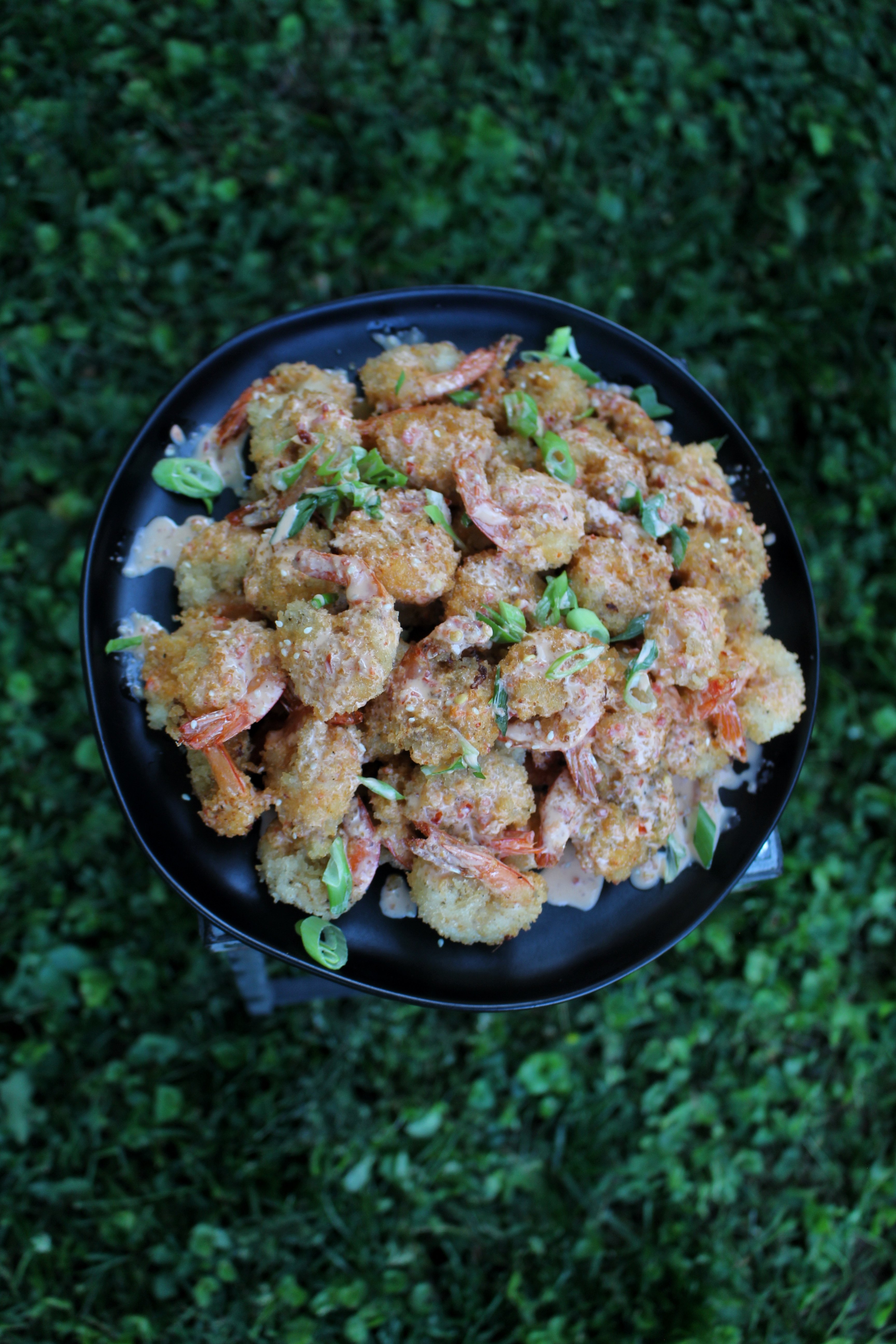 This article does contain affiliate links to products that we personally use and support. Purchasing an affiliate product does make us a small commission at no cost to you. This helps us continue creating for our website. All words and opinions are our own, and we appreciate your support!
Fried Shrimp with Bang Bang Sauce
These Fried Shrimp with Bang Bang Sauce are the best thing since... someone decided to fry shrimp. Try these Georgia Shrimp for Anchored Shrimp cooked over fire and topped with a great sauce!
Ingredients
Shrimp:
1

lbs

of Anchored Shrimp

Sesame Seeds

for garnish

Scallions

for garnish

Oil
Frying:
1

tbsp

of Sea Salt

1

tbsp

of Black Pepper

1

tbsp

of Garlic Powder

1

cup

of Flour

1

cup

of Buttermilk

1

cup

of Panko Crumbs

1

quart

of Frying Oil
Bang Bang Sauce:
¼

cup

of Mayonnaise

2

tbsp

of Rice Vinegar

1

tbsp

of Chili Paste

2

tsp

of Honey

1

Lime

juiced
Instructions
In a bowl, pat down Anchored Shrimp until dry. Mix salt, pepper and garlic into a bowl with flour. In small groups, dredge the shrimp in the flour bowl, then dip in the buttermilk and roll in the panko crumbs. Set on a plate to the side.

In one bowl, mix all the ingredients for the Bang Bang Sauce.

Preheat your grill to a high temperature (around 375-400F). Add your dutch oven over the fire and *CAREFULLY* add frying oil to preheat until it is 325F.

Add shrimp to dutch oven and cook for about 2-3 minutes until done. Carefully take them out and set aside.

Top cooked shrimp with sesame seeds, scallions and drizzle with Bang Bang Sauce. Enjoy!