Life update: we are now cooking all our meals in the wood fire oven. Okay, that's a bit of an exaggeration. However, we are having so much fun creating new recipes in this thing! Today we've got a Baked Parmesan Crusted Shrimp recipe for you that is so easy and delicious. Let's dive into all these buttery details!
Parmesan Shrimp or Schrimpy Parm Parm
I started by getting a fire ripping in the oven. I prepped the shrimp while that fire was breaking down into those orange coals I love so much. In a small bowl I mixed together all my shrimp seasonings; namely some oregano, thyme and red chili flakes for some spice! Toss all those spices on the shrimp. Then I added in the juice from one lemon and a bit of oil. Next I mixed the shrimp, making sure each received a good coating of our seasoning.
Once the shrimp are prepped, place them in your skilled. I normally just toss the shrimp into the skillet, but I actually placed each shrimp one at a time this go round. I had so many shrimp and wanted to make sure they all cooked evenly within the skilled. It's also my attempt of trying to do something fancier… maybe it's a sad attempt but we all have to start somewhere. Now, take those shrimp and set them in the fridge. We won't start cooking them until the parmesan crust mixture is prepped and ready to go.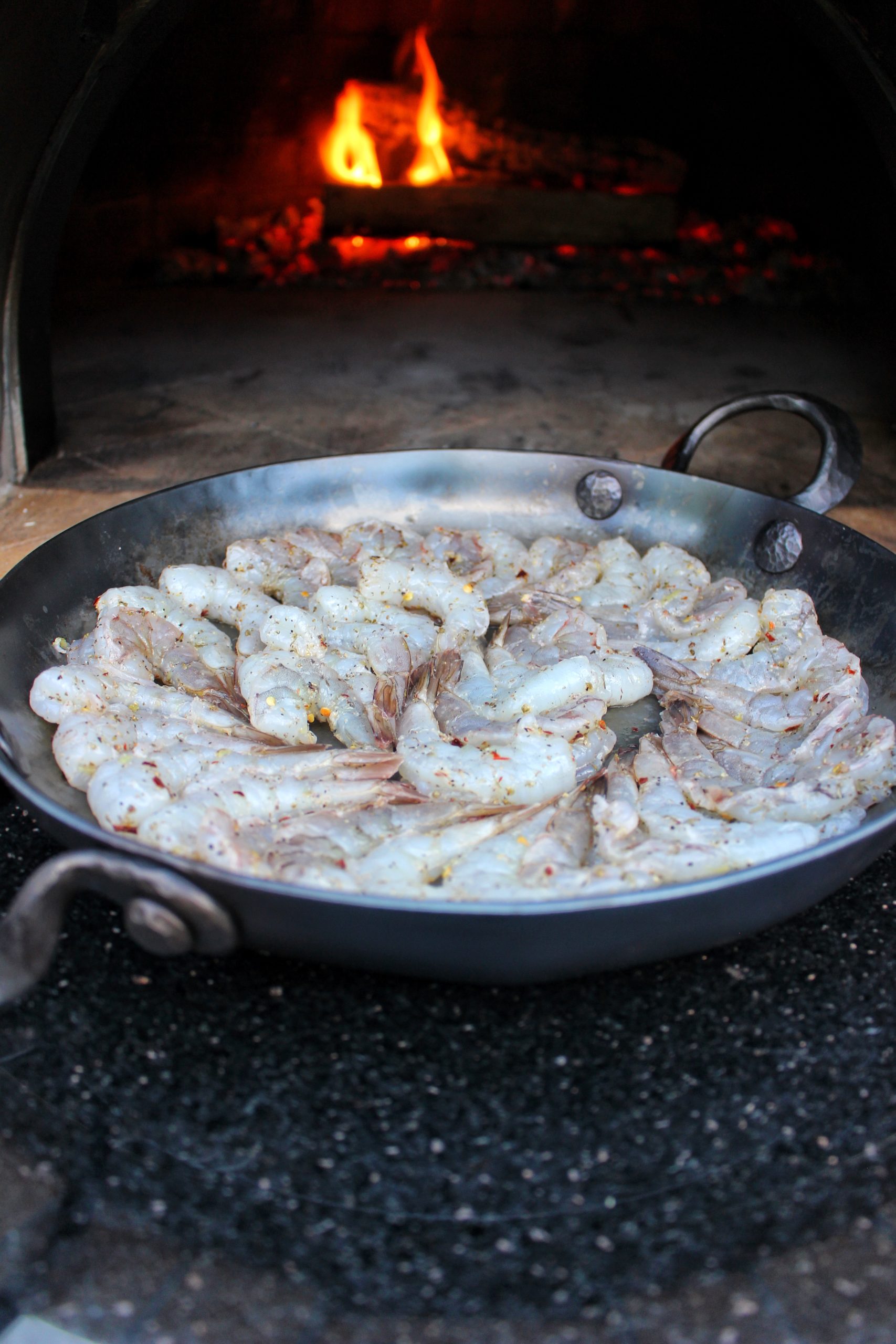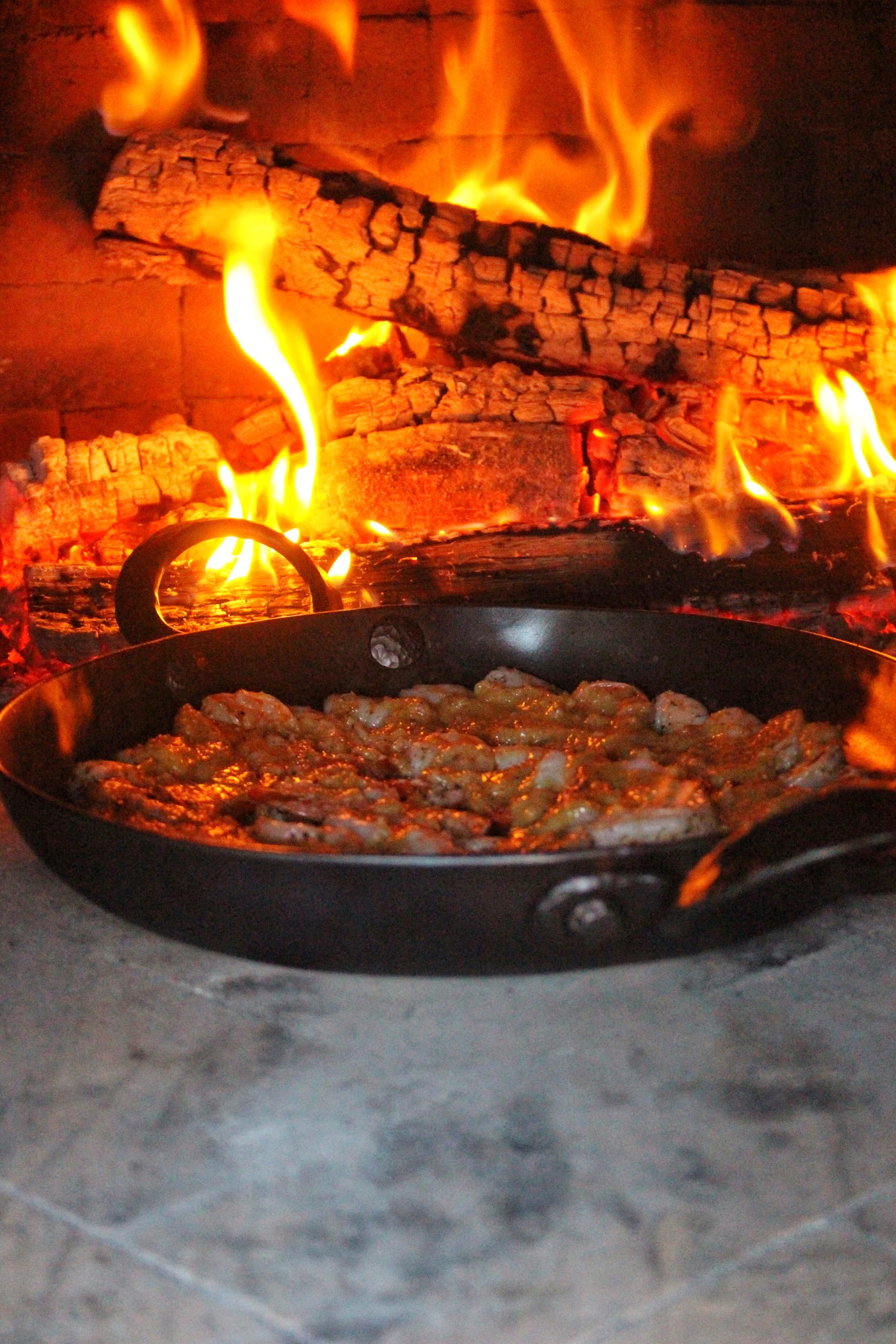 Baked Parmesan Crust
You know how some people pair bacon with anything and everything? Well, I'm like those people but with cheese. If there's a way to pair cheese with my meal, you best believe I'm going to make it happen! This Baked Parmesan Crusted Shrimp recipe is no different.
You only need four things for this parmesan crust. The first one? Parmesan. Obviously. The other three, maybe not so obvious ingredients, are bread crumbs, garlic paste and butter. The bread crumbs help thicken this mixture and turn it into an actual crust. The butter is there to help bring the parmesan and bread crumbs together, while also binding it to the shrimp. The garlic is just there for flavor, and we're all happy about it! You'll want this mixture to have something similar to a peanut butter consistency, so add more butter and/or bread crumbs as need.
Check out my cookbook, Food X Fire, for more delicious and exclusive recipes!
Badda Bing Badda Baked Parmesan Crusted Shrimp
Alright y'all, these shrimp cook fast so be ready once it's go time. You'll start by placing the shrimp in the oven without the parmesan crust to start. After they've cooked for a minute or so (and are starting to turn orange in color) pull them from the oven and add the parmesan crust. Spread the mixture across all the shrimp and put back in the oven for two to three more minutes.
Pull the Baked Parmesan Crusted Shrimp from the oven once that crust is golden brown in color and you hear that butter popping. All that's left to do is garnish with some parsley and serve. Best enjoyed with friends and family! Cheers!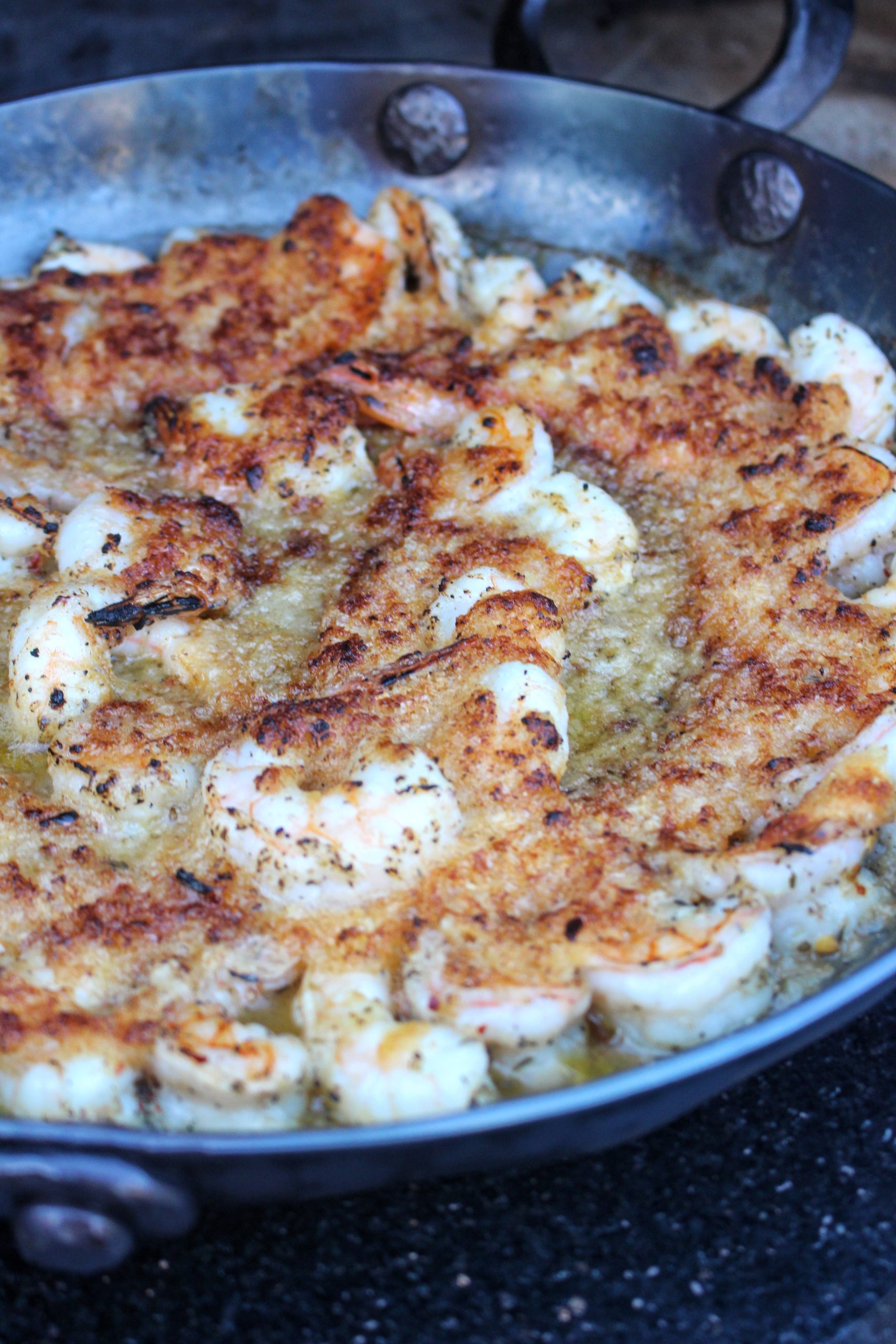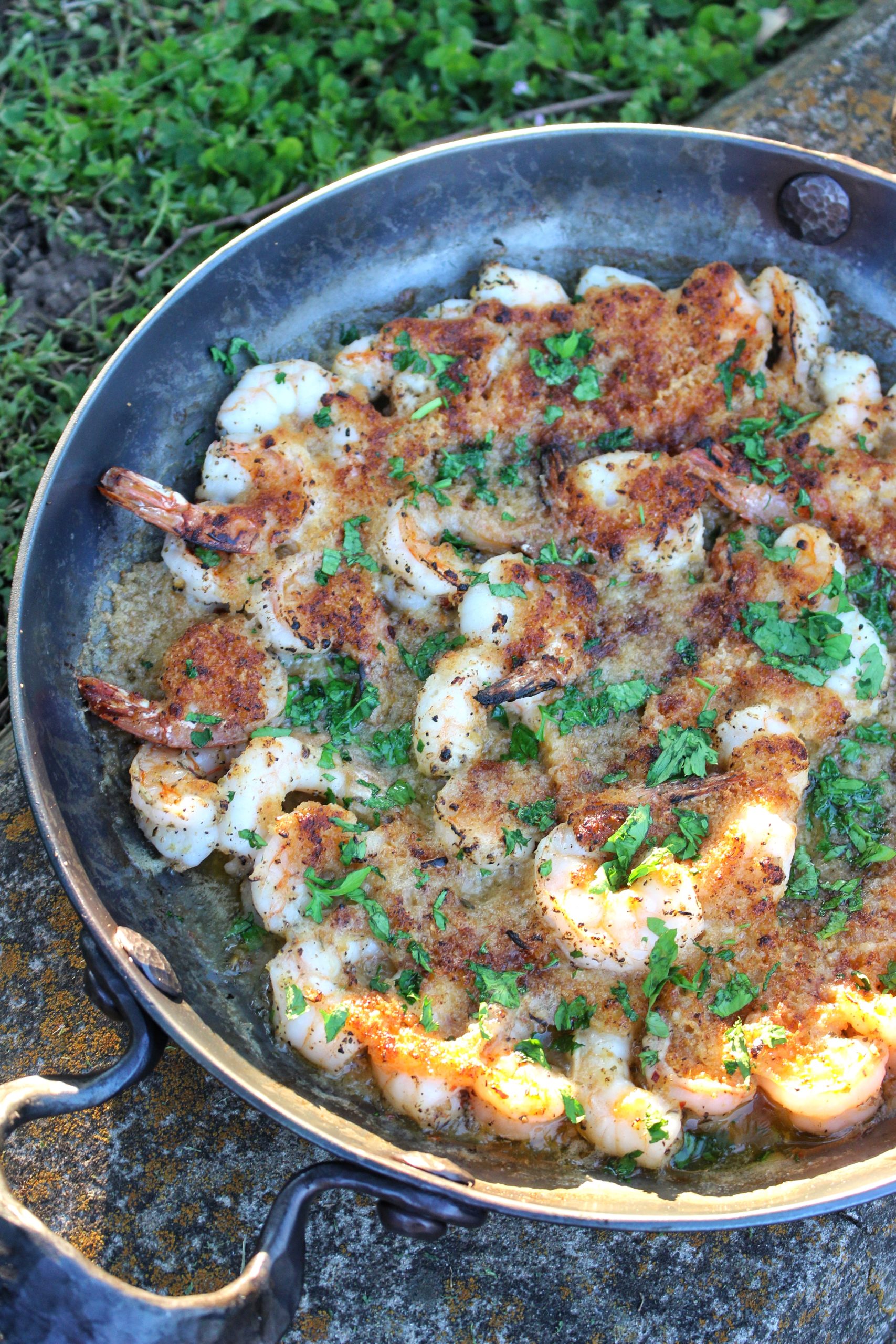 Baked Parmesan Crusted Shrimp
If there's a way to pair cheese with my meal, you best believe I'm doing it! This Baked Parmesan Crusted Shrimp recipe is no different.
Ingredients
Shrimp:
1.5

lbs

of Shrimp

peeled & deveined

Chopped Parsley

for garnish
Seasoning:
2

tsp

of Kosher Salt

2

tsp

of Black Pepper

1.5

tsp

of Garlic Powder

1.5

tsp

of Red Chili Flakes

1

tsp

of Dried Oregano

1

tsp

of Dried Thyme

1

Lemon

zested & juiced

1

tbsp

of Canola Oil
Parmesan Crust:
2.5

tbsp

of Melted Butter

2.5

tbsp

of Grated Parmesan

1.5

tbsp

of Bread Crumbs or Panko Crumbs

2

tsp

of Garlic Paste
Instructions
Preheat your grill or wood fire oven to indirect cooking around 400F.

In a bowl add your shrimp along with the seasoning. Mix together thoroughly. Add the shrimp onto a large skillet spread out enough so that the cook evenly. In a bowl, add all the ingredients for the Parmesan Crust and mix. It should have a wet sand texture. Add more butter if too dry or more parmesan/breadcrumbs if too liquidy.

Add your skillet to the fire and cook for only 1-2 minutes or once the shrimp begin to slightly shift from translucent to white. Once they are shifting, pull out and top with the parmesan crust. Spread out evenly over all the shrimp. Increase the heat in the grill if possible, then add the shrimp back to the grill. Cook for another 2-3 minutes until all the shrimp are fully cooked and the crust is golden brown. Pull out the skillet and let it rest.

Top the shrimp with chopped parsley and enjoy!