Roasted Chicken Trompo for some delicious tzatziki pita pockets! The best way to level up any meal is by packing it full of some amazing protein. Call me biased, but I've found that the best proteins are cooked over an open flame. Inspired by Shawarma, we start by marinating some chicken so I can cook it on a vertical spit and turn it into an incredibly delicious and nutritious meal. Don't save this one for later, go ahead and try it now!
Trompo Triumph
For those unfamiliar with a trompo, it's a vertical rotating spit used to cook a variety of proteins. It's most commonly used when cooking shawarma or tacos al pastor, the meat is cut off bit by bit from the spit and served in different forms. I utilized this same style of cooking for the roasted chicken and our end result will be a sandwich.
Marinating the chicken will be the first thing we do. It's best to let the chicken marinade overnight, so plan accordingly. Simply mix all the marinade ingredients together in a blender and pour it into a large bowl containing the chicken. I used chicken thighs for this Roasted Chicken Trompo recipe. I did this because chicken thighs are fattier than chicken breast, and therefore carry a bit more flavor. Mix the marinade with the chicken until each thigh is evenly coated. Then set in the fridge to marinate overnight.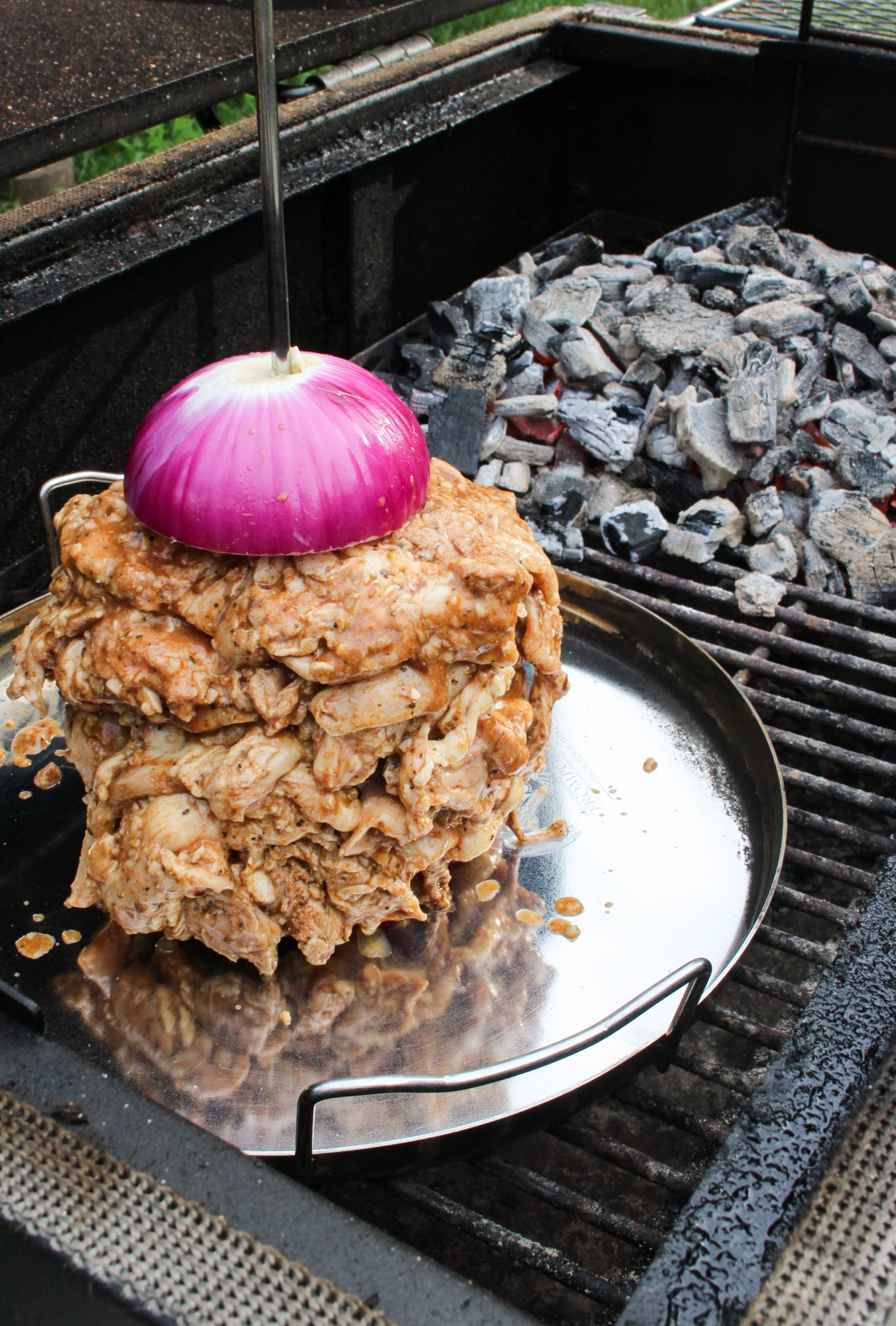 Roasted Chicken
Preheat the smoker the following evening, once you're ready for dinner. I like to pour my charcoal on one end of the smoker and leave room for the trompo on the other. Then, head back inside and pull the chicken from the fridge. Since I'm a caveman style of cook, I used a manual trompo. They make electric ones, but you know I like to cook with only the basics. Grab your trompo and we'll start the Roasted Chicken Trompo assembly.
I actually began this process by adding a halved red onion onto the trompo. This keeps the first layer of chicken from touching the trompo base and burning. Now, start adding your layers of chicken. Try to evenly disperse the meat on all sides. The more evenly you stack, the more evenly they'll cook. After placing all your chicken thighs onto the trompo, take it to the smoker.
Roasting Chicken on the Trompo
Check on the chicken periodically and rotate it as needed. We'll continue this process until the chicken has an internal temperature of 165 degrees Fahrenheit on all sides of the trompo. Once we hit that internal temperature, remove the roasted chicken trompo from the grill and get ready for pita pocket assembly!
Start by slicing into the roasted chicken. I made vertical cuts down each side of the trompo and let the shredded chicken fall to the bottom of the trompo pan. Then, grab a pita pocket and fill it with the roasted chicken, cubed cucumbers, tomatoes, feta cheese and a spoonful of tzatziki sauce. They're absolutely delicious! Best enjoyed with friends and family. Cheers!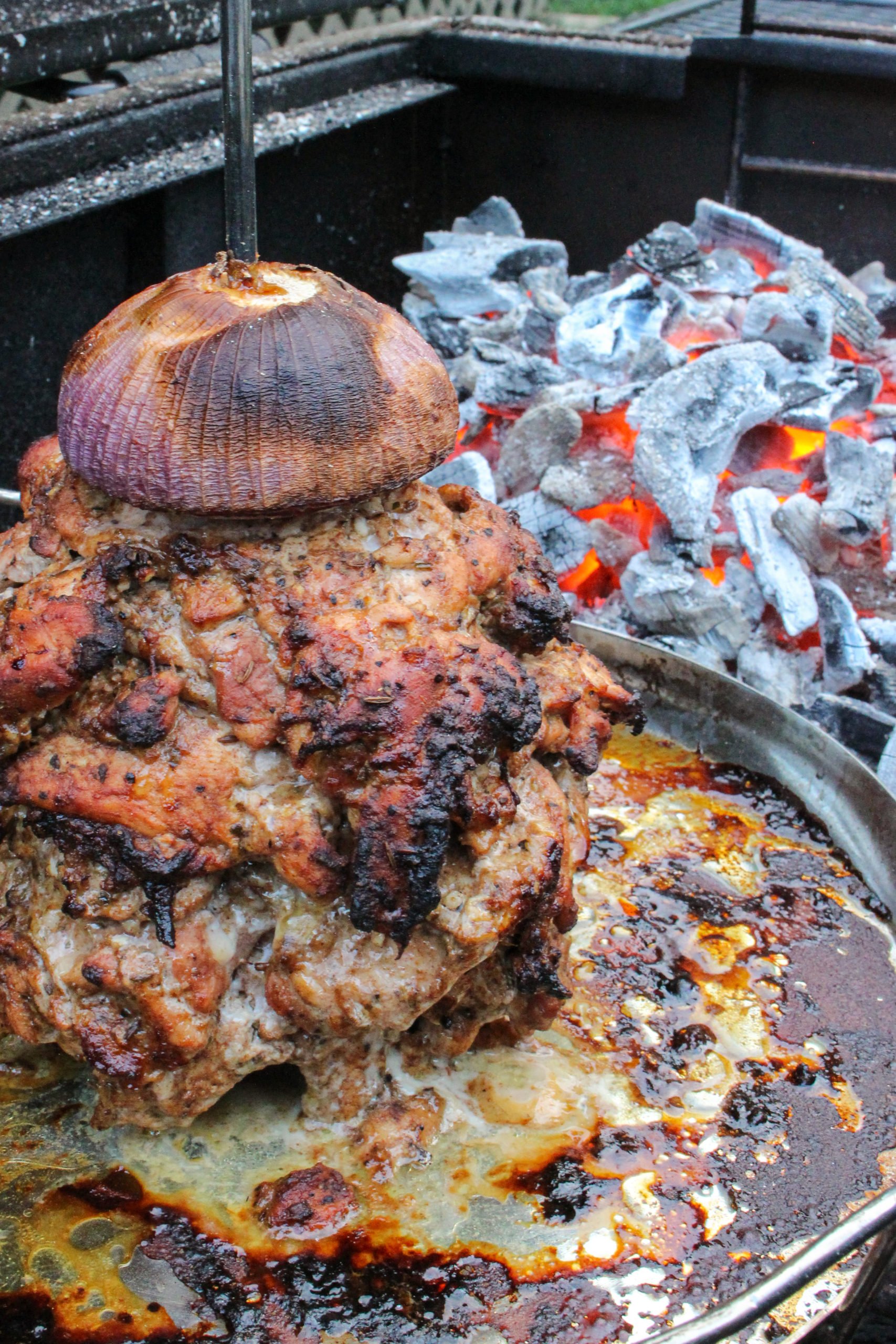 More delicious recipes found in my book, Food X Fire!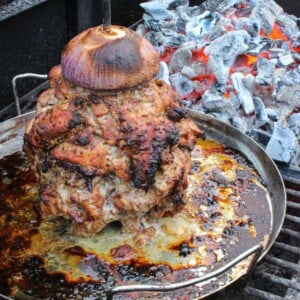 Roasted Chicken Trompo
Inspired by Shawarma, this Roasted Chicken Trompo recipe is turned into a delicious and nutritious tzatiki pita pocket sandwhich.
Ingredients
Chicken:
4

lbs

Chicken Thighs

flattened

1

Whole Red Onions

cut in half
Marinade:
¼

cup

of White Vinegar

1.5

tbsp

of Minced Garlic

1.5

tbsp

of Olive Oil

1

tbsp

of Ginger Paste

3

Lemons

juiced
Marinade Seasonings:
2

tsp

of Salt

2

tsp

of Cumin

1.5

tsp

of Cinnamon

1.5

tsp

of Peppercorn

1

tsp

of Oregano

¾

tsp

of Coriander

¾

tsp

of Cayenne

½

tsp

of Caraway
Sides:
Pita Pockets

Diced Tomatoes

Diced Cucumbers

Feta Cheese

Tzatziki Sauce
Instructions
Begin by grabbing your chicken thighs and placing them on a cutting board. Place a piece of non-stick wax paper over the chicken thighs, use a food mallet and hit the chicken until they have flattened to only ¼ inch thick. Place the chicken into a food safe bowl or bag and add all the ingredients for the marinade and the marinade seasonings. Mix thoroughly and place in the fridge to marinade for at least 4 hours but ideally overnight.

Grab your vertical trompo skewer (or make-shift one of your own). Add the first half of a red onion to the base of your skewer. Grab your chicken out of the fridge and discard the excess marinade. Skewer all the chicken onto the trompo making sure to evenly distribute the chicken for a uniform thickness. Trim any excess chicken, then top the trompo with your second half of a red onion.

Preheat your grill to indirect heat for 375F.

Add the chicken trompo to the grill to cook for 2 hours or until it reaches 165F internal. Rotate the chicken around to face the direct heat of the fire every 30 minutes in order to cook evenly. Once the chicken is done, pull it off and let cool for 5 minutes.

Slice your chicken off the trompo and begin building your pita pocket with diced tomatoes, diced cucumbers, feta cheese and tzatziki sauce. Serve and enjoy!