One of my favorite parts about fire cooking is that every culture has their own style of it. From South American Skirt Steak to North American Ribs, fire has found its place in some of the most delicious dishes countries have to offer. The Mediterranean is no exceptions to this. Chicken kebabs are a cornerstone dish of that culture.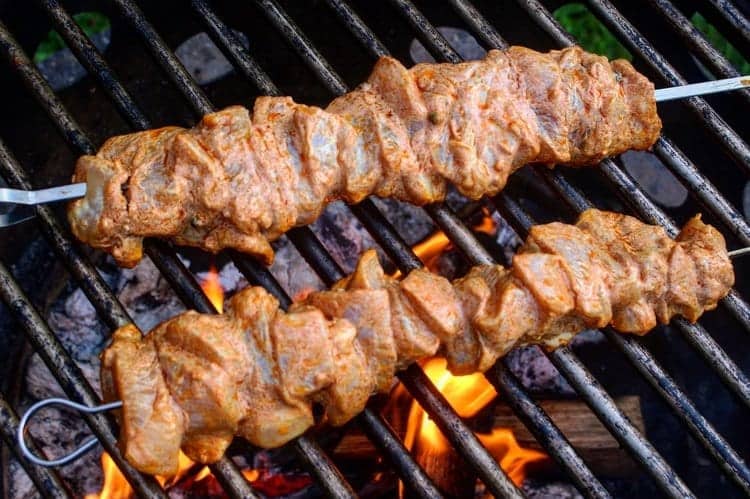 Lets Talk Chicken Kebabs
Fire roasted meat on a skewer can make even the bad days seem better. Chicken kebabs can also take you on a trip across the ocean where you feel like you are eating in downtown Istanbul or on the Grecian Coast. They are zesty, spicy and full of serious flavor
What makes them so good?
The key to making chicken kebabs to taste delicious is marinating the chicken. The marinade is full of lemon juice, garlic, olive oil, salt and other fun stuff. This will get the chicken the absorb the flavor of the marinade.
Chicken naturally does not have a ton of fat; therefore, it does not have a ton of flavor. When you allow the chicken to marinade it something pungent then you allow it to become delicious.
Tricks to cooking Chicken Kebabs?
My tips for cooking these Fire Roasted Chicken Kebabs is to allow them plenty of time to cook over fire without causing flare ups. Depending on how close you have the chicken to the fire will determine your percent chance of having flare ups.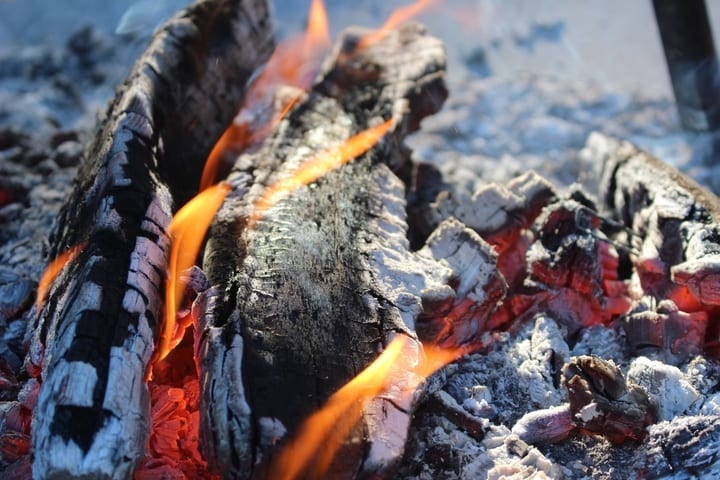 I recommend keeping the kebabs at least 1 foot away from the fire so that it is not extremely direct heat. This will allow the chicken to slowly roast, soak in the juices of the marinade and keep the inside of the meat tender.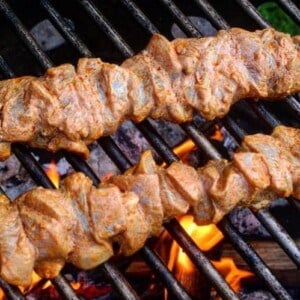 Fire Roasted Chicken Kebabs
Zesty chicken kebabs cooked over the fire. Get ready to be flavor struck!
Ingredients
Chicken Kebab Spice Ingredients
1/4

tbsp

paprika

1

tsp

cumin

1 1/4

tsp

coriander seeds

1

tsp

black pepper

1

tsp

kosher salt

1/2

tsp

chili powder

1/2

tsp

ground ginger
Marinade Ingredients
2

full chicken breasts

cut into cubes

1

cup

plain Greek yogurt

Chicken kebab spice ingredients

see above

1

tbsp

lemon juice

3

minced garlic cloves

2

tbsp

olive oil

1/2

tsp

kosher salt

Optional 2 tbsp freshly chopped oregano
Mediterranean Sauce Ingredients
1

cup

plain Greek yogurt

3

minced garlic cloves

2

tbsp

olive oil

1

tbsp

lemon juice

1/2

tsp

kosher salt

1/2

tsp

paprika
Instructions
In a bowl, mix all of the Chicken Kebab Spice Ingredients.

In a separate bowl, mix all of the Marinade Ingredients. Add the Chicken Kebab Spice Ingredients to the Marinade as well as the cubed chicken. Mix all ingredients together thoroughly.

Place the mixed chicken into the refrigerator for 1 hour.

After 1 hour, pull chicken out of the refrigerator and place evenly on skewers.

Light the Cowboy Hardwood Lump Charcoal in a charcoal chimney or mound inside your grill and let burn for 10-15 minutes. (Optional) Add some Apple Wood Smoking Chips for added flavor!

While the charcoal is burning, put all Mediterranean Sauce Ingredients into a bowl and mix. Cover and place in refrigerator until chicken is done.

Once the grill has reached the desired temperature (around 300F), place skewers on grill. Let them grill for 10 minutes a side.

Pull chicken off of grill and off of skewers.

Drizzle Mediterranean Sauce on top and enjoy!
Notes
Tip: Try adding a bed of rice and some roasted cucumber for a full meal!
Gear: Cowboy Charcoal
This article does contain affiliate links to products that we personally use and support. Purchasing an affiliate product does make us a small commission at no cost to you. This helps us continue creating for our website. All words and opinions are our own, and we appreciate your support!