Smoked Bologna, what is it and how do you make it awesome? Well, today's recipe explores just that. For my first ever bologna recipe, we're starting with my Cherry Chipotle Ale seasoning. Then, it hits the smoker while we whip up a sweet and spicy BBQ sauce to pair with it. This might be a mystery meat, but these flavor combinations were delicious! What are your thoughts on bologna? Keep reading to learn how to master this dish.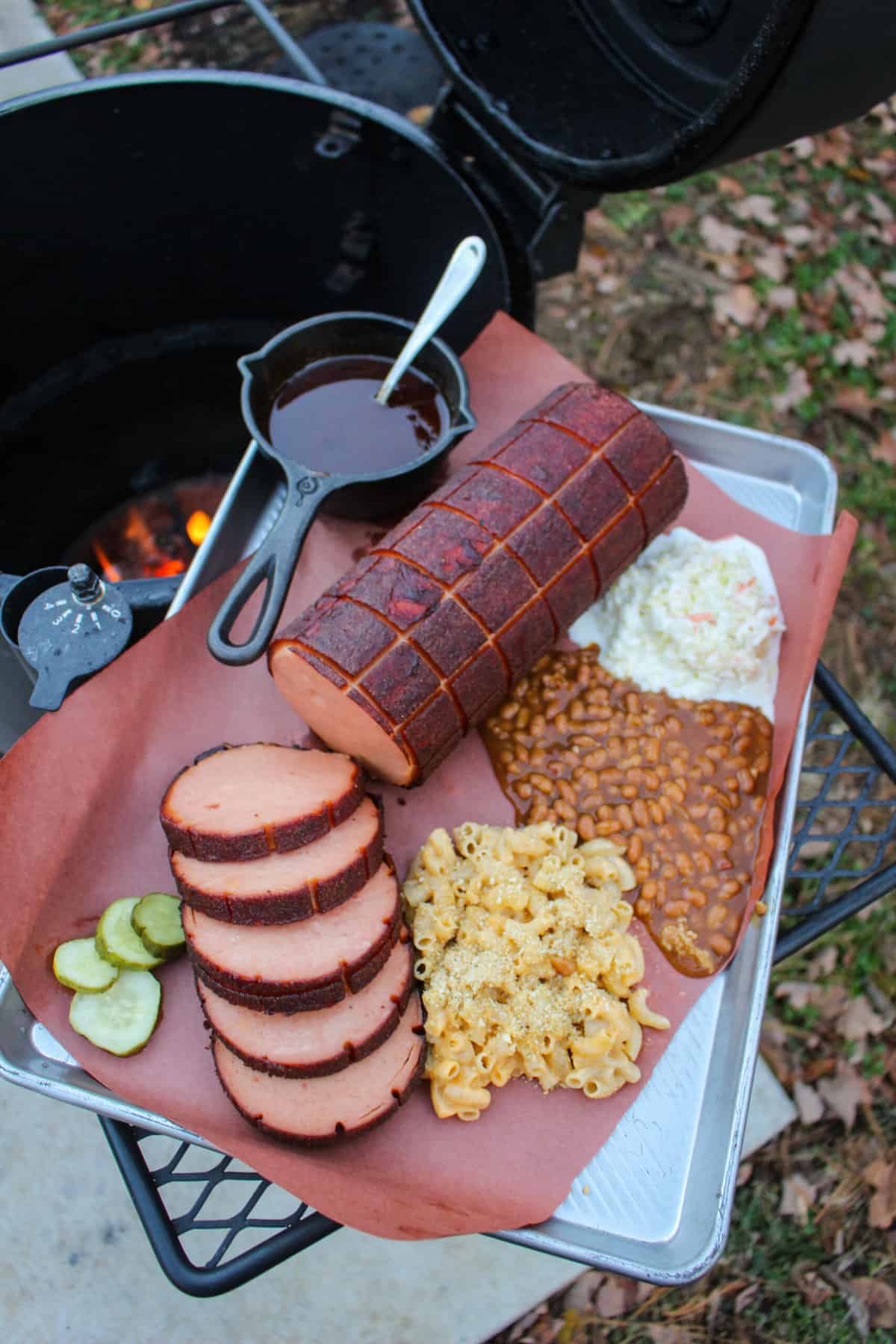 Bologna. You can enjoy it cold on a deli sandwich, fry it in a pan or smoke it. Drawing comparisons to a hot dog and even SPAM, bologna is something like a mystery meat. Bologna was created in Italy, and is from a town called Bologna (funny enough). What ends up in the bologna really depends on who's making it. It can contain beef, pork, chicken or some combination of the three. It's then paired with a variety of spices, most commonly salt, peppercorns, celery seeds, sugar and some type of fat (likely pork fat). All ground together and then turned into what we all know as bologna.
While this might not sound like the most delicious slice of smoked meat you've ever had, it's hard to deny that it's delicious. The thought of a hot dog might scare you too, but that doesn't take away from the 20 billion hot dogs that Americans are said to consume each year.
We all have guilty pleasures, so it's okay to let Smoked Bologna be one of them.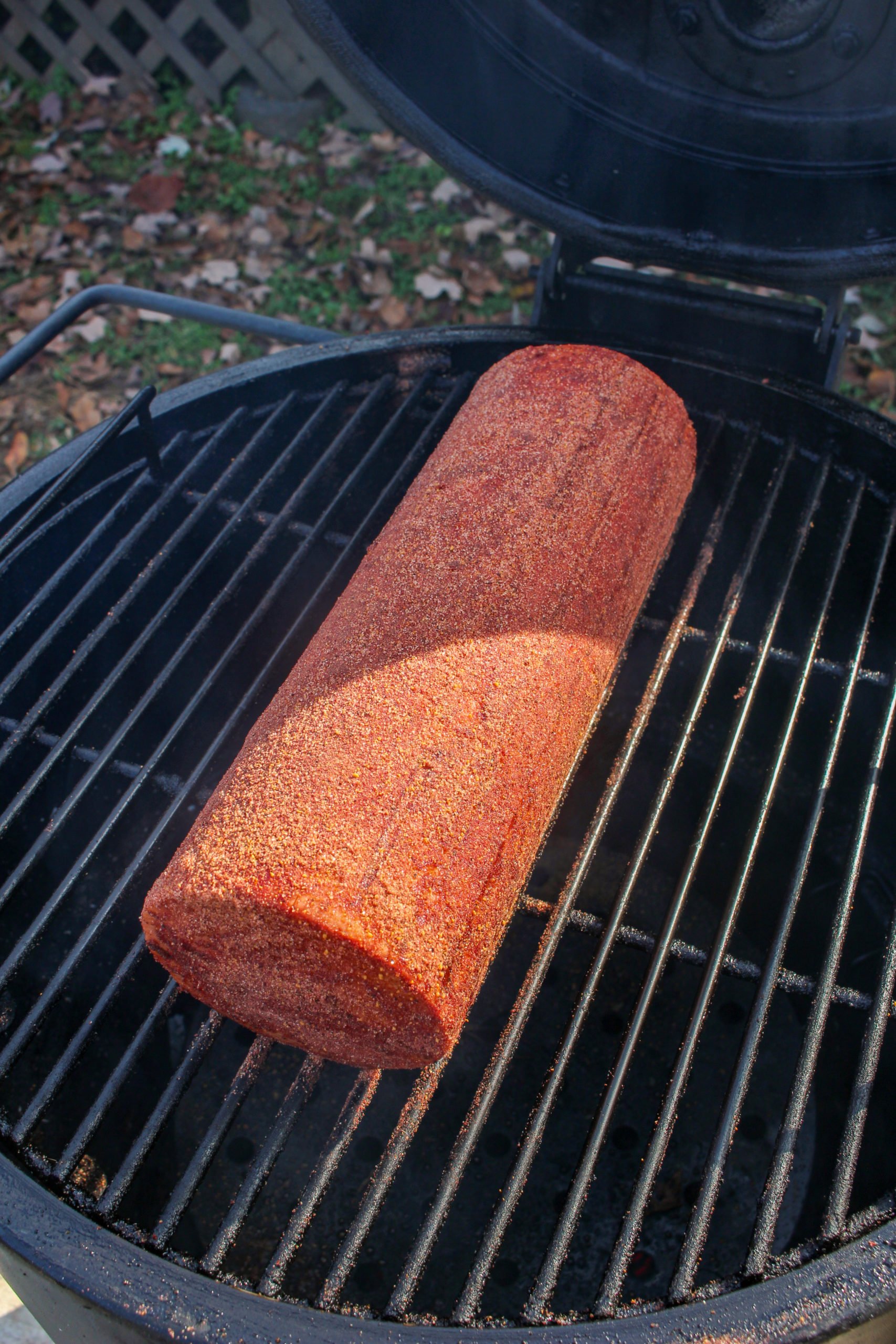 For more smoked dishes check out my Smoked Chorizo Armadillo Eggs, Smoked Corned Beef Sandwich with Guinness and Nashville Hot Smoked Cream Cheese recipes!

Starting this Smoked Bologna to: How To Smoke Bologna
Okay, enough about bologna because now we need to talk about how to cook it. I started with my large cylinder of bologna and made one, long cut through its outer casing. Using the tip of my knife, I carefully peeled one side of the casing up and was then able to pull it away from the bologna meat. Now, we can score and season this Smoked Bologna.
To score the bologna, I started by making long, straight but shallow cuts down the length of the meat. I spaced them about an inch to an inch and a half apart. Then, turn the bologna and make perpendicular cuts to the ones we've already created, making a diamond pattern. See the pictures for more detail on how my scoring turned out.
Next, I lathered the bologna with mustard so that it would serve as a binder to my Cherry Chipotle Ale seasoning. The sweet cherry with chipotle spice in this seasoning paired so well with the Smoked Bologna. This might be because my Cherry Chipotle Ale seasoning works great on beef, chicken and pork; so it can handle the challenge of a mystery combo of the three. 
For more recipes utilizing my Cherry Chipotle Ale seasoning check out Cherry Chipotle Pineapple Glazed Ham and Cherry Coke Chicken Skewers.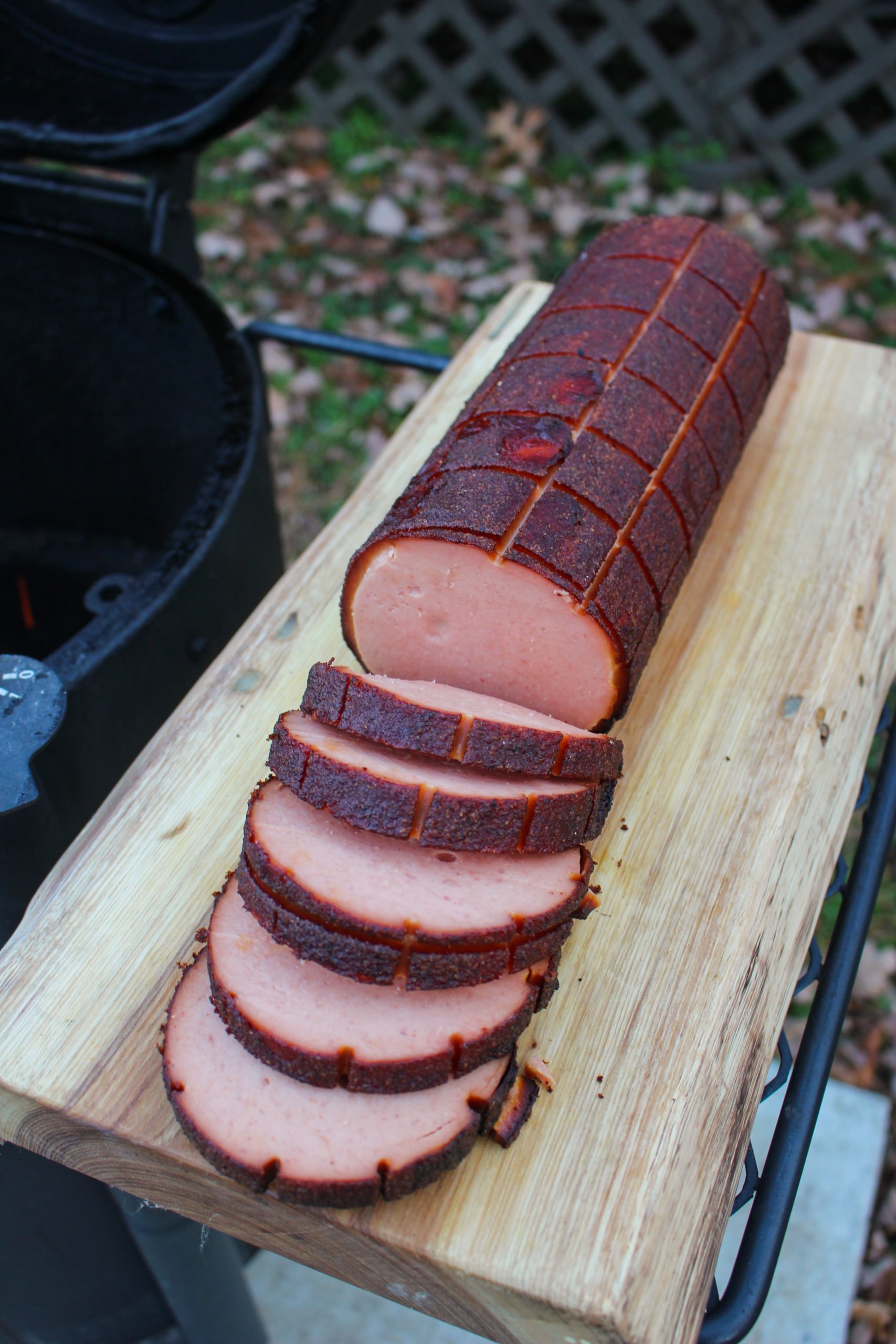 Anyway, after you've covered the bologna with mustard and then a generous layer of seasoning it's time to head outside. Start your smoker and let it preheat.
Place the bologna on the smoker to start cooking. Now, here's the nice part about bologna: it's already cooked. This means we don't have to wait for it to hit a specific internal temperature. The whole point of smoking it is to add that smoky flavor and get an awesome crust on the outside rim. I smoked this bologna at 225F for 3-4 hours. We're looking for the outside to turn a lovely dark amber color and the scoring to really pop.
Towards the end of the smoking process, we'll mix together the sweet and spicy BBQ sauce. This sauce can be drizzled on top of the bologna for serving or used as a dip. It's really easy to make and takes this Smoked Bologna dish to the next level. Simply toss all the ingredients into a cast iron sauce bowl on the smoker and let it simmer together. My favorite part about this sauce has to be the raspberry jalapeño pepper jelly. Not only does it improve the texture of the sauce, but the sweetness and hints of sour from the raspberry really compliment the Cherry Chipotle Ale seasoning on the bologna. 
Okay, now pull your Smoked Bologna from the smoker.
Slice and serve! I cut three to four slices off one end of the Smoked Bologna and fanned it across my serving pan. Then came a generous drizzle of the sweet and spicy BBQ sauce and it was time to dig in. Best enjoyed with friends and family. Cheers!
For more delicious recipes, check out my cookbook Food X Fire!
Needing more spice in your life? My spice line can help with that. Check them out here.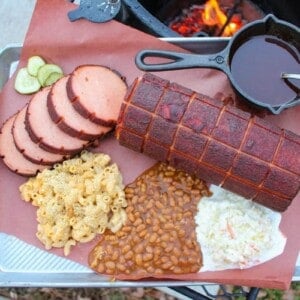 Smoked Bologna Recipe
Smoked Bologna is a smoked, sweet and spicy slice of meat.
Ingredients
Smoked Bologna:
1

Whole Bologna Log

beef or pork

2

tbsp

Yellow Mustard

2

tbsp

BBQ Seasoning
Sweet & Spicy BBQ Sauce:
¼

cup

Ketchup

2.5

tbsp

Raspberry Jalapeno Pepper Jelly

1.5

tbsp

Brown Sugar

1

tbsp

Honey

1

tbsp

Apple Cider Vinegar

1.5

tsp

Worcestershire Sauce
Instructions
Begin by unwrapping the outer layer on your bologna log. Next, gently score the outside of the bologna in a checkered or crosshatch pattern. Lather with your mustard and season generously with your BBQ seasoning. Set aside.

Preheat your smoker to 225F indirect cooking. Add some wood chips or wood chunks for additional smoke flavor.

Add the bologna to cook for 3-4 hours or until the outside is a dark amber color and the scoring lines are clearly defined. The bologna is already cooked, so we are amping up the smokiness. The last 30 minutes of cooking, add a basting skillet with all the ingredients for the Sweet & Spicy BBQ Sauce. Let the ingredients blend together, then pull the sauce and bologna off to rest for 5 minutes once done.

Slice the bologna and serve on bread or with some sides. Don't forget to add the BBQ Sauce. Enjoy!
Nutrition
Serving:
1
Slice
|
Calories:
77
kcal
|
Carbohydrates:
18
g
|
Protein:
1
g
|
Fat:
1
g
|
Saturated Fat:
1
g
|
Polyunsaturated Fat:
1
g
|
Monounsaturated Fat:
1
g
|
Cholesterol:
1
mg
|
Sodium:
169
mg
|
Potassium:
99
mg
|
Fiber:
1
g
|
Sugar:
12
g
|
Vitamin A:
186
IU
|
Vitamin C:
2
mg
|
Calcium:
60
mg
|
Iron:
2
mg