It isn't really summer until you can smell charcoal getting started and cheeseburgers being flipped on the grill. The greatest time of year is upon us and there is no better way to celebrate than by making this mile high stacked mountain of cheesy meat between two buns that I have officially the dubbed the Ultimate Smoked Bologna Cheeseburger. Including a double stack of 1/3lb hamburger patties and 1/3lb of bologna covered in cheese, this masterpiece weighs an entire pound and is guaranteed to make heads turn at your next backyard bbq.
Post Contributed by Nick Hill
Start off by locating a good quality bologna chub. I got mine at a deli counter. They usually weigh about 3-4 lbs in the package. Once you have the chub in hand, remove the outer paper that encases the entire hunk of meat. This is used to holds its shape during the curing process. Do this gently as it has a tendency to stick slightly and can tear the meat. It helps to make a thin cut along the outside to create more surface area during the smoke.
Get fancy with it as it will be a very visible feature as it cooks. Use a binder on the surface to help the rub stick. I use yellow mustard as it helps develop a nice bark. Next you want to use your favorite bbq rub and heavily coat the bologna. I use my own homemade rub which you can find the recipe for below. It's mellow, but flavorful and works well with this Ultimate Smoked Bologna Cheeseburger recipe.
For another epic bologna recipe, check out the Smoked Bologna recipe.
Smoking The Ultimate Smoked Bologna Cheeseburger
Now it's time to smoke. Preheat your smoker to 250-275 degrees using your favorite wood. This meat is versatile and can really benefit from just about any good hardwood. I used Pecan which is one of my favorites. You're going to want to smoke this until the internal temp hits 165 degrees internal temp. This will take approximately 4-5 hours. Once it's finished, I suggest letting it cool down on the counter and then wrapping in plastic wrap and resting in the fridge for 2-3 days. This step is not necessary but really does help intensify the flavor of the rub and smoke.
Using a deli slicer and long meat slicing knife, cut thin slices of the bologna at about 1/8" thick each. This will help the slices hold up better on the grill which we'll get to later. Keep these slices handy.
Grilled Cheeseburgers and Bologna
Now it's time to fire up the grill for the cheeseburgers. We will be using direct high heat to grill these up. I used ground brisket for my burgers but any good 80/20 will do. You're going to want extra large patties because this is America and that's how we do things around here. I suggest a minimum of 1/3 lb each but ½ lb would be more impressive for our Ultimate Smoked Bologna Cheeseburgers. Season simply with salt and pepper. Once you have your grill nice and hot, grill the burgers for about 3-5 minutes per side. Once you flip the burgers, add a thick slice of your favorite cheese to each patty. I prefer a good sharp cheddar on my burgers. Continue cooking the burgers until you get an internal temp of 135-140 degrees. Remove from the grill and let them rest.
If you love burgers as much as we do, you should also check out California Burrito Style Burger, Elvis Smash Burger, Red, White & Bleu Cheese Bacon Burger and Steakhouse Smash Burgers.
While the burgers are resting, take your slices of bologna and make a cut halfway through each slice. This will prevent the bologna from cupping on the grill and will give you better grill marks. Place about 4 slices for each person you are cooking burgers for. These will cook super fast. After about 60 seconds over high heat, flip each slice of bologna and put about 2 Tbsp of grated cheese on each slice. Close the lid of the grill and let these finish cooking for about one minute and remove from the grill.
The Ultimate Smoked Bologna Cheeseburger Assembly
Now its time to assemble. I like mine super simple but like with any burger, your imagination is your only limitation. I used some nice toasted pub buns, mayo, lettuce, 2 hamburger patties and 4 slices of cheese covered bologna and mustard for my toppings. If you are using lettuce, be sure to put it on the bottom to prevent the bottom bun from getting too soaked with the juices. Grab a handful of napkins and your favorite eating pants and dig in. Hope you all enjoy it.
For more delicious recipes, check out my second cookbook Flavor X Fire or my first cookbook Food X Fire!
Needing more spice in your life? My spice line can help with that. Check them out here.
Full length video on Facebook!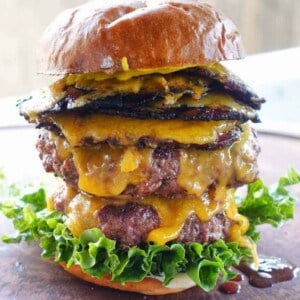 The Ultimate Smoked Bologna Cheeseburger
The Ultimate Smoked Bologna Cheeseburger for all you bologna and beef lovers.
Ingredients
3-4

lb

bologna chub

Yellow Mustard

¼ – ½

cup

of your favorite bbq rub

my homemade rub recipe is below

1.5

lbs

80/20 ground beef

4

thick slices and 2 cups of your favorite cheese for burgers

Favorite burger toppings

i.e. lettuce, tomato, onion, mustard, mayo

Homemade BBQ Rub

2

Tbsp

Lawry's seasoned salt

2

tsp

black pepper

2

tsp

paprika

2

tsp

granulated garlic

1

tsp

granulated onion

1

tsp

chili powder
Instructions
Preheat your smoker to 250 degrees. Remove out paper from bologna chub being careful not to tear the meat. Score the outside of the chub with a thin sharp knife to create more surface area during the cooking process. Apply a liberal coating of yellow mustard to the entire surface and then heavily apply your bbq rub. Smoke the bologna chub at 250 degrees for 4-5 hours until the internal temp hits 165 degrees. Remove the chub from the smoker and let cool on the counter (if you have time, wrap in plastic wrap and rest in the fridge for 2-3 days to improve flavor)

Preheat your grill for direct high heat cooking. Slice the bologna using a thin meat slicing knife or a deli slicer to about 1/8" thick. You will want 3-4 slices per person. Keep these slices off to the side while you prep your burgers.

Form 2-4 burger patties at 1/3lb each and season with salt and pepper. Once your grill is nice and hot, grill the burger about 3-4 mins per side flipping once. After the first flip, please one thick slice of cheese on each burger and close the lid. After anther 3-4 mins remove cheeseburgers from the grill when the internal temp hits 135-140 degrees.

While the burgers are resting, place each slice of bologna directly on the grill grates and cook for aprx 1 minute per side flipping once. After the first flip, please about 2 Tbsp of cheese on each slice. Remove the slices after about 1 minute and cheese begins to melt.

Assemble your burger by using good quality toasted buns, mayo, lettuce on the bottom bun, 2 cheeseburger patties, 3-4 slices of bologna and whatever other toppings you enjoy on your burgers. This will definitely be a cheeseburger you won't forget. Enjoy.
Nutrition
Serving:
1
Burger
|
Calories:
3081
kcal
|
Carbohydrates:
62
g
|
Protein:
166
g
|
Fat:
239
g
|
Saturated Fat:
91
g
|
Polyunsaturated Fat:
10
g
|
Monounsaturated Fat:
102
g
|
Trans Fat:
4
g
|
Cholesterol:
652
mg
|
Sodium:
13777
mg
|
Potassium:
3369
mg
|
Fiber:
5
g
|
Sugar:
31
g
|
Vitamin A:
1832
IU
|
Vitamin C:
16
mg
|
Calcium:
971
mg
|
Iron:
26
mg