One of my favorite things about seafood is that it is easy to make over the fire. Like shrimp or scallops, it requires some simple techniques to really crush it as a recipe, like these Garlic Parmesan Mussels. These mussels are bathed in a butter, lemon juice, garlic & white wine bath over the fire until they begin to open up.
Now, the whole process of cooking mussels is steaming them. So, this is why we get all the flavor into the skillet before we add the actual mussels. This helps us to baste them in the sauce as they steam. As the mussels open up, they will begin to get flooded with the flavor of the sauce which is enhance everything about them. That is why they are such an amazing dish to cook over fire. The smoke gets into the sauce and then into the Garlic Parmesan Mussels themselves!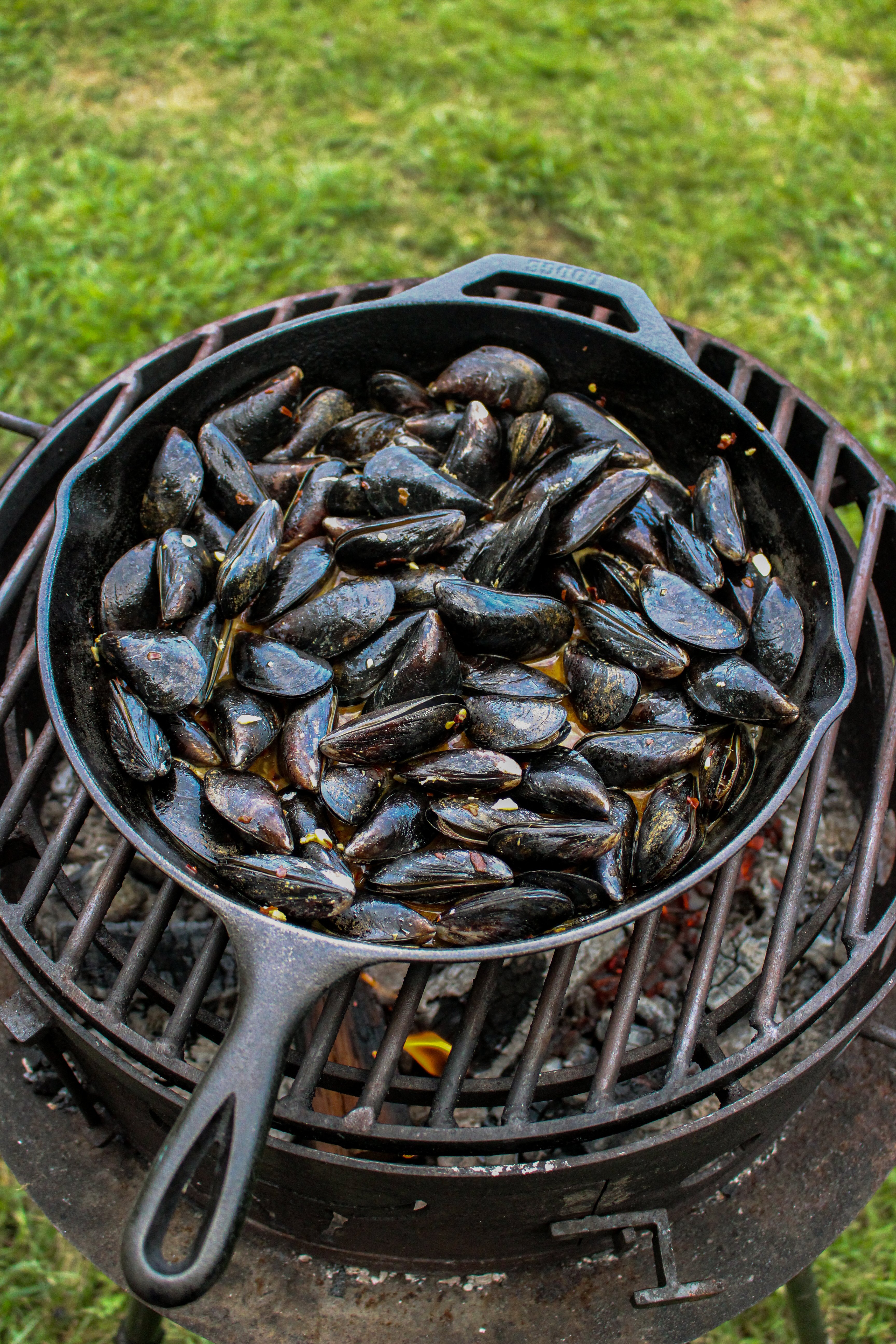 The Cowboy Broil with the Garlic Parmesan Mussels
Once they open, we need to finish them off. We top them with parmesan cheese & give them the old Cowboy Broil. The Cowboy Broil is a classic over the fire technique to get a nice crust on these Garlic Parmesan Mussels. Cover them with a lid or tin foil, then top that covering with smoldering coals from the fire. This will cook the cheese from the top down to give an epic crust. I love doing this with Cowboy Charcoal too because they hold their coals for a long time.
Loved this Garlic Parmesan Mussels recipe. Just make sure to dip into that parmesan butter at the bottom of the pan before you start eating!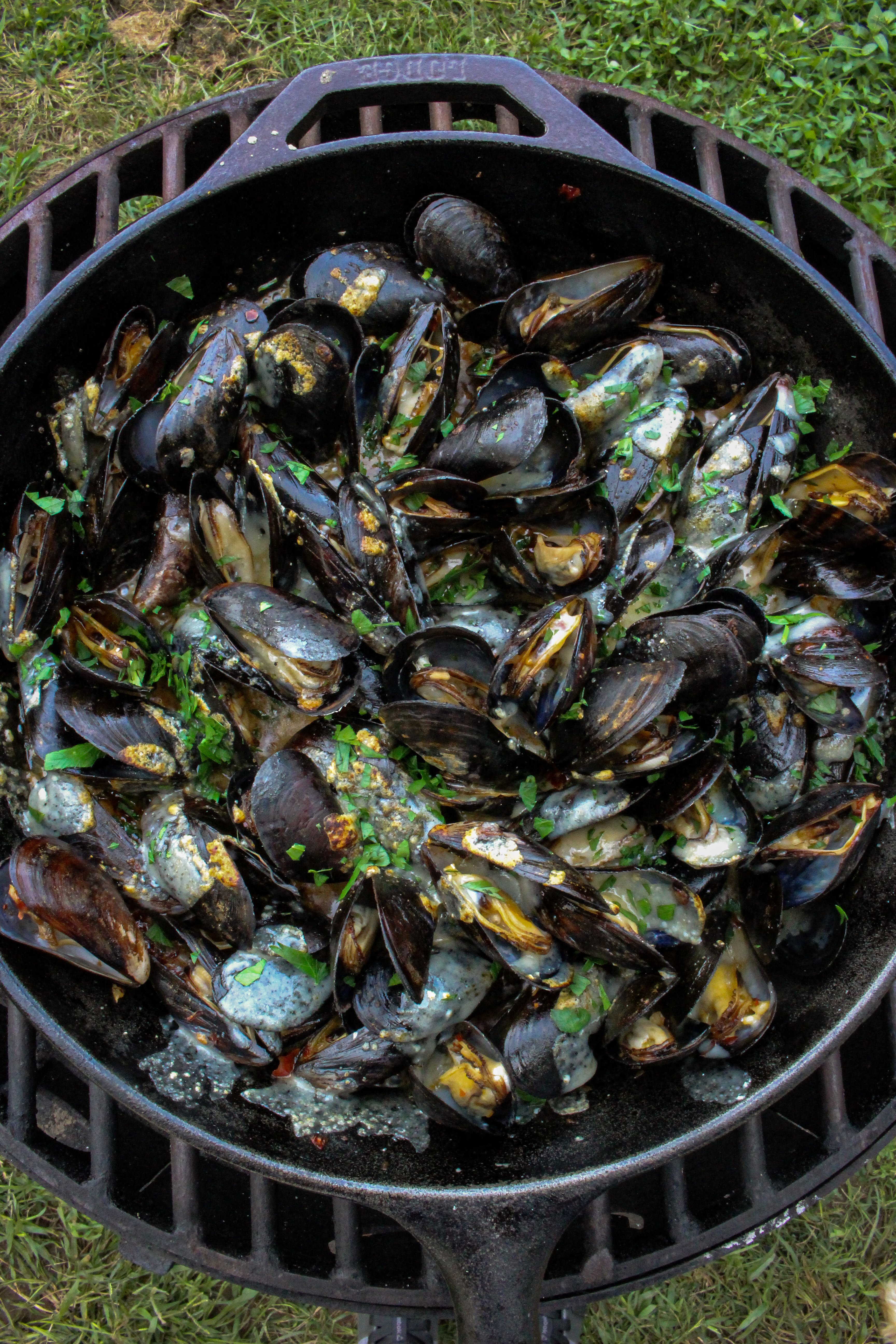 This article does contain affiliate links to products that we personally use and support. Purchasing an affiliate product does make us a small commission at no cost to you. This helps us continue creating for our website. All words and opinions are our own, and we appreciate your support!
Garlic Parmesan Mussels
Make something unique yet quick over the fire with these Garlic Parmesan Mussels. They are simple seafood steamed over the fire in cast iron perfect for an appetizer or dinner!
Ingredients
Mussels Ingredients:
3

lbs

of Fresh Mussels

cleaned and de-bearded

4

tbsp

of Butter

5

Garlic Cloves

chopped

1

Lemon

juiced

2

tsp

of Red Pepper Flakes

½

cup

of White Wine

¼

cup

of Shaved Parmesan

Chopped Parsley

for garnish

Wedged Lemons

for garnish
Instructions
Preheat your fire to a medium-high temperature of 375F. Add your skillet with butter 2 minutes before cooking to heat up.

Add in your chopped garlic to brown for 1 minute on the skillet. Next, add the red pepper flakes and lemon juice to heat up for another minute. Finally, add your white wine and let cook for 2 minutes.

Once all that is mixed together, add in the mussels. Mix the mussels with the sauce and cook for about 2 minutes until they begin to start opening up. Once about 75% have opened, turn them all so that the opening is facing up. Sprinkle your parmesan cheese all over the mussels. Cover in tin foil with some coals on top to caramelize the cheese. Cook for 1 minute and then pull off.

Serve the mussels in the skillet or on a plate garnished with parsley, lemon wedges and dipping in the parmesan sauce. Cheers!