Brazilian Steaks with Habanero Chimichurri has me wishing for a trip to Brazil! This is a New York Strip roast that I trimmed and cut into three large steaks. While this may seem untraditional, this is actually a Brazilian technique that I've been wanting to try called Bife De Tira. I topped it all with a Habanero Chimichurri, so believe me when I say this recipe is fire.
Brazilian Steaks with Habanero Chimichurri
I spend lots of time messing around with different flavor combinations and cooking techniques. It's not often I find a new style of protein to cook, so I'm always excited when I do discover something new. I'd guess we're all pretty familiar with a New York Strip steak, but I had never seen a roast cut like this before. Naturally, I wanted to give it a try.
So, what did I do differently for these Brazilian Steaks? Start by thinking of your classic NY Strip Steak. One end of the steak is slightly higher than the rest of the steak, while the opposite end is shorter with a small fat cap. The butchers take the roast and make vertical cuts across the chunk of meat to create these steaks.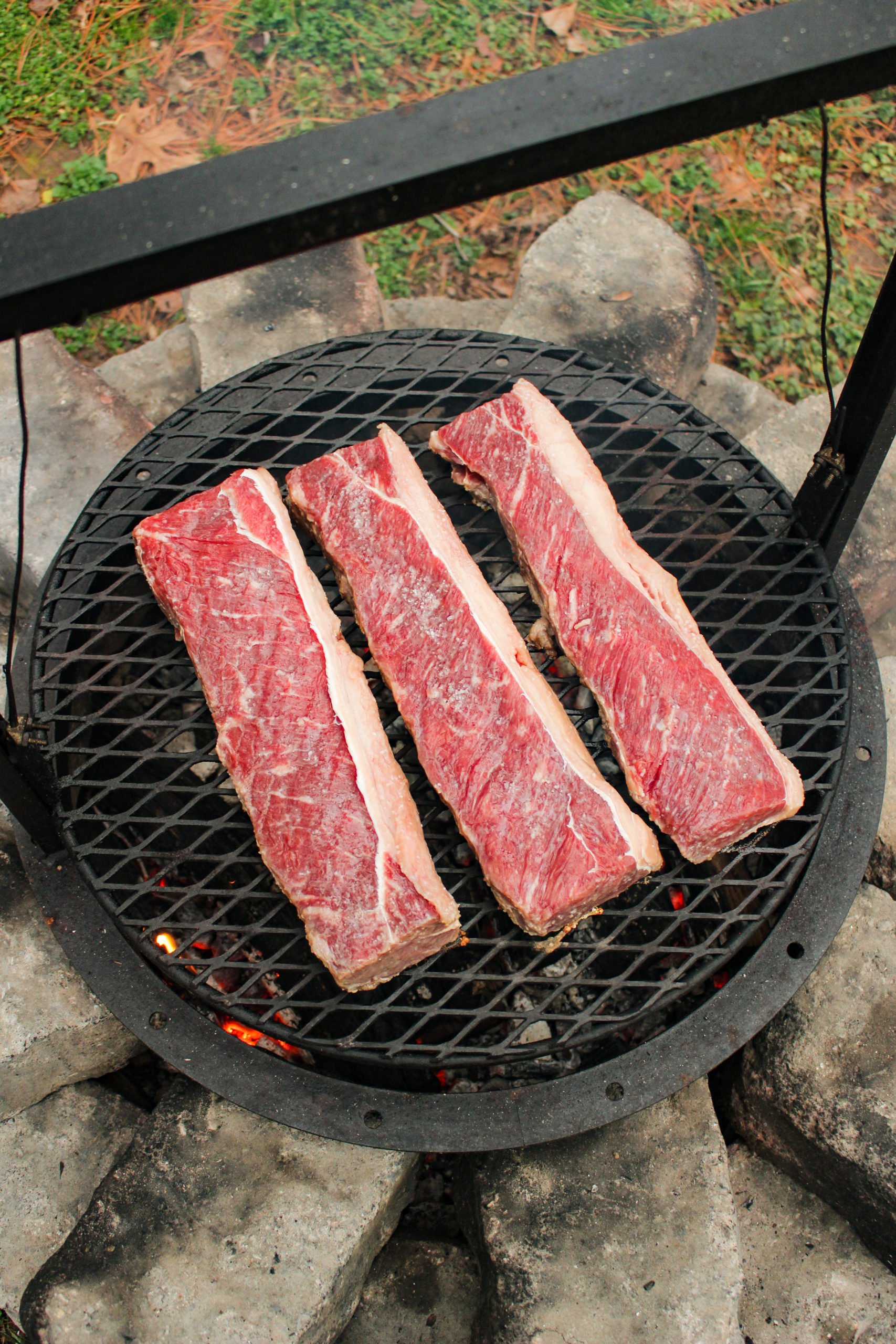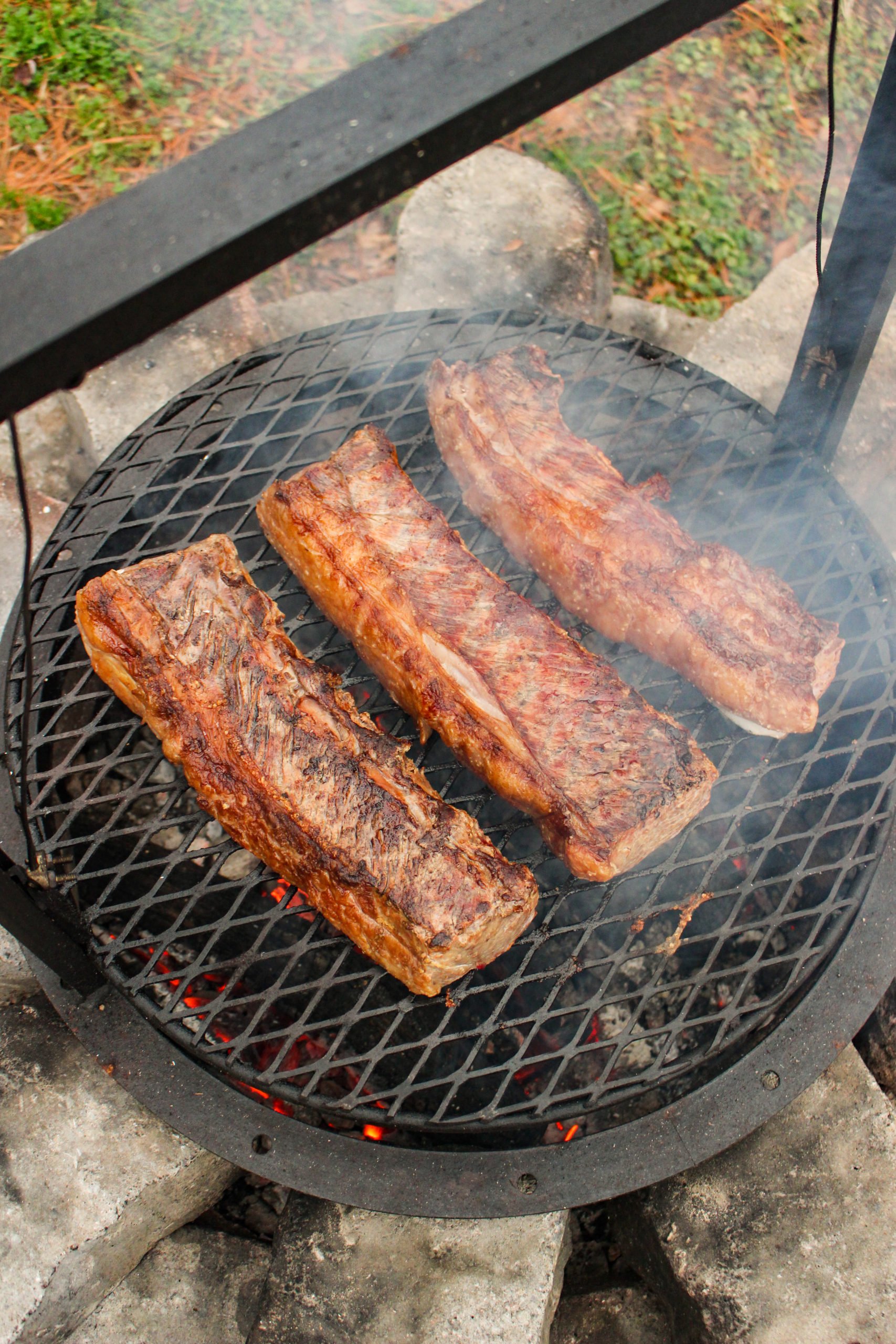 For more New York Strip Steak recipes, check out New York Strips with Bourbon Mushrooms, New York Strip Roast and New York Strips with Veggie Packets.
To start, I cut the high end and the low end of the steaks off. Next, I trimmed the other two sides to make an even looking block of meat. Then, where the butchers would typically make multiple, vertical cuts (creating a plethora of smaller steaks) I made two large, perpendicular cuts. This created three, long strips of steak.
From here, I oiled up the steaks and seasoned them with salt. We are going for Brazilian Steaks after all.
Habanero Chimichurri for our Brazilian Steaks
After seasoning the steaks, let's get to work on the Habanero Chimichurri. It's worth noting that I like to prepare this Habanero Chimichurri pretty early in the recipe cooking process. This is because it allows the flavors to sit and fuze together while everything else is cooking, making for the best chimichurri.
If you like to get ahead of the game, you can make the chimichurri a day early and let it sit all day to marinade together. Alternatively, if timing just isn't working for you, you can definitely make the Habanero Chimichurri right before serving the dish. It will still be great. Really the takeaway message here is that whatever you do, make this chimichurri. It's sharp and spicy and even a bit tangy. Top it on that savory Brazilian Steak and you'll have a happy belly.
Don't like spicy? Try these other versions of chimichurri: Grilled Skirt Steak with Chimichurri, Wagyu Secreto Steak with Roasted Chimichurri and Chimichurri and Cheese Stuffed Picanha.
Grilling Brazilian Steaks
You might be wondering if these steaks will still be tender since I sliced them differently. The answer: yes!
While we cook these three long steaks over the fire, consider the way we'll slice into them at the end. We will actually be slicing them against the grain and creating bite sized pieces. You know what else is great about these Brazilian Steaks? Due to this slicing technique, each bite sized sliver of steak will have its own fat cap. That means you'll get some of that buttery, flavorful fat with each bite of steak. Pretty awesome right?!
A Dinner Fit for a Brazilian
Cook these Brazilian Steaks until they hit an internal temperature of 120F. Then, remove them from the grill and let them rest.
After they've rested, slice into the Brazilian Steaks and top with our Habanero Chimichurri. Then grab the nearest fork, or just use your hands, to get some steak and chow down. Best enjoyed with friends and family. Cheers!
For more delicious recipes, check out my cookbook Food X Fire!
Needing more spice in your life? My spice line can help with that. Check them out here.
Brazilian Steaks with Habanero Chimichurri
Brazilian Steaks with Habanero Chimichurri for a delicious, fire kissed dinner!
Ingredients
Steaks:
1

Whole NY Strip Roast

ideally 12" in length

3

tbsp

Coarse Sea Salt

1.5

tbsp

Canola Oil
Habanero Chimichurri:
½

cup

Parsley

chopped

¼

cup

Green Onions

chopped

¼

cup

Red Wine Vinegar

4-6

Garlic Cloves

minced

1.5

tbsp

Habanero Sauce

Olive Oil

to desired consistency

Salt

to taste
Instructions
Begin by taking your whole NY Strip roast, and square off both ends (like you were cutting NY Strip steaks) so that they are flat on both ends. Next, trim both sides so that the NY Strip roast no longer has rounded sides but is one uniformly rectangular shape. Next (against all your traditional American steak eating habits), slice the roast lengthwise into 3-4 segments. The steaks should look like long rectangles with a fat cap side (similar to picanha). Watch the video below if you need better visual instructions.

Once you have your steaks, lather them with oil and season them thoroughly with salt. Place them on a tray and set in the fridge for 40 minutes. About 15 minutes before cooking, pull the steaks out to come to room temperature.

In a mason jar or bowl, mix together all the ingredients for the Habanero Chimichurri. Once done, set aside until ready to use.

Preheat a medium high heat fire (around 375F) for direct grilling.

When your steaks are at room temperature, place them onto the grill to cook for about 7-8 minutes per side or until they are 120F internal. Once the steaks reach temperature, pull them off and let them rest for 8 minutes.

Slice the steaks up, top with the Habanero Chimichurri and enjoy!
Nutrition
Serving:
0.5
Steak
|
Calories:
124
kcal
|
Carbohydrates:
1
g
|
Protein:
8
g
|
Fat:
9
g
|
Saturated Fat:
3
g
|
Polyunsaturated Fat:
1
g
|
Monounsaturated Fat:
5
g
|
Trans Fat:
1
g
|
Cholesterol:
30
mg
|
Sodium:
3598
mg
|
Potassium:
174
mg
|
Fiber:
1
g
|
Sugar:
1
g
|
Vitamin A:
468
IU
|
Vitamin C:
11
mg
|
Calcium:
25
mg
|
Iron:
1
mg