One of my favorite things is a delicious dinner hot off the grill! If you're searching for a flavorful and fun recipe to try this grilling season, look no further than Steak Onion Skewers. This mouthwatering dish combines savory skirt steak, caramelized onions, and a tangy garlic rosemary aioli. Plus, we'll be using Oklahoma Joe's new Firecraft Charcoal Grill to take these skewers to the next level. Get ready for a culinary adventure that will leave you and your loved ones craving more!
Post Sponsored by Oklahoma Joe's.
Skirt Steak
The great thing about outdoor grilling is how it brings out so much flavor in your food. Most of our favorite grilled recipes involves steak, so it's no surprise that these Steak Onion Skewers make for a delicious dinner that will impress the whole family.
The first step to creating these mouthwatering Steak Onion Skewers is choosing the right cut of beef. We used two long skirt steaks for this recipe – a cut of beef with great flavor and just enough marbling to keep things juicy without having a lot of excess fat. The length allows them to wrap several times around the white onion, creating an eye-catching spiral effect on your metal skewers or bamboo skewers if you prefer.
Steak Onion Skewer Ingredients
You've got your outdoor grill fired up, the backyard filled with the delightful aroma of charcoal and anticipation. You're ready to wow your guests (and let's be honest, yourself too) with a delicious dinner that screams "grilling season is here!" What better way than with our delectable Steak Onion Skewers? This recipe serves approximately four people and takes about fifteen minutes of prep time plus an hour over those beautiful flames.
The Main Event: Steak Onion Skewers
2 Whole Skirt Steaks – A cut of beef known for its flavor punch. This is my personal preference for this recipe since it's also a long, think cut of steak; naturally making it a good choice for wrapping around an onion.
2 Small White Onions – Because what type of steak doesn't get along splendidly with onions?
Kosher Salt, Black Pepper and Garlic Powder (1.5 tbsp each) – The holy trinity in the seasoning world!
A drizzle of Neutral Oil as a binder – To ensure all that great flavor sticks where it belongs; on your meat! Use olive oil if you like some extra pizzazz.
We recommend using metal skewers, but bamboo skewers can also do the trick after soaking them in water to prevent burning during grill time.
Sideshow Attraction: Roasted Potatoes
Mini Potatoes – halved (about 3 cups worth)
Your favorite trio again – Garlic Powder, Black Pepperand Kosher Salt (this time only 2 tsp each)

Note: For added delicious flavor, throw in bell peppers or yellow squash.

A generous splash of more Neutral Oil because we don't want these babies sticking to our grill pan!
The Finishing Touch: Garlic Rosemary Aioli
This aioli is not just a sauce; it's a game-changer! Here's what you need:
Egg Yolks from two large eggs
Cloves from half a head of garlic
Olive oil (1/8 cup)
Fresh rosemary finely chopped (1 tbsp)
Dijon Mustard (1 tbsp), Lemon Juice and White Vinegar (a teaspoon each)
A Great Grill for a Great Meal
Alright, time to fire up your Oklahoma Joe's Firecraft Charcoal Grill to get this meal cooking!
What I love about this grill is its versatility. You can use charcoal, or real wood logs for that authentic smoky flavor we all crave. Plus, let me tell you something – this thing gets HOT and stays hot! That means less time worrying about maintaining temperature and more time enjoying the outdoors.
This particular grill features two swivel grill grates which allow for maximum customization when it comes to heat management and cooking technique. This is great news for this recipe because we'll cook the steak onion skewers on one side of the grill at a medium heat and the potatoes on the other side, at a high heat. You're basically guaranteed to get the best flavor on any of the different cuts of steak because these adjustable grill grates are customizable for anything!
Pull out one swivel grate and place it about 1-1.5ft away from the coals in preparation for the skewer.
Steak Onion Skewers
Next, go to your prepping station and roll out your skirt steaks. Now, slather those bad boys with oil like they've just come back from a day at the beach. Season them generously on both sides with sea salt, black pepper, and garlic powder because we all know how important seasoning is for great flavor.
Next up are our onions. Slice off the root and opposite side of the onion and then peel off that first layer. Stick a couple toothpicks into each onion – these will act as anchors for our skewered steak later.
Now that the skirt steaks are seasoned and onions are clean, grab some tooth picks. Stick 3-4 toothpicks around the onion, leaving a good portion of them sticking out of the onions. Then carefully wrap the skirt steaks around the onion. Secure it to the onion with the toothpicks we just placed in the onion. Continue wrapping the steak around the onion until you've reached the end of the skirt steak.
Next, securely skewer the two onion-steak rolls onto your skewer stick, before placing them over the top of grill. For the best results, make sure to flip them every 4-5 minutes to ensure they cook evenly.
While the Steak Onion Skewers are cooking, lets assemble some other points of our dish.
Garlic Rosemary Aioli
In a medium bowl add all the ingredients for the aioli, except for the chopped rosemary. Blend those ingredients together using an immersion blender until thickened, and more olive oil if necessary to thin it out (we don't want any chunky bits!).
Lastly, toss in the chopped rosemary and give it a good stir. Then transfer it all to a small bowl and pop it in the fridge until ready to serve.
For more aioli, check out my Spicy Shrimp with Pineapple Aioli, Smoked Fried Prime Rib with Garlic Sriracha Aioli and Leaning Salmon with Roasted Garlic Aioli.
Roasted Potatoes
Next, let's tackle these potatoes. Start by getting a pot of water boiling on your stove. Then toss in some salt and about ¼ tbsp of baking soda. You might be wondering why we're using baking soda here – it helps break down the potato surface which will lead to a crispier exterior later on.
Once those bubbles are dancing away nicely, add your potatoes into the hot tub. They'll need around 13-15 minutes to become tender but still firm – perfect for roasting! After their spa treatment is done, pull them out and drain well before letting them cool.
Add a cast iron skillet with beef tallow or any neutral oil onto the heated grill until it starts slightly smoking. Now, carefully transfer those potatoes into this sizzling hot pan and roast 'em good!
We're looking at about 8-10 minutes of stir-fry action here folks; keep turning those golden nuggets frequently so they don't burn but develop a nice char instead. And voila! Once they've turned beautifully golden brown all over (think sun-kissed), pull 'em off and set them to the side until serving.
While the aioli and roasted potatoes are enough of a meal for me, one could keep going down the skewers rabbit hole and make some veggie skewers for another side. Go for classic combos like bell peppers and mushrooms, or get adventurous with zucchini or cherry tomatoes. Really, any of your favorite vegetables are fair game!
Additional Skewer Recipes
Serving Up Steak Onion Skewers
Once the center of beef registers an internal temperature around 120F at the deepest part (a great way to check is with an instant read thermometer), transfer skewers from the grill and let them rest briefly.
Then slice them right off their swords and serve alongside roasted potatoes! I drizzled my Steak Onion Skewers with a generous amount of chilled our Garlic Rosemary Aioli. We want to ensure everyone gets a bit of it in each bite!
Remember folks! Grilling season means enjoying good company alongside a delicious meal under the open sky while basking in the glory that comes only from cooking over fire – truly nothing beats it!
Needing more spice in your life? My spice line can help with that. Check them out here.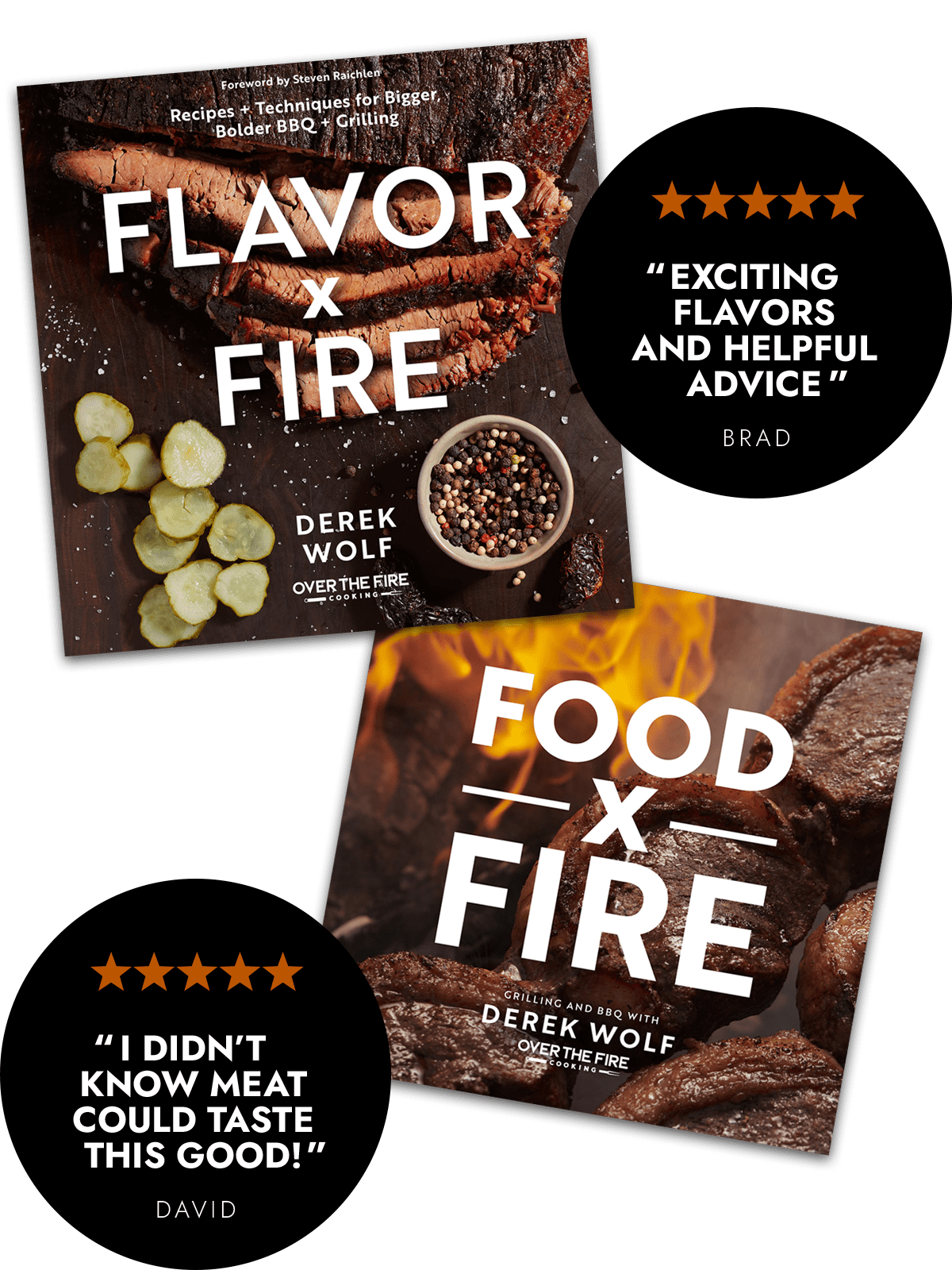 Get The Cookbooks!
Flavor X Fire & FOOD X Fire
All the major tastes—salty, sour, sweet, bitter, and umami—are explored in-depth, along with an investigation of other competent you should consider when it comes to flavors, such as aroma, heat, and texture.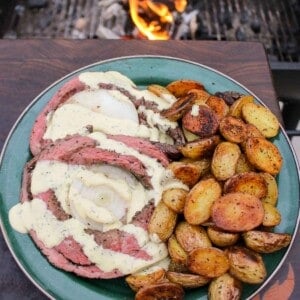 Steak Onion Skewers
Steak Onion Skewers for a delicious steak and potatoes dinner.
Ingredients
Skewers:
2

Whole Skirt Steaks

full length

2

Whole White Onions

small

1.5

tbsp

Kosher Salt

1.5

tbsp

Black Pepper

1.5

tbsp

Garlic Powder

Neutral Oil

as binder
Roasted Potatoes:
3

cups

Mini Potatoes

halved

2

tsp

Garlic Powder

2

tsp

Black Pepper

2

tsp

Kosher Salt

Neutral Oil

as needed
Garlic Rosemary Aioli:
2

Egg Yolks

3-4

Garlic Cloves

1/8

cup

Olive Oil

1

tbsp

Finely Chopped Rosemary

1

tbsp

Dijon Mustard

1

tsp

Lemon Juice

1

tsp

White Vinegar
Instructions
Skewers & Aioli
Roll out your skirt steaks and slather with oil.

Season generously on both sides with salt, pepper and garlic powder.

Next, slice off the root and opposite side of the onion and peel off the first layer.

Add a couple toothpicks to the onion so you can secure the steaks to it.

Place the onion at the base of the steak and roll the steak around the onion until you have it fully rolled up. Secure any loose areas with toothpicks and then repeat for the second onion and steak.

Finally, skewer the two onion steaks on to a sword skewer and set to the side.

Next, add all the ingredients for the garlic rosemary aioli to a bowl and blend using an immersion blender. Add more oil if needed to make it thinner.

Once it has thickened, set in the fridge till ready to serve.

Preheat your Oklahoma Joe's Firecraft Charcoal Grill to medium high heat (about 350F).

Pull out the grill grate from one of the swivel grates. Set your swivel circle about 1-1.5ft from the coals and place the skewer over the top.

Cook the skewer over consistent heat for 20-25 minutes making sure to flip every 4-5 minutes.

Once the steaks are 120F at the deepest part, pull them off and let them rest for 10 minutes.

After resting, slice the steaks off the skewer and serve with the roasted potatoes and top with the Garlic Rosemary Aioli. Enjoy!
Roasted Potatoes
Add a pot of water to your stove and bring to a boil. Add 1 tbsp of kosher salt and ¼ tbsp of baking soda and let dissolve.

Once boiling, add your potatoes to the water and let boil for 13-15 minutes. Pull out and drain once done then let cool for 10 minutes.

Preheat your Oklahoma Joe's Firecraft Charcoal Grill to high heat (about 400F).

Add a cast iron skillet with beef tallow or a neutral oil to the grill to heat until it is starting to smoke.

Carefully add your potatoes to the skillet and roast them for 10 making sure to stir frequently.

Once the potatoes are golden brown, pull off and serve with the steaks.
Nutrition
Serving:
4
g
|
Calories:
488
kcal
|
Carbohydrates:
32
g
|
Protein:
42
g
|
Fat:
22
g
|
Saturated Fat:
7
g
|
Polyunsaturated Fat:
2
g
|
Monounsaturated Fat:
12
g
|
Trans Fat:
1
g
|
Cholesterol:
204
mg
|
Sodium:
3950
mg
|
Potassium:
1179
mg
|
Fiber:
5
g
|
Sugar:
4
g
|
Vitamin A:
183
IU
|
Vitamin C:
28
mg
|
Calcium:
81
mg
|
Iron:
5
mg