The most famous burger of all time gets reimagined. Does the Big Mac need to be any bigger? No, we can only open up so far. Does it need to be made fancier? No, no one has ever asked for truffles on a Big Mac. Does it need to be completely reengineered in a mind-bending way? Well, you're gonna have to make The Big Mac Dog and find out!
Post Contributed by Jeremy Whitelaw 
Big Mac-ify It!
What are the essential ingredients here? Bun, secret sauce, lettuce, cheese, pickle, onion, and of course the burger. There's an endless array of combinations that we could rework these basic ingredients into. I'm pretty sure I've seen a Big Mac Wellington out there. But, in the true American spirit of summer we're gonna make a hot dog, of sorts. 
Starting with ground chuck, because it's truly the MVP of burger grinds. Fatty, flavorful, and fantastic. Not as pretentious as sirloin, or as flamboyant as short rib, or as domineering as brisket. This is the perfect meat to make our Big Mac Dogs with. 
For more Dogs, check out Bacon Wrapped Chorizo Dogs!
The Big Mac Dog – Let's Go
Start by spreading the meat thin, almost like a smash burger, with a spear of cheese placed directly in the center. Close the meat blanket up and around, encasing the cheese for a beautifully molten core to surprise your guests with. Then wrap said Big Mac Dog in bacon, because we wild like that. Pro tip to keep these bad boys together, wrap tightly with cling wrap and rest overnight in the fridge. This is a classic preparation method when making any roulade.
Of course, we're gonna talk Secret Sauce. The myth, the lore, the legend that is Secret Sauce. To give this creation the moniker of "Big Mac" without the fabled Secret Sauce would be blasphemy. Smooth, tangy, hint of onion and sweet; this sauce has it all. The perfect accoutrement to any hamburger… or hot dog. Due to it's delicious nature, I'm spilling the secret to the sauce in the recipe card below. 
For more summer grilling favorites, check out Al Pastor Pulled Pork Sandwich, Cheesy Onion Smash Burgers and Elote Style Chicken Wings.
The Big Mac Dog and His Grills
Cooking these Big Mac Dogs is no simple task because they require high heat to sear and indirect heat to finish the cook. Be on the lookout for the rendered bacon fat, because it's basically jet fuel. Also, cook these too slowly and that cheese will find a way to melt out. What I'm saying is, it's a tightrope cook. Ya gotta goldilocks this one. Sear, bake at high heat, and then a rest while you assemble everything else.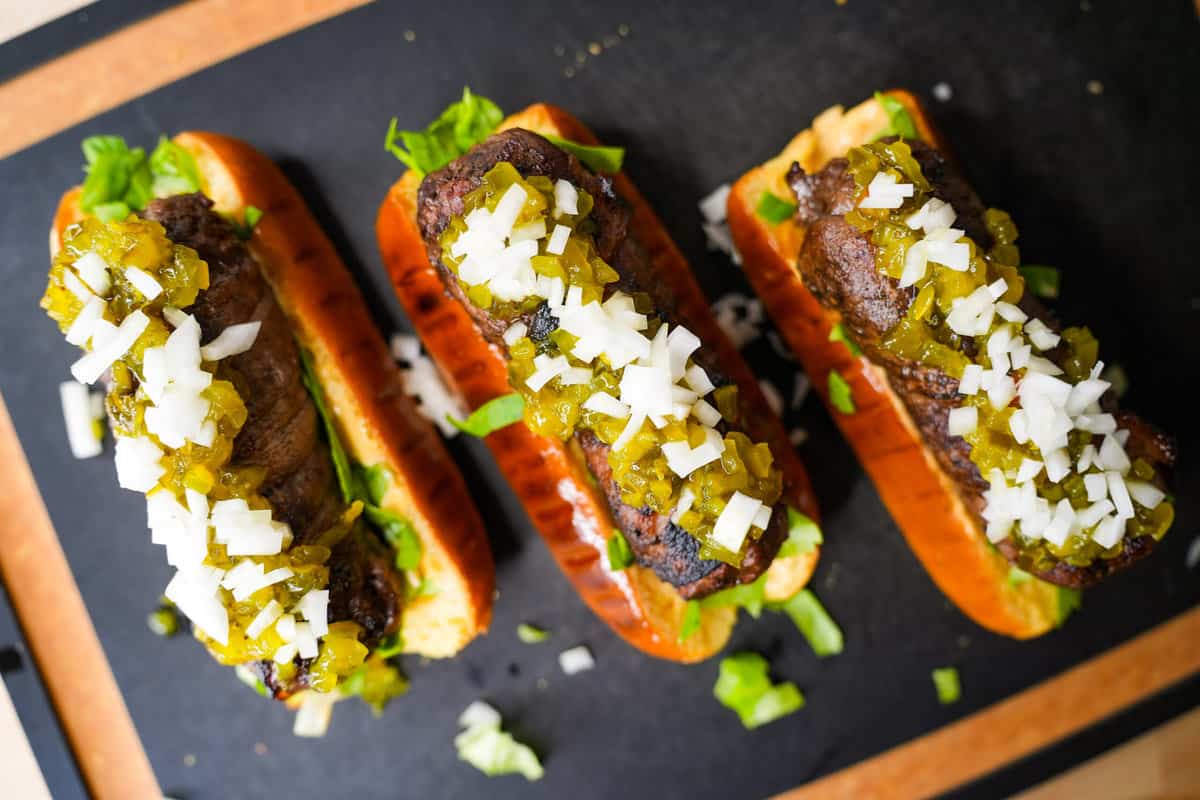 Make sure you toast your buns after cooking up the dogs. It's a little detail that goes a long way. I prefer to use brioche buns due to their amazing buttery flavor. But feel free to branch out and go with the best you can find.
All that's left to do is assemble and then enjoy! Bun, lathered in the secret sauce, a thin layer of sliced lettuce, your Big Mac Dog, topped with relish and some finely chopped white onions. "It's a party" is an understatement, so enjoy!
For more delicious recipes, check out my second cookbook Flavor X Fire or my first cookbook Food X Fire!
Needing more spice in your life? My spice line can help with that. Check them out here.
Full length video on Facebook!
The Big Mac Dog
The Big Mac Dog for those burger and dog lovers!
Ingredients
2

Lbs

Ground Chuck

6

Strips of thick cut Bacon

½

lb

block of Cheddar Cheese

1

Sweet Onion

Sweet Relish

Butter Lettuice

Brioche Hot Dog Buns
Special Sauce
½

cup

Mayo

¼

cup

French Dressing

1

Tbsp

Sweet Relish

1

Tbsp

Apple Cider Vinegar

1

Tbsp

Sugar

1

Tsp

Salt

1

Tsp

Onion Powder
Instructions
The day before, combine all ingredients for the Special Sauce in a bowl. Whisk thoroughly. Cover and keep in the refrigerator.

Also, the day before. Divide ground chuck into 6 equal portions, about 1/3 lb each. Cut block of cheddar cheese into 6 equally sized cheese sticks.

Flatten one portion of ground chuck, place one cheese stick in the center, and enclose the meat around the cheese making a hot dog shape. Repeat process with all 6 cheese sticks and portions of ground chuck.

Season each "hot dog" with OTFC Bourbon Prime Rub.

Wrap one slice of bacon around each hot dog, covering the outside. A toothpick or similar device can be used to secure the bacon.

Wrap each hot dog tightly with cling wrap and place in the fridge overnight. This will help the bacon adhere and for the dogs to keep their shape.

The next day, pre heat grill to medium high heat. Sear the hot dogs and then move to indirect to finish the cook.

Toast ya buns and then time to assemble.

Bun, secret sauce, lettuce, dog, relish, and chopped onion. Have it your way, or whatever the saying is.
Nutrition
Calories:
831
kcal
|
Carbohydrates:
11
g
|
Protein:
38
g
|
Fat:
70
g
|
Saturated Fat:
25
g
|
Polyunsaturated Fat:
13
g
|
Monounsaturated Fat:
24
g
|
Trans Fat:
2
g
|
Cholesterol:
168
mg
|
Sodium:
1094
mg
|
Potassium:
567
mg
|
Fiber:
1
g
|
Sugar:
8
g
|
Vitamin A:
478
IU
|
Vitamin C:
3
mg
|
Calcium:
313
mg
|
Iron:
3
mg