You've seen us cook leaning salmon before, but how about some Wood Plank Salmon! This simple recipe is a new take on a familiar favorite and it is definitely worth a try!
We're all comfortable with smoking or grilling, but have you ever tried baking with fire? It might seem like a tricky feat without the right type of grill, but I baked this up using my simple backyard fire pit!
I did this by circling concrete bricks around the fire and then grabbing a sturdy slab of sheet metal that easily fit across the top of the pit. We also made sure to lay two bricks perpendicular to the others, creating small airways to allow constant airflow in and out of the space.
If you love salmon, then you'll love this BOURBON BACON PECAN SALMON, CREAMY HONEY CAJUN SALMON, GARLIC SOY MARINATED SALMON, HONEY MUSTARD AND CHILI BAKED SALMON!
Why you'll love this recipe
This delicious Cedar Plank Salmon recipe is a great way to infuse smoke flavor into the salmon. The wood planks give the salmon a nice woodsy flavor that also beautifully complement the lemon dill cream sauce we put on top of the fish. The result is a tender, moist salmon filet that will become your new favorite way to make salmon! Find the whole recipe below, and make sure to check out our YouTube video of it here.
Ingredients
SALMON INGREDIENTS:
Salmon Filets
Slices of Lemon – We're putting these underneath the salmon to infuse a citrusy flavor.
Dill for garnish
SEASONING INGREDIENTS:
Dijon Mustard – Acts as a flavorful adhesive, helping the seasoning to stick to the salmon while also providing a subtle tangy taste.
Sea Salt
Black Pepper
Granulated Sugar – Caramelizes as the salmon cooks, creating a delightful sweet contrast to the smoky flavor of the salmon.
Granulated Garlic – Infuses the salmon with a rich garlic flavor without the texture of minced garlic.
Smoked Paprika – Contributes to the smoky flavor profile, enhancing the wood plank's effect and providing a depth of taste to the salmon.
Cayenne Powder – Adds a touch of heat to the seasoning mix, providing a mild kick.
Dried Thyme – Offers an earthy and herby essence, complementing the other seasonings and adding a layer of complexity to the dish.
LEMON DILL CREAM SAUCE:
Sour Cream – is a key component of the lemon dill cream sauce, lending creaminess and tanginess to balance the richness of the salmon.
Yogurt – Complements the sour cream in the cream sauce, contributing a creamy texture and a slightly different flavor profile.
Dill – Adds a touch of herbal freshness to the sauce.
Lemon – Adds zesty citrus notes to the sauce and beautifully complements the richness of the salmon.
Salt
How to Make Wood Plank Salmon
Start by soaking the wood planks in water for at least an hour. Once that's done, take them out and dry them with paper towels.
Now, let's make the salmon rub. In a bowl, combine all those tasty seasonings. Then, spread a layer of Dijon mustard on your salmon and sprinkle the seasoning mix generously. Don't be shy!
Lay some lemon slices on those wood planks, and then gently place your salmon fillets on each soaked plank.
Next, preheat your charcoal for indirect medium-high heat, around 375F, using the two-zone method. You want one side hot and the other side cool. I used Cowboy Charcoal because I love its consistent heat and the way that it burns clean.
Once the fire is ready, put your seasoned salmon on the cooler side, skin side down, cover it up, and let it cook for about 10 minutes. Periodically, give each soaked cedar plank a little rotation so that it gets even cooking.
Your salmon is good to go when it hits 145F inside and has that beautiful caramelized color on the outside. Take it off the hot grill and let it rest for 2 minutes.
While it's resting, whip up that Lemon Dill Cream Sauce in a small bowl.
Finally, drizzle that creamy goodness over the flaky salmon, sprinkle on some fresh dill, and dig in!
Enjoy your wood plank salmon feast!
Tips
Use an instant read thermometer to ensure the internal temperature of the salmon reaches at least 145F.
If you don't want to use granulated sugar, feel free to add maple syrup or brown sugar to the salmon rub.
Keep some lemon wedges handy in case you want to squeeze a little lemon juice on top when serving!
You don't have to use the same seasoning I used for the salmon. Feel free to play around with another dry rub or seasoning blend of your preference!
Depending on the thickness of your salmon filets, you may have to adjust the cooking time.
How to Store Leftovers & Reheat
Store leftover salmon in an airtight container in the fridge for 3-4 days. You can also freeze the salmon for 4-6 months in an airtight container.
Reheating salmon can be tricky because you don't want to dry it out. While you can totally use the microwave if you're in a pinch, I recommend reheating your plank salmon in the oven to keep it moist.
To reheat in the oven:
Preheat your oven to 300F. We want a low temperature to cook the salmon without drying it out.
Wait patiently for 15 minutes as your salmon cooks.
Once the salmon is reheated, spread a little more of that Lemon Dill Cream Sauce on top!
What to serve with Wood Plank Salmon
Serve up your planked salmon with a delicious potato salad, grilled veggies, or some freakin' delicious mac and cheese! You can also turn this meal into a surf and turf dish by adding ribeyes or skirt steak!
Wood Plank Salmon Recipe FAQs
Where can you buy large cedar planks for cooking salmon?
You can go to any of your local hardware stores to buy cedar planks! Most major grocery stores carry also them! Just check the cooking supplies aisle.
What's the purpose of cedar plank cooking?
The charred wood plank infuses a woody, smoky flavor to the salmon while also providing indirect heat. The indirect heat allows delicate meat like salmon to cook without scorching it and drying it out.
What's the best type of salmon for this recipe?
​Feel free to use any type of salmon you like. Some great options are Atlantic salmon, sockeye salmon, etc.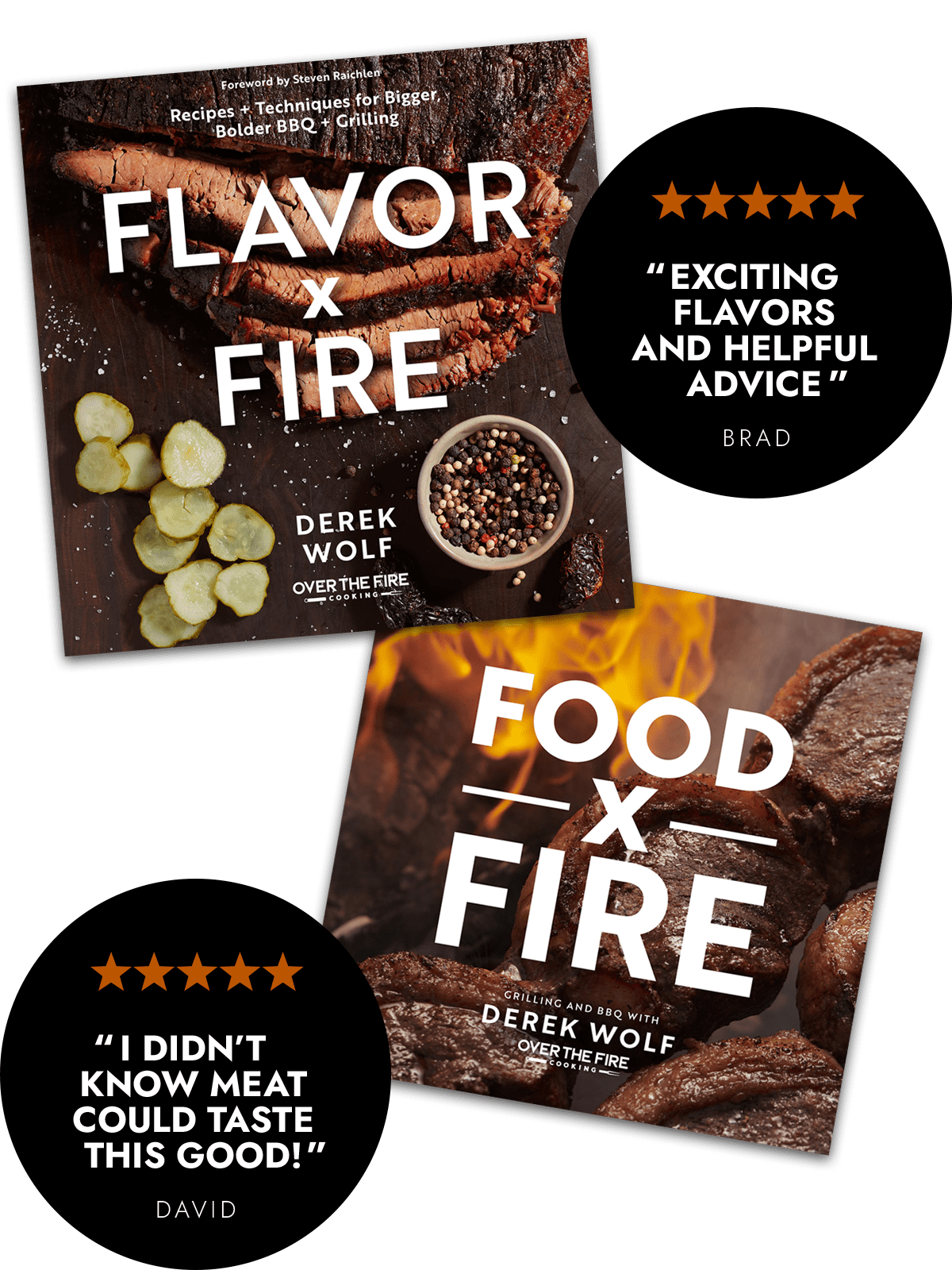 Get The Cookbooks!
Flavor X Fire & FOOD X Fire
All the major tastes—salty, sour, sweet, bitter, and umami—are explored in depth, along with an investigation of other components you should consider when it comes to flavor, such as aroma, heat, and texture.
Needing more spice in your life? My spice line can help with that. Check them out here.
Baked Wood Plank Salmon
Try a new take on a delicious dish with this Baked Wood Plank Salmon. Make it right in your grill or cook it in the firepit!
Ingredients
Salmon Ingredients:
4-6

Salmon Filets

10-12

Slices

of Lemon

Dill

for garnish
Seasoning Ingredients:
⅛

cup

of Dijon Mustard

1.5

tbsp

of Sea Salt

1

tbsp

of Black Pepper

1

tbsp

of Granulated Sugar

2

tsp

of Granulated Garlic

2

tsp

of Smoked Paprika

1

tsp

Cayenne Powder

1

tsp

Dried Thyme
Lemon Dill Cream Sauce:
4

tbsp

Sour Cream

2

tbsp

Yogurt

1

tbsp

Dill

1

Lemon

juiced

1

tsp

Salt
Instructions
Submerge the wood planks underwater for at least one hour. Once done, pull out and dry off.

In a bowl, mix together the seasoning ingredients.

Lather your salmon in dijon mustard and season thoroughly.

Lay down slices of lemon on the wood plank and add salmon filets on top until all are on the planks.

Preheat your charcoal for indirect medium-high temperature (around 375F) using the two zone method.

Once the fire is ready, add your salmon to the cool side of the grill and cover the pit or grill.

Let cook for about 10 minutes before rotating the wood planks around. This will help for even cooking.

The salmon is done when it reaches 145F internal and is caramel brownish-red on the outside. Pull it off once done and let rest for 2 minutes to cool.

In a bowl, mix the ingredients for the Lemon Dill Cream Sauce.

Top the salmon with the cream sauce and fresh dill. Enjoy!
Nutrition
Serving:
4
g
|
Calories:
306
kcal
|
Carbohydrates:
9
g
|
Protein:
36
g
|
Fat:
14
g
|
Saturated Fat:
3
g
|
Polyunsaturated Fat:
5
g
|
Monounsaturated Fat:
4
g
|
Cholesterol:
101
mg
|
Sodium:
3396
mg
|
Potassium:
976
mg
|
Fiber:
2
g
|
Sugar:
5
g
|
Vitamin A:
880
IU
|
Vitamin C:
16
mg
|
Calcium:
74
mg
|
Iron:
2
mg