Beer Battered Fish on a Stick for a fun recipe to spice up your mealtime. When a good friend offers to share some freshly caught fish with you, you don't turn down that offer. A Tennessee lager and some of my very own Chipotle Garlic seasoning were the two MVP ingredients to the batter for this fried fish. Finish it off with a bit of homemade chipotle sauce, jalapeños, and chile crunch for the most delicious fish sticks.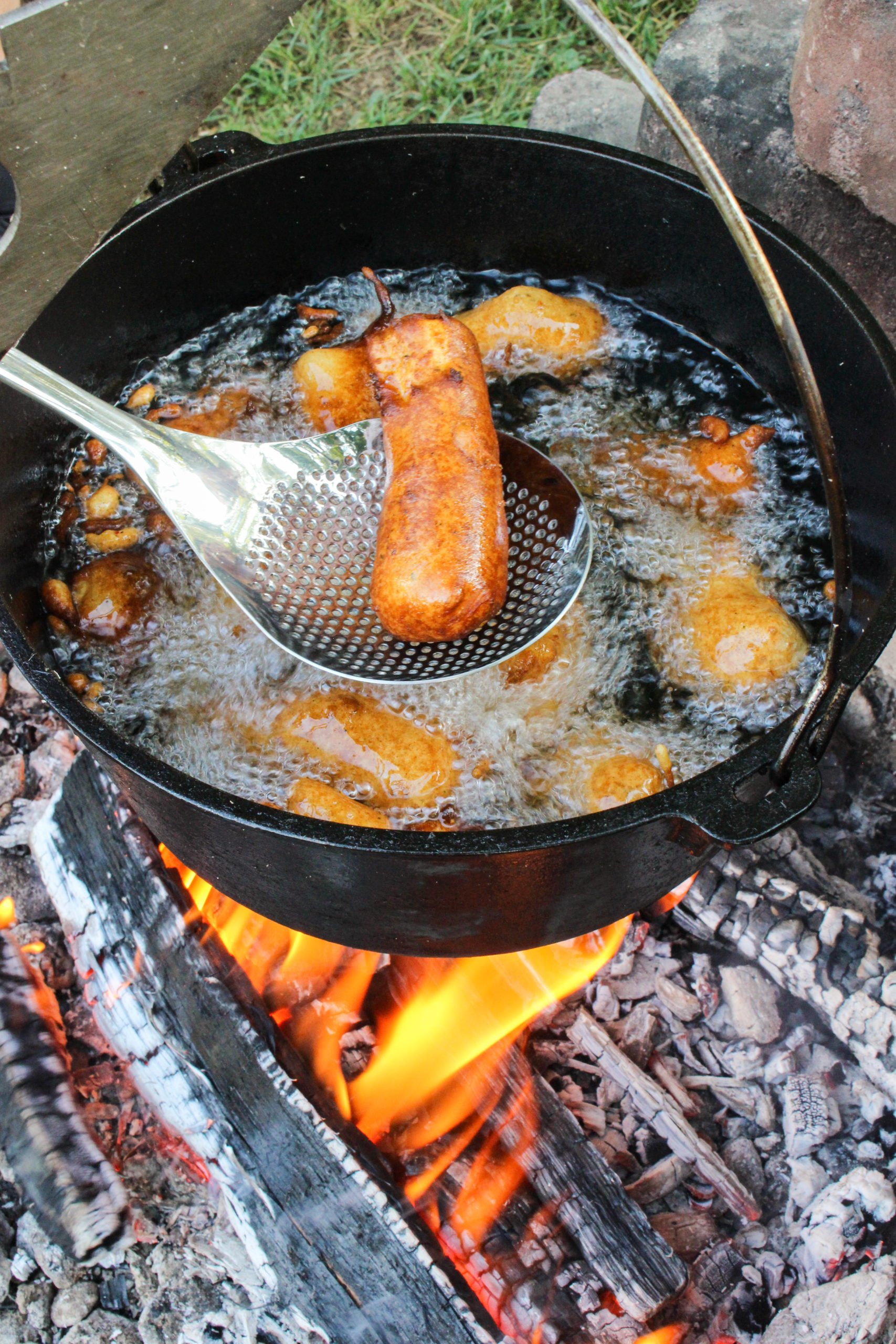 This recipe actually started out as a crispy fish tacos recipe. It wasn't until after the frying process that my wife said, "Hey, those look like corn dogs!" that this recipe was born. I agreeingly laughed with her, and then we decided to pivot this recipe to Beer Battered Fish on a Stick.
It reminded me of going to a carnival, where all foods are dubbed to be better on a stick. Well, I'm not sure that's true, but I will say these turned out amazingly and are a pretty fun spin on regular fish sticks.
Why you'll love this recipe
This recipe is my absolutely favorite way to enjoy flaky fish! Plus, this recipe is super easy to make! All you need is an open flame and a large pot, and you can make this fried fish recipe!
Another reason to love this recipe is the Chipotle cream sauce. The spicy and sweet flavors of the sauce combined with the beer batter fish was the perfect combo. If you're someone who loves fish and chips, fish tacos, or any kind of fish fried in hot oil, then you'll love this recipe!
Beer Battered Fish Ingredients
Fish
White Fish – Use any kind of flaky white fish you like! Tilapia, cod, and catfish are great options. The fish will then be sliced into strips to make "fish sticks."
Frying Oil – Use an oil with a high smoke point, like canola oil or vegetable oil.
Flour – This is what I use to remove excess moisture from the fish and make it easier for the batter to stick!
Wooden Skewers – These are for serving. Who doesn't like fish on a stick?!
Beer Batter
All-Purpose Flour – This is part of the batter we're making to deep fry the fish and get that nice crispy coating.
Cornstarch – A bit finer than flour and helps to create that crisp coating.
Chipotle Garlic Seasoning – This is my personal seasoning, but you can absolutely use any kind of seasoning you prefer!
Beer – I used a Tennessee lager, but feel free to use any kind of beer you like.
Egg – This acts as a binder so the batter sticks to the fish.
Chipotle Cream
Sour Cream
Chipotle Purée – This can be found in the Hispanic food section of your grocery store or online.
Lime – Use fresh lime juice for the best flavor.
Mayonnaise
Honey
Toppings
Shredded Cabbage
Sliced Jalapeños
Chopped Cilantro
Chile Crunch (optional)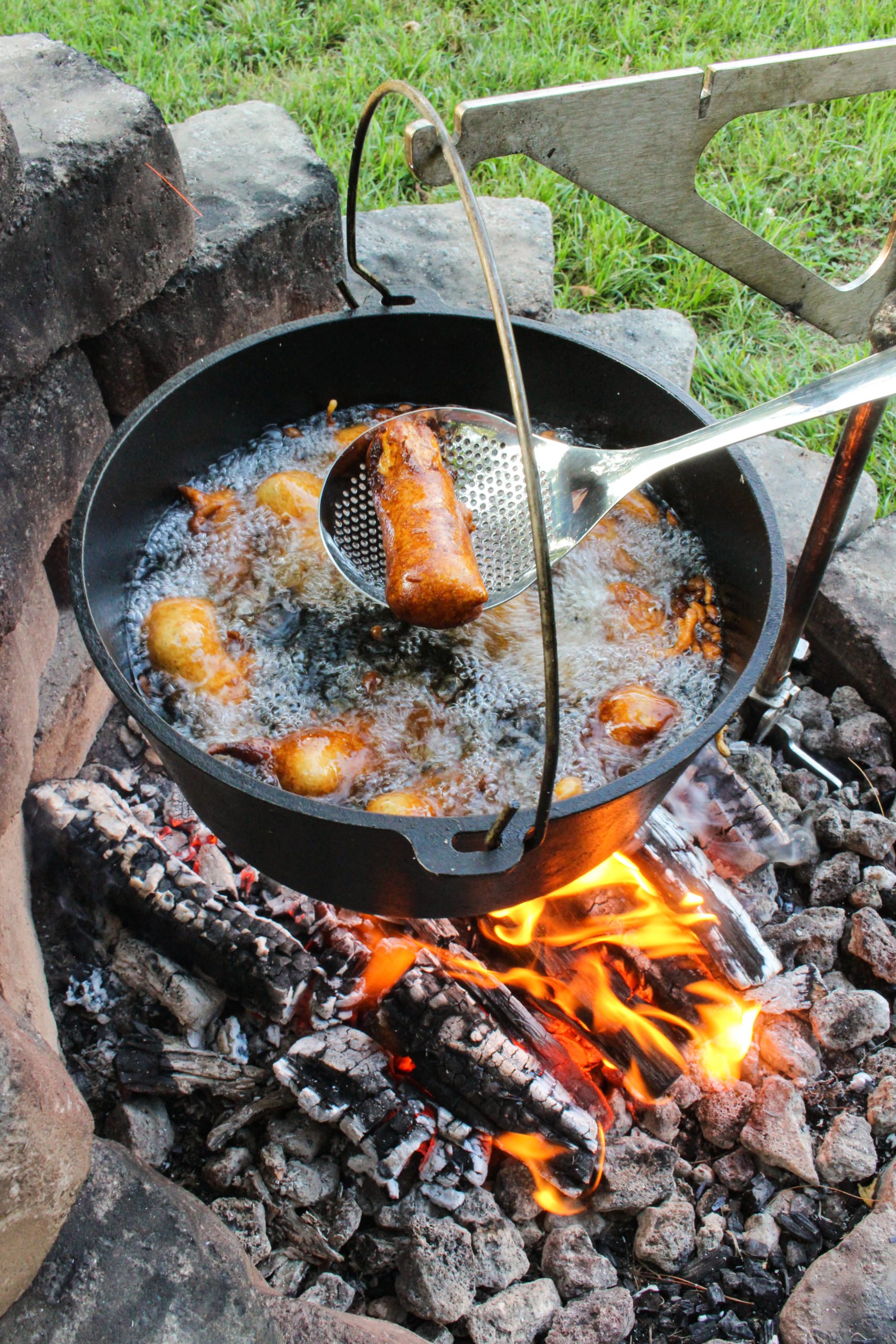 How to Make Beer Battered Fish
Fish Prep
To get things started for these Beer Battered Fish on a Stick, we'll prep the fish. I took each white fish fillet and then sliced them into long strips.
Then, I placed the pieces of fish in a large bag and poured flour in along with it. Shake the bag until every fish strip is coated in flour.
Coating the fish in a base layer of flour helps dry the outside of the fish and allows the batter to stick to the fish for frying. Now, set this to the side, and we'll begin prep on the beer batter.
The Batter
Our batter starts with an egg and some beer, both added to a large bowl and whisked together. Then, in a separate bowl, mix together the flour, cornstarch, and Chipotle Garlic seasoning.
If you don't have my Chipotle Garlic seasoning, just use your favorite seafood seasoning. I even think a cajun mix would be great for this recipe!
Pro Tip
I like to mix the liquid ingredients together and the dry ingredients together first before mixing them all together. This is an old baker's trick.
You'll get a more consistent mix between your seasoning, flour, and cornstarch by mixing them together first. Then, pour small amounts into the bowl containing your liquid ingredients and mix until combined.
Continue adding more of the dry mix to the liquid mix until all the dry ingredients have been completely incorporated.
Now, we're ready for the fire!
The Fry
Take your bag of coated fish and the batter out to the fire. I used my Breeo Outpost to hang a cast iron pot over the flames. Let the frying oil heat up, and then we're ready to start cooking.
Individually, take a cut of fish and dunk it in the beer batter. Cover all sides and edges of the fish, then drop it in the oil for deep frying. Pull the fish from the oil as the crispy batter turns a deep golden brown in color on the outside.
Set them aside so they can cool for a few minutes.
The Sauce
While the fish were cooling, I whipped together a chipotle cream sauce. Simply mix all the ingredients together in a large bowl and then transfer it to a squeeze bottle.
This sauce ended up being one of my favorite parts of this recipe. It really helped drive the chipotle flavor home, while the sour cream and honey balanced out the spice with a cool sweetness.
Final Beer Battered Fish Steps
Our last couple of steps include placing each beer battered fish on an actual stick.
I skewered each fish about three-fourths of the way through lengthwise. Then, I laid them all down on a serving dish and drizzled them with the chipotle cream sauce.
Lastly was the garnish. I used sliced cabbage, jalapeños, cilantro, and chile crunch. They tasted just as good as they looked!
Best enjoyed with friends and family. Cheers!
Beer Battered Fish Tips
Check the temperature of the oil with a deep-fry thermometer. You want the oil temperature to be hot enough to fry but not too hot to burn the fish. For best results, aim for a temperature around 350-375F.
Make sure the fish is at room temperature before frying it to prevent it from becoming too dry on the outside and uncooked on the inside.
Use a deep frying ladle, frying spoon, or tongs to remove the fish from the hot oil and allow any excess oil to drain while also keeping your hands safe!
Use an instant-read thermometer to ensure the internal temperature of the fish is at least 145F.
How to Store Leftovers & Reheat
Store your crispy beer batter fish in an airtight container in the fridge for 3-4 days.
As for reheating, you have a few options. The best option, in my opinion, is to fry the fish again in a couple of inches of oil on the stovetop. But I totally get it if you don't want to add the extra calories.
Another great choice is to heat your oven to 350F and bake for 10-15 minutes. Make sure to flip the fish every 5 minutes or so to ensure each side is heated evenly.
You can also use the broil setting on your oven to heat up the fish quickly without cooking the inside too much.
Alternatively, you can heat up your fish in the microwave, but it won't be as crispy as the other methods mentioned.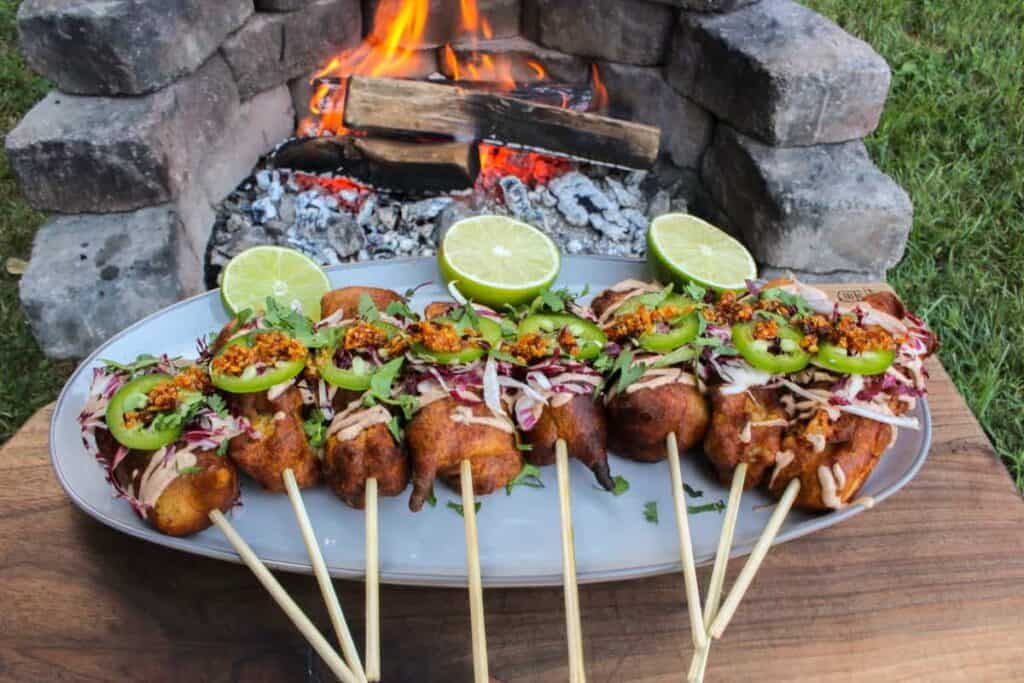 Need a great way to use up leftovers? Make some freakin' delicious SURF AND TURF SMASHBURGER TACOS, a SURF AND TURF SANDWICH, or some SURF AND TURF NACHOS!
What to Serve With Beer Battered Fish
Serve up your Beer Battered Fish with some crispy French fries and homemade tartar sauce for the classic fish and chips meal. Or, if you're serving a bunch of people, whip up some other delicious seafood appetizers like these MAPLE BACON BOURBON SALMON BITES, GREEN CHILI SALMON PINWHEELS, or GARLIC SHRIMP SCAMPI!
Beer Battered Fish Recipe FAQs
Can I make this recipe on the stovetop in a large Dutch oven filled with oil?
Absolutely! You don't have to have an open flame to fry your fish! Feel free to heat up the oil on the stove and plop your battered fish into it!
What type of beer should I use?
A pale ale or lager works best as it doesn't impart too much flavor to the fish. You want to avoid heavy stout beer or bitter IPAs, as these can influence the flavor of your batter.
Why use beer to batter fish?
The carbon dioxide, foaming agents, and alcohol produce a nice crispy coating on the outside of the fish versus a simple batter. However, if you want to omit the beer, you totally can!
Help! My batter fell off my fish! What should I do?
The best way to ensure the batter sticks to your fish comes down to the temperature of your oil. If the oil isn't hot enough, the batter won't stick. On the other hand, if the batter is too hot, you may end up with rock-hard fish sticks that could break a tooth.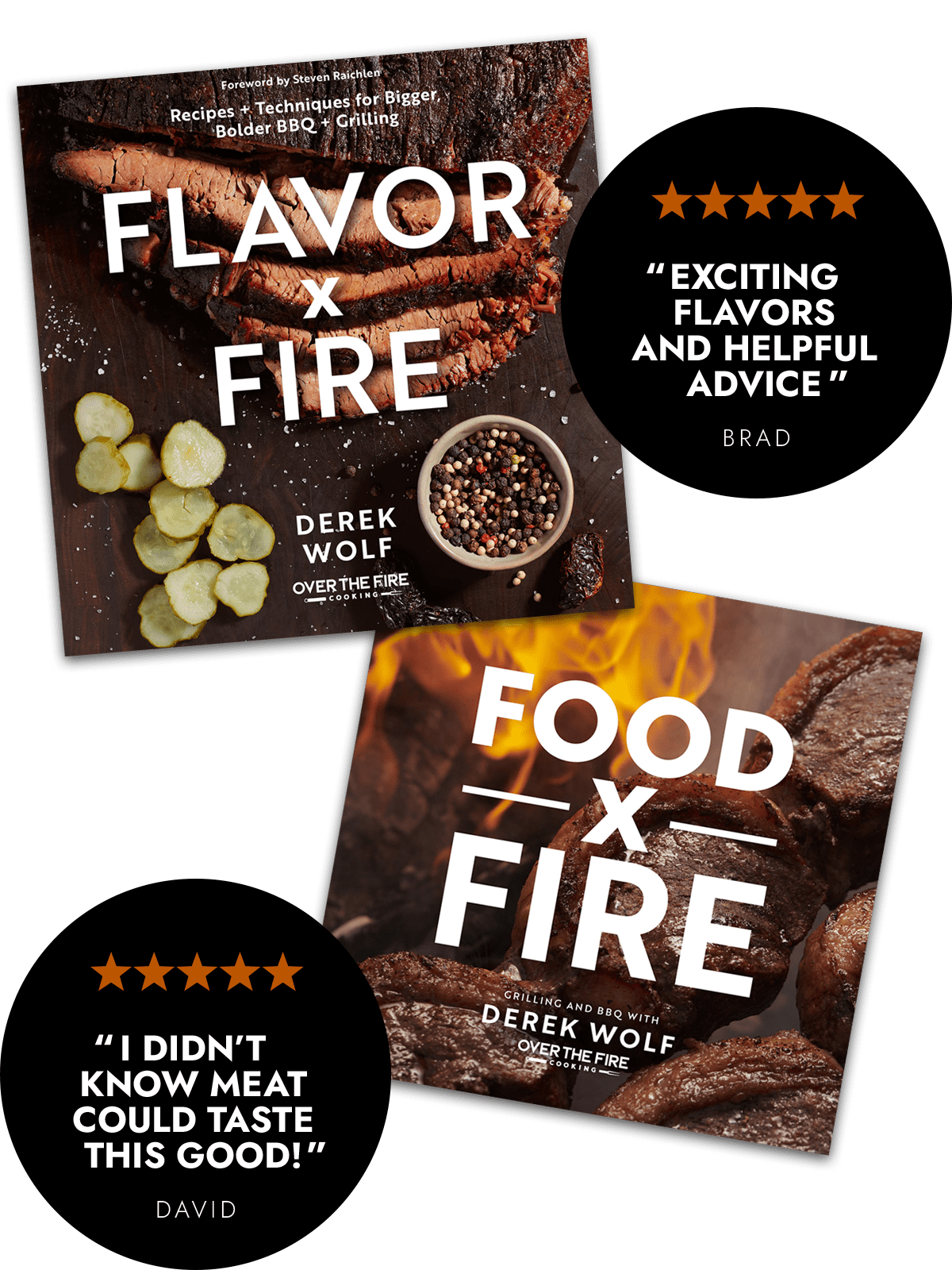 Get The Cookbooks!
Flavor X Fire & FOOD X Fire
All the major tastes—salty, sour, sweet, bitter, and umami—are explored in depth, along with an investigation of other components you should consider when it comes to flavor, such as aroma, heat, and texture.
Needing more spice in your life? My spice line can help with that. Check them out here.
Beer Battered Fish on a Stick
A Tennessee lager and some Chipotle Garlic seasoning were the two MVP ingredients for this Beer Battered Fish on a Stick recipe!
Ingredients
Fish:
2-3

lbs

White Fish

sliced into 3"x1" strips

1

gallon

Frying Oil

⅛

cup

Flour

Wooden Skewers
Chipotle Cream:
¼

cup

Sour Cream

2.5

tbsp

Chipotle Purée

1

Lime

juiced

2

tbsp

Mayonnaise

1

tbsp

Honey
Toppings:
Shredded Cabbage

Sliced Jalapeños

Chopped Cilantro

Chile Crunch

optional
Instructions
Add your fish to a food safe bag/container plus the flour to dry out the outside. Seal and shake up the bag.

In a bowl, add the beer and egg. Whip it together and set aside.

In another bowl, add the flour, cornstarch and chipotle garlic seasoning. Mix thoroughly.

Next, add the dry mix to the wet mix and stir until smooth.

In a bowl, mix all the ingredients for the chipotle cream sauce and set in the fridge until ready to use.

Preheat a fire to high heat with a large skillet or dutch oven. Add oil to the skillet/oven and bring up to 375F.

Once the oil has hit temperature, dredge the fish into the beer batter and drop into the frying oil.

Cook for about 2 minutes until a nice brown color.

Repeat for all the fish until completely done.

Once the fish are done, pull off and set on a paper towel to cool.

Insert a wooden skewer at the base of each fish and begin garnishing.

Drizzle the chipotle cream sauce and top with shredded cabbage, sliced jalapenos, chopped cilantro and chile crunch. Serve and enjoy!
Nutrition
Serving:
4
g
|
Calories:
8595
kcal
|
Carbohydrates:
54
g
|
Protein:
53
g
|
Fat:
921
g
|
Saturated Fat:
142
g
|
Polyunsaturated Fat:
525
g
|
Monounsaturated Fat:
210
g
|
Trans Fat:
6
g
|
Cholesterol:
166
mg
|
Sodium:
191
mg
|
Potassium:
909
mg
|
Fiber:
6
g
|
Sugar:
6
g
|
Vitamin A:
288
IU
|
Vitamin C:
5
mg
|
Calcium:
179
mg
|
Iron:
7
mg