This week, we did a new spin on a flank steak pinwheel. This fun and photogenic cook was the combination of a few of my favorite things: steak & cheese. Pinwheels are a great way to pack a variety of flavors into a single protein entrée and are always a great change up to your typical cut of steak. Let's dive into how to make this Flank Steak Fajita Pinwheel!
What is a Flank Steak Fajita Pinwheel?
So what is a pinwheel? No, this is not some childs toy. We're talking about the delicious, flavorful, adult version made with steak. Pinwheels are made with a flat cut of beef, like flank steak, lined with a variety of herbs, veggies, cheeses, and rolled together into a cylinder.
This cook leaves the cylinder whole, but you can also cook it as individual steaks. The beautiful part about these pinwheels are the swirls of color and flavor packed into the meat. They make for a fun entrée that stands out for all the right reasons.
Walk the Flank
Flank steak is thin, fatty and rectangular in shape. It's a tougher piece of meat that is great for marinating overnight, or slicing up in long strips to be topped with chimichurri. The shape, thickness and durability of flank steak make it the ideal cut to use for this recipe.
We started this Flank Steak Fajita Pinwheel by butterflying a flank steak. Not only does this increase the surface area for our yummy cheese and pepper lining, but it also further thins the slice of meat and makes it easier to roll.
Once the flank steak was butterflied, we lathered it with oil and seasoned it with my Chipotle Garlic seasoning on both sides. Next, we disperse our veggies evenly and covered it entirely with shredded pepper jack cheese.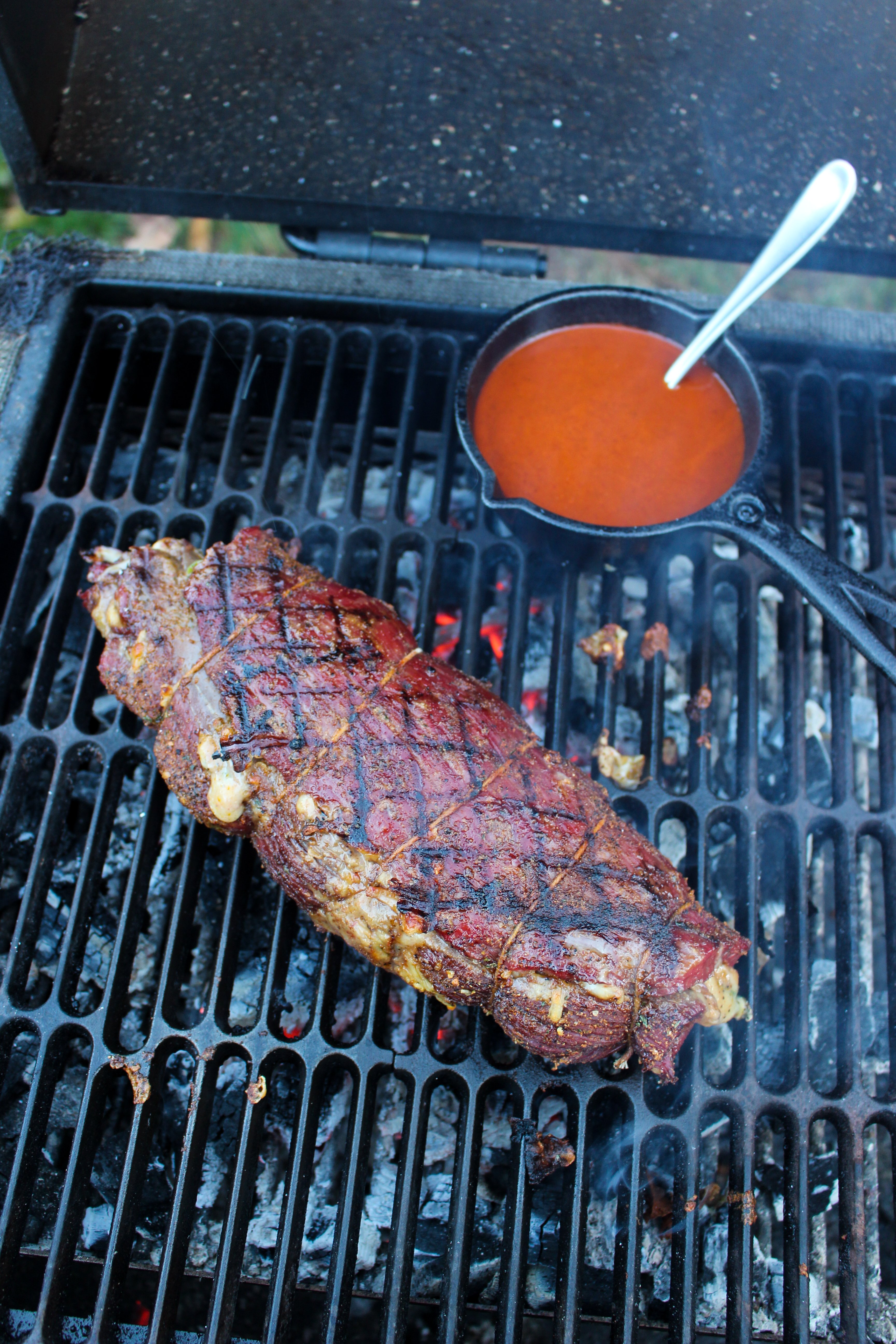 Just Roll with It
Now the fun part, time to roll this Flank Steak Fajita Pinwheel up! With patience, start to roll the long end on top of itself making sure to keep as much cheese and veggies in place as possible. Once you have the flank steak completely rolled up, use butcher trussing string to tie it in place. Tie it in 1.5-2" separate segments.
Securing the roll first, you are then ready to start cooking. Some recipes call for slicing the roll into the pinwheels before grilling, but we chose to grill ours whole to keep as much filling intact as possible.
We started by cooking the steak indirectly at 275F, which works well when you choose to cook the roll whole instead of in slices. Once it hit 125F, we pulled the steak off and let it rest for 10 minutes.
Finishing Touches on these Flank Steak Fajita Pinwheels
After it had rested, we finished it off with a sear directly over the coals for 45 seconds per side. The cheesy goodness between each Flank Steak Fajita Pinwheel is well worth it.. I love seeing how all the ingredients join together with cheese oozing out between the swirl. We drizzled our pinwheels with some enchilada sauce and garnished with cilantro. Serve it up and enjoy!
Flank Steak Fajita Pinwheel
We did a new spin with this Flank Steak Fajita Pinwheels recipe (pun intended). This fun and colorful cook was the combination of a few of my favorite things: steak, cheese and fire cooking.
Ingredients
Flank Steak Ingredients:
1

whole

Flank Steak

2

tbsp

of Chipotle Garlic Seasoning

2

tbsp

of Canola Oil
Filling Ingredients:
1

Bell Pepper

thinly sliced

1

Red Onion

thinly sliced

1.5

cups

Pepper Jack Cheese

shredded

Enchilada Sauce

for garnish (Optional)

Cilantro

for garnish
Instructions
Taking your flank steak, we are going to butterfly it. Using a filet knife, slice in the side of the steak almost all the way. Slowly and methodically slice so that you have two evenly thick sides of flank steak that are still attached at one end.

Once you have it fully butterflied, we are going to lather it with canola oil and season it using my Chipotle Garlic Seasoning. Evenly disperse the sliced bell peppers and red onions onto the steak then top with pepper jack cheese. Once it is ready, start at one end and roll it tightly onto itself so that it is not loose. Don't be afraid if cheese or veggies fall out as it is not a perfect science. Using some trussing string, tie off the pinwheel every 1.5-2" so that it holds securely. When done, place the steak to the side.

Preheat your grill to 275F using the 2-zone grilling method. Add some wood chips to the grill if you desire.

Add the steak to the indirect side of the grill and cook for about 60-75 minutes until the steak hits 125F internal. Once it is done, pull it off and let it rest for 10 minutes.

While the steak is resting, reheat your grill to 400F for direct cooking. Add the steak on to the grill to cook for about 45-60 seconds per side to get a nice crust/grill marks. If you are using enchilada sauce, quickly warm up the sauce over the fire while searing the steaks. When done, pull the steaks off the fire to rest for 1 minute.

Slice into the steaks between the trussing string, top with enchilada sauce if you like, garnish with chopped cilantro and enjoy!