Let's talk about this delicious and simple way to feed a crowd. These Nashville Hot Chicken Sliders explode with flavor, texture, and loads of melty cheese. You'll be throwing elbows to get a few of these sandwiches, filled with spicy smoked chicken, melty pepperjack cheese, and crispy pickles.
Post Contributed by Chiles and Smoke
Noshing Nashville Hot Chicken Sliders
Pull-apart sliders are all the rage, and for many good reasons. They are so simple to put together, allowing for just about any combination you can come up with. Naturally, the signature Nashville Hot Chicken Rub needs a spotlight.
Classic Nashville hot chicken involves very spicy chicken (we got you covered), white bread, and pickles. The dinner rolls are perfect to soak up all of the amazing juices, inside and out. In true form, the rolls are basted with a spicy Nashville hot butter sauce to crisp up the top while adding more layers of heat. Roasted briefly in the grill adds amazing texture and crunch, giving you a complete sandwich experience.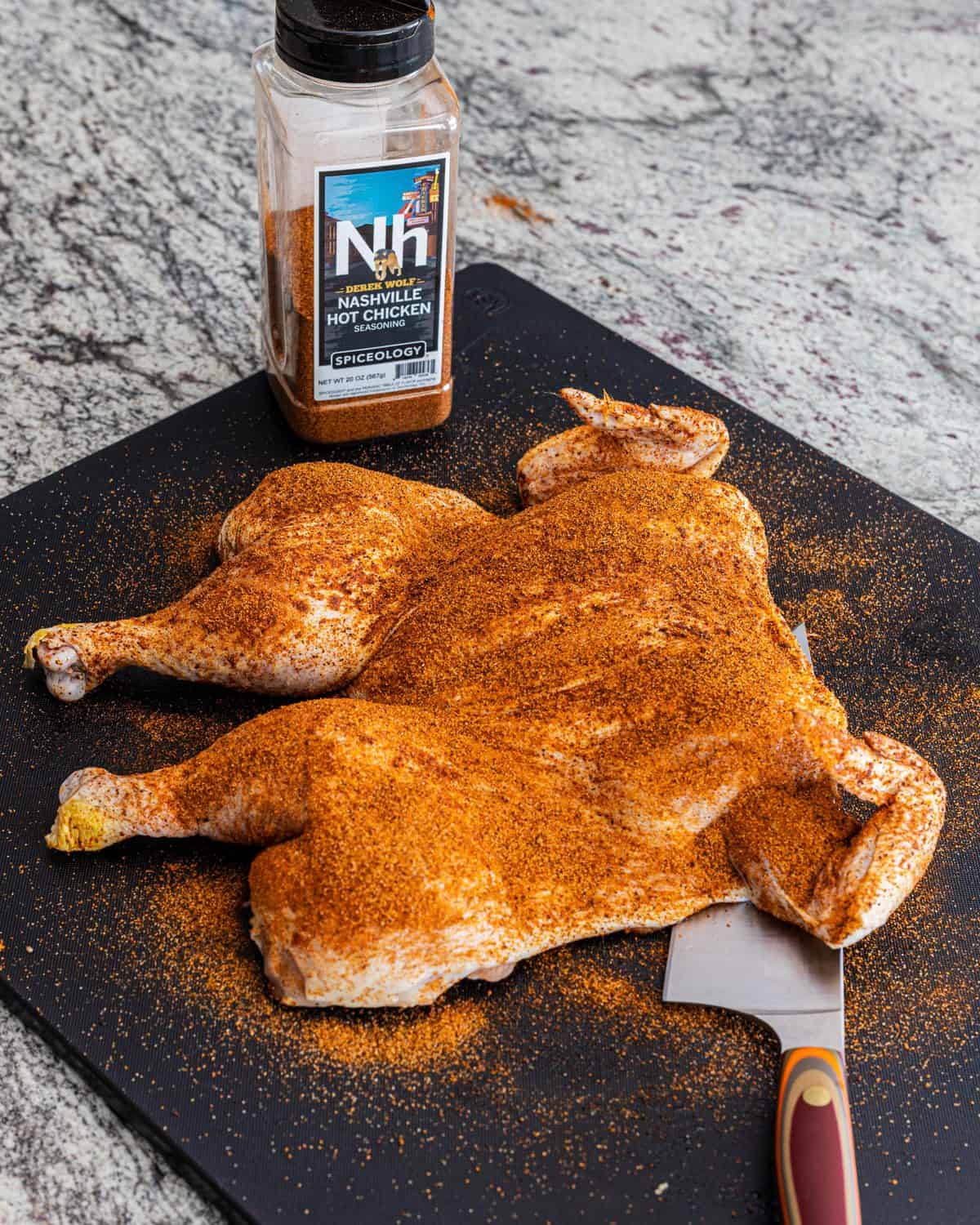 Smoked Simple Chicken for Nashville Hot Chicken Sliders
Smoking a whole chicken doesn't have to be difficult, and this Nashville Hot Chicken Sliders recipe really keeps it simple. The first step is to break down a chicken, season it, and fire up the grill. This recipe uses a whole chicken, spatchcocked, rather than individual pieces. This ensures that you have enough chicken for at least one set of sandwiches, with a little left over just in case. The combination of dark meat and white meat creates a variety of flavors and textures, but most importantly, it's just dang easy to pull off.
Spatchcock the chicken by removing the backbone first, then flattening the entire bird. Season the chicken generously with the Nashville Hot Chicken Rub, and let it rest while the smoker warms up. The chicken will cook at about 300°F for 45 to 60 minutes until the breast meat registers 165°F. At this time the chicken just needs to rest for a few minutes before it's shredded for sandwiches.

For more with Nashville Hot Rub, check out my Hot Honey Chicken Asado, Smoked Nashville Hot Chicken Queso and Nashville Hot Steak Frites.
Layering Heat and Flavor
We can't forget the delicious butter sauce. True Nashville hot chicken has multiple layers of heat, glazes, and sometimes sauces. This sauce is a simple one with nothing more than butter, Nashville hot seasoning, and some added guajillo chile powder for additional heat. You could choose to use cayenne or your preference of chile in this recipe.
Pepper jack cheese melts incredibly well and adds an additional layer of heat. Its creamy, mild flavor doesn't overwhelm the juicy chicken, while complimenting the smokey heat. Adding crispy pickles into the sandwich brightens the dish, enhancing all of the flavors inside and out. If you're not a pickle fan, I highly recommend at least using some pickled onions or even some raw onions.

For more spicy recipes, check out my Spicy Mexican Street Shrimp, Spiced Lamb Kebabs with Mint Chimichurri and Cajun Rubbed Steak with Bourbon Street Sauce.
Roast Nashville Hot Chicken Sliders when Ready
This entire recipe can be prepped ahead of time. Roasting the sandwiches with the butter sauce is the main step, which melts the cheese and crisps up the bread. After we assemble the sandwiches, place them in the smoker or oven at 350°F for about 10-15 minutes until you can see the cheese melting and the bread is browning.
Smoking an entire chicken provides quite a bit of meat, potentially with some leftovers. Don't be afraid to double-down on the rolls and make 2 sets of these Nashville Hot pull-apart sliders. Everyone is going to be rushing for them anyway!
For more delicious recipes, check out my second cookbook Flavor X Fire or my first cookbook Food X Fire!
Needing more spice in your life? My spice line can help with that. Check them out here.
Full Length Recipe Video on Facebook!
Nashville Hot Chicken Sliders
Nashville Hot Chicken Sliders for a spicy, savory treat.
Ingredients
1

pack Hawaiian Rolls

or Dinner Rolls

1

whole chicken

4

tablespoons

Nashville Hot Chicken Rub

1

stick unsalted butter

½ cup

1

tablespoon

guajillo chile powder

6

slices

Pepperjack cheese

12-16

slices

of thick pickle chips
Instructions
Spatchcock the chicken by first removing the backbone with kitchen shears. Flip the chicken skin-side up, and press down on the breast to snap the breastbone so it lays flat. Season the chicken generously on all sides with about 2 tablespoons of the Nashville Hot Chicken Seasoning.

Preheat the smoker or grill for indirect cooking at 300°F.

Place the chicken bone-side down in the smoker and allow it to cook undisturbed for 45 minutes. Check the temperature, and allow it to continue to cook until the breast meat registers 165°F internal temp. Remove the chicken and tent it with loose foil for a few minutes.

Using a grill-safe sauce pan, add the butter, and 1 tablespoons of the Nashville Hot Chicken seasoning and guajillo chile powder. Place this into the smoker and let it melt, stirring the spices together into a sauce.

Shred the chicken completely when it's cool enough to handle, and pour in 1 tablespoon of the spicy butter to season it.

Build the sandwich. Slice the entire loaf of Hawaiian rolls with a serrated knife and cut the loave evenly with a horizontal cut. Separate the top from the bottom, giving you two large pieces of bread. Add in generous amounts of the shredded chicken, followed by the slices of cheese, and pickles. Place the top of the bread back on, and pour the rest of the spicy butter sauce all over the top. Use a pastry brush to baste the bread evenly on top.

Place the entire loaf of bread back into the smoker and increase the heat to 350°F. Roast for about 10-15 minutes until you can visibly see the cheese melting and the bread browning.

Remove from the smoker and allow to cool for 2 minutes before serving.
Nutrition
Calories:
386
kcal
|
Carbohydrates:
6
g
|
Protein:
30
g
|
Fat:
27
g
|
Saturated Fat:
10
g
|
Polyunsaturated Fat:
5
g
|
Monounsaturated Fat:
10
g
|
Trans Fat:
1
g
|
Cholesterol:
116
mg
|
Sodium:
355
mg
|
Potassium:
389
mg
|
Fiber:
2
g
|
Sugar:
1
g
|
Vitamin A:
2324
IU
|
Vitamin C:
2
mg
|
Calcium:
194
mg
|
Iron:
2
mg