Well guys, I got a wood fire oven and it's freaking legit! After years of cooking on a plethora of grilling gear, I will say this one has brought on a new wave of inspiration unlike any other. Fun fact, you have to cure an oven like this before you can take it to extreme high heat (which is needed for pizza). This process can take a few days, so in the meantime I decided to try my hand at some wings. They turned out amazingly! Hence our recipe for today, Fire Baked Chimichurri Wings.
Fire Baked Chimichurri… Wings?
I've been toying with the idea of getting a wood fire oven for sometime now. I've got a small one that's capable of handling smaller dishes, but couldn't stop thinking about what could be done with a larger scale oven. I finally decided to invest in one and now I feel like I'm rediscovering what it means to cook with fire in a whole new way.
Let's address the elephant in the room here, which is that my first dish with this oven isn't pizza but Fire Baked Chimichurri Wings. I know, I know. I'm sad about it too. The fact of the matter is that a wood fire oven of this size has to be cured, which is a process that can take several days. There is moisture within the bricks the oven is made of that will crack if that moisture evaporates too quickly. The curing process consists of building a variety of small fires within the oven and slowly increasing the temperature with each new fire until its cured.
It's these high temperatures (around 800 degrees Fahrenheit) that make wood fire pizza so delicious. However, once we reached 450 degrees Fahrenheit in the oven I just had to try cooking something. So I turned to my good friends: Chimichurri Wings.
For more delicious recipes check out my cookbook, Food X Fire!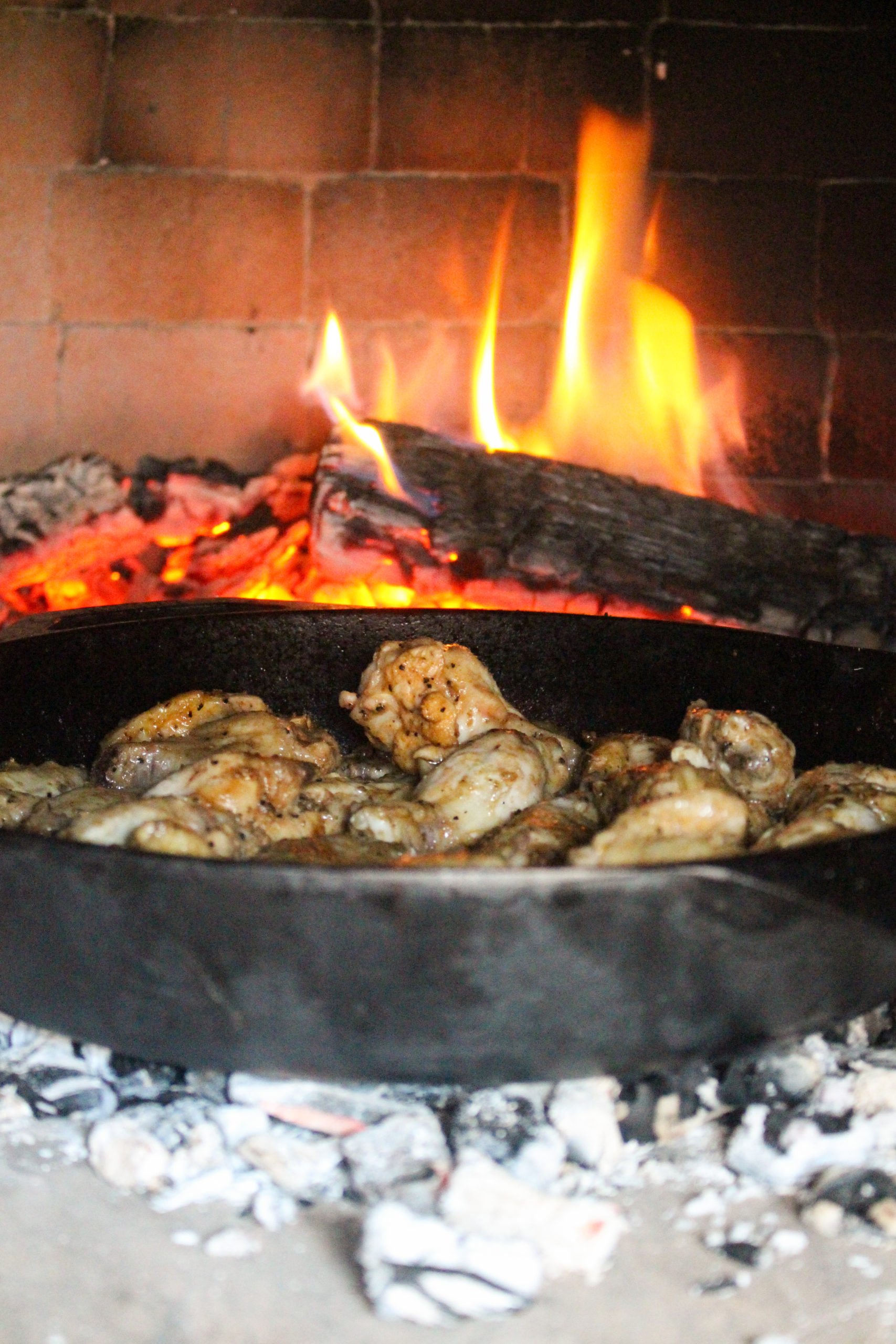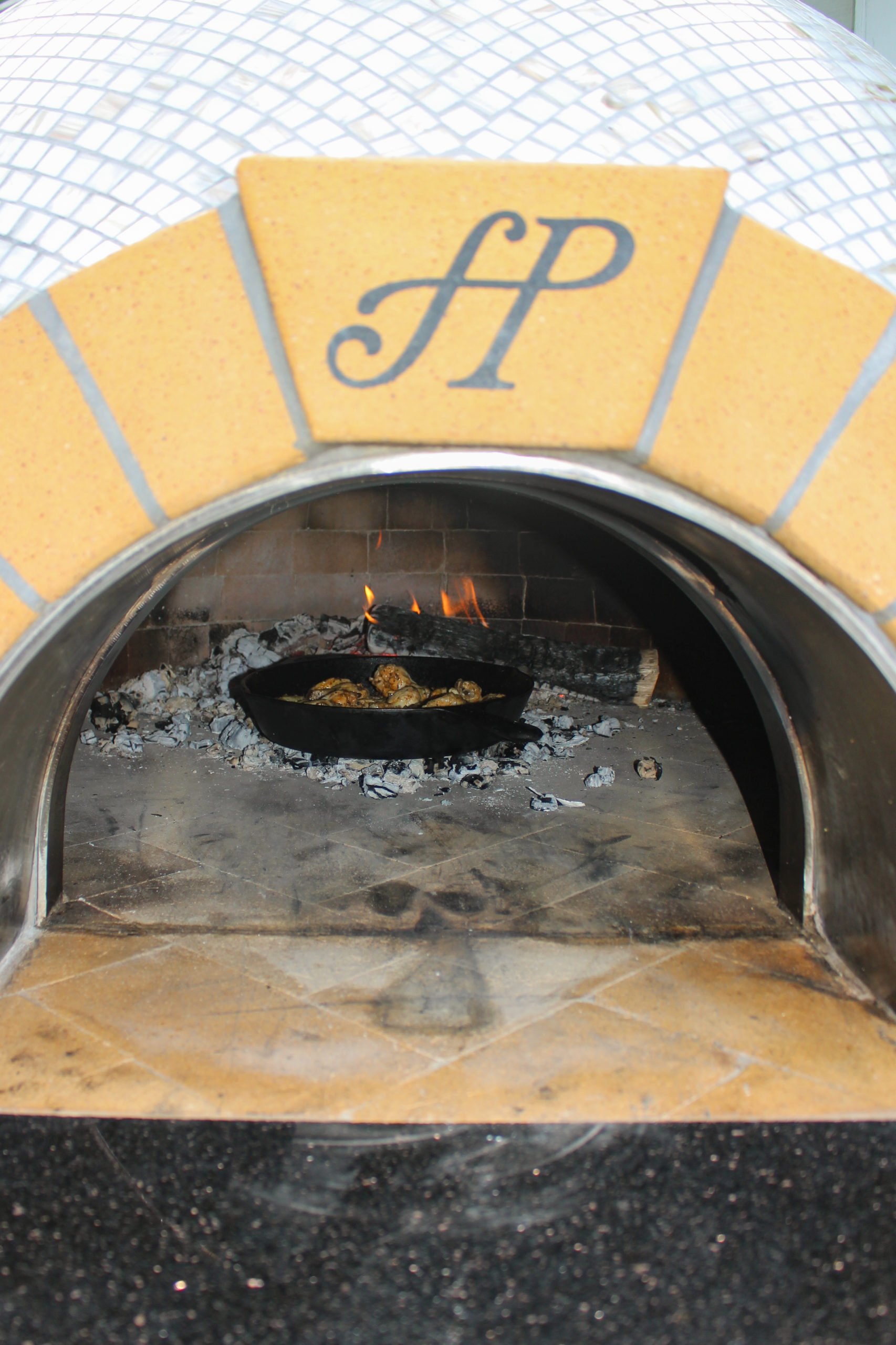 Chimichurri Wings
Before cooking the Fire Baked Chimichurri Wings I got to work on the chimichurri. I prefer to prep the chimichurri the night before. This is because it allows the ingredients and flavors to better fuse together for the sauce. Unfortunately, I forgot to make mine the night before, so I made it as early as possible to give it time to marinade. I chopped up my herbs and mixed together the chimichurri. Then, you can set it to the side to rest. No need to refrigerate, let it sit at room temperature.
Next, I started on the wings. First, I seasoned them with a simple salt, pepper and garlic mixture and used some hot sauce as a binding. Then, I dumped the wings into a preheated cast iron skillet and pushed it back into the oven. I let these wings cook for about 15-20 minutes, pulling them out occasionally for a stir, flip and readjustment in regards to its location next to the fire within the oven. It wasn't long before they were ready for the chimichurri.
Let's Eat
The final step is transferring the cooked wings from the cast iron skillet into a large bowl. Then grab the chimichurri and pour it into the bowl over the wings. Give the wings a good toss and then dump them on a serving dish. Best enjoyed with friends and family. Cheers!
For more delicious recipes check out my cookbook, Food X Fire!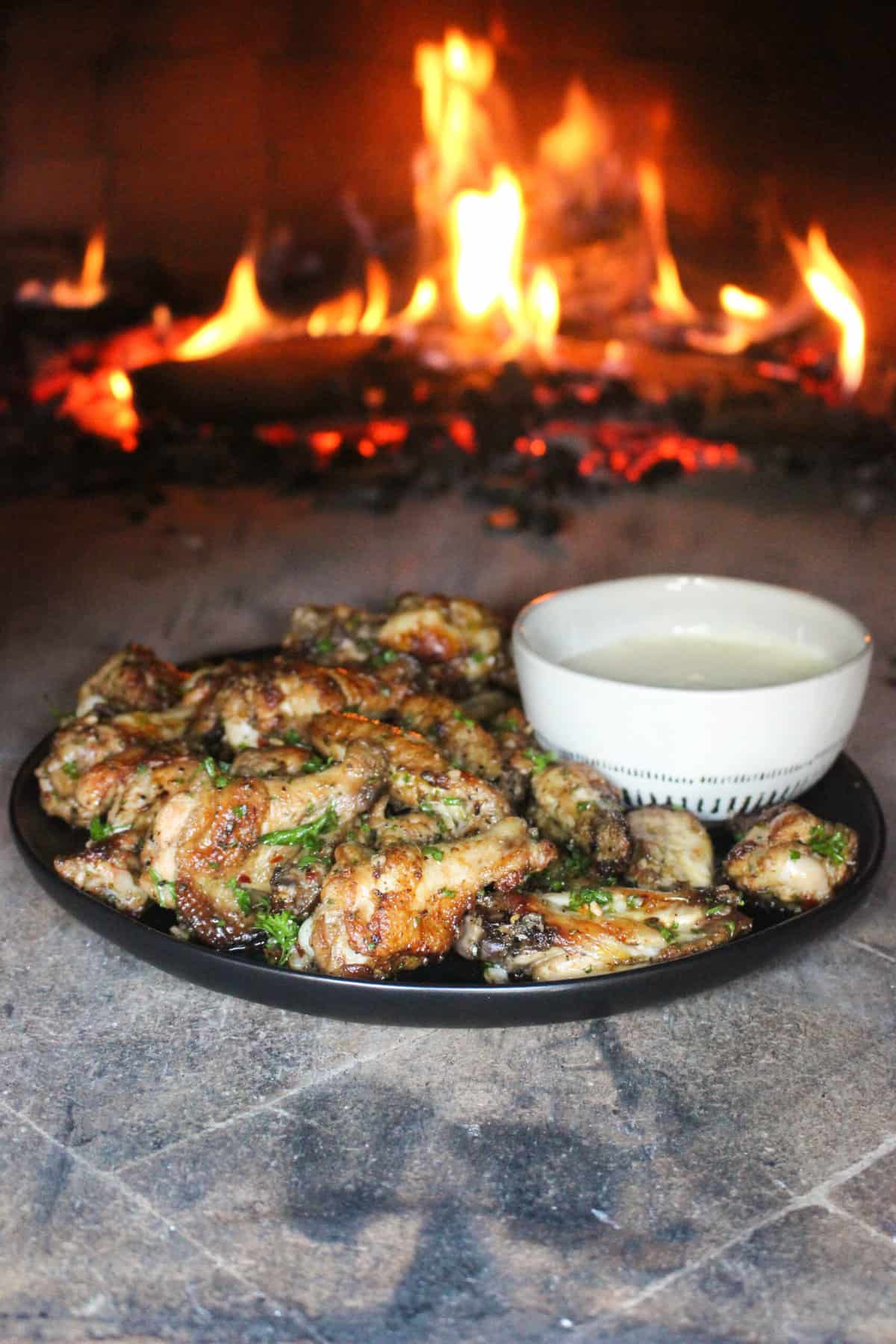 Fire Baked Chimichurri Wings
Testing out my new pizza oven with some Fire Baked Chimichurri Wings! Quick and easy recipe that can be done on any grill or oven at home.
Ingredients
Wings:
10-15

Chicken Wings

1/2

tbsp

of Kosher Salt

1/2

tbsp

of Black Pepper

2

tsp

of Garlic Powder

2

tsp

of Hot Sauce

1

Lemon

juiced

1

tbsp

of Canola Oil
Chimichurri:
2.5

tbsp

of Parsley

chopped

1.5

tbsp

of Red Wine Vinegar

4-5

Garlic Cloves

minced

2

tsp

of Red Chili Flakes

1.5

tsp

of Dried Oregano

1

tsp

of Kosher Salt

1

tsp

of Black Pepper

2-3

tbsp

of Olive Oil
Lemon Garlic Aioli:
1/4

cup

of Mayonnaise

3-4

Garlic Cloves

minced

2

tsp

of Dijon Mustard

1

Lemon

juiced

1

tbsp

of Olive Oil
Instructions
Preheat a grill for indirect cooking at 400F. Add a cast iron skillet to the grill to preheat 2 minutes before cooking.

In a bowl, add your chicken wings, salt, pepper, garlic powder, hot sauce, lemon juice and oil. Mix together thoroughly.

Mix together the ingredients for the Chimichurri and Lemon Garlic Aioli. Set the chimichurri aside and place the aioli in the fridge until ready to use.

Add your chicken wings to the skillet. Add in batches if necessary in order to prevent overcrowding. Cook the wings for 30-40 minutes, flipping every 10 minutes, until they are 175F internal.

When the wings are done, pull off and toss with the chimichurri. Serve with the aioli on the side and enjoy!