Stuffing foods into other foods is one of those cooking techniques that has a penchant for being overused and abused. If you find yourself putting Oreos inside of meat; sit down, pour yourself a glass of milk, eat some Oreos, and reconsider your life. I point this out, not because I hate stuffing foods, because it's such an incredible melding of flavors when done properly! For example, how about some Crab Stuffed Salmon?!
What's the perfect combo with seafood? More Seafood! So, that's what we're bringing you today! Sockeye Salmon stuffed with lump crab meat and covered in a Sriracha Rye Glaze. Let's get crazy folks because we're cooking off this masterpiece over a smoldering cedar plank!
Lumber Yard Ingredient Sourcing
One thing I really find interesting about cooking is that ingredient/implements can be sourced from the weirdest places. Like today, we're going on a trip to the local lumber yard for this Crab Stuffed Salmon recipe. That's right, we're getting our cedar planks right from the source. Most big box home improvement stores carry a selection of untreated cedar planks. Grab yourself an 8 ft plank and cut it to size to fit your needs. This gives you a lot more options when grilling your cedar plank creations. No longer will you be constrained by the pre cut 4 by 12 inch "culinary cedar planks" because we're making our own!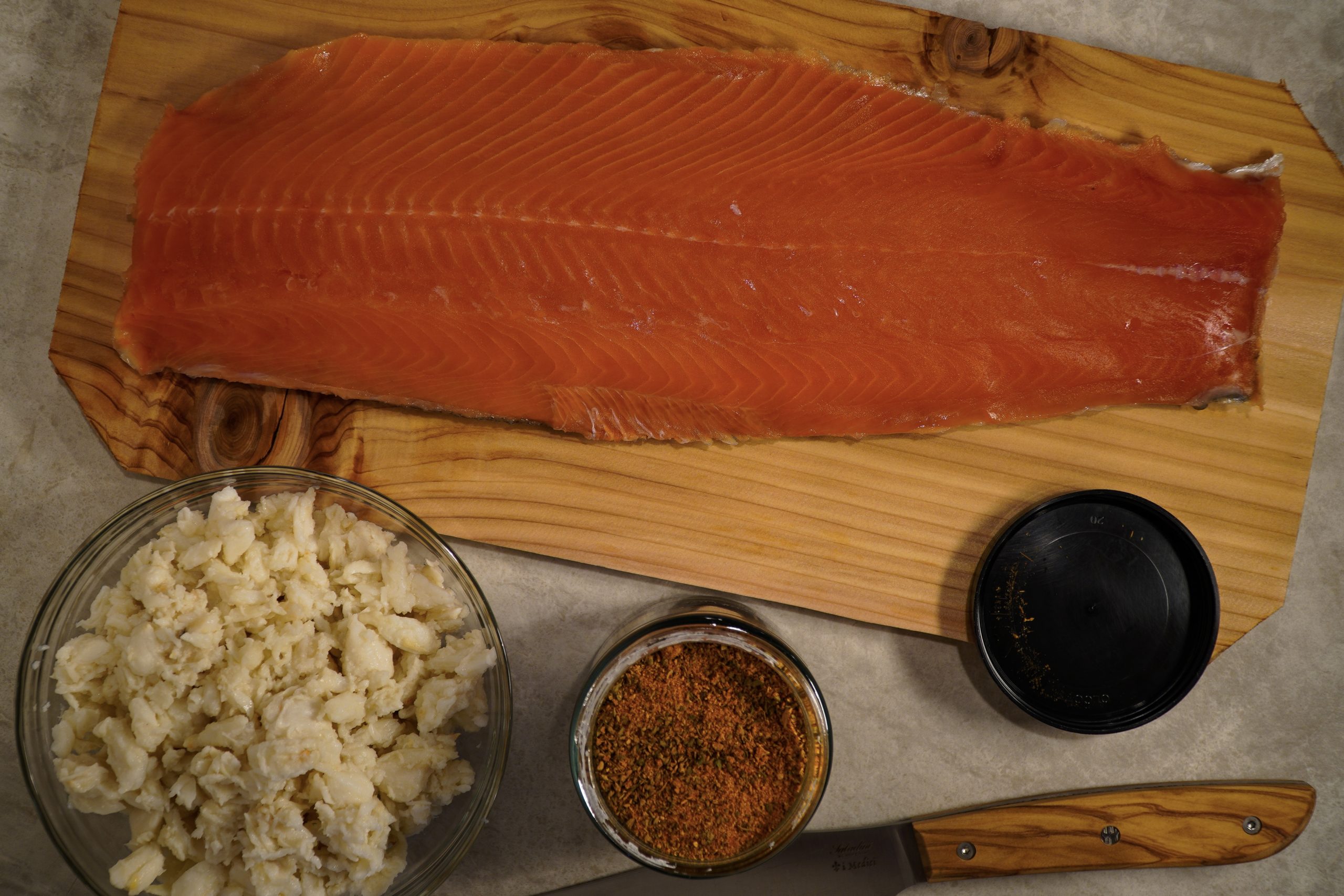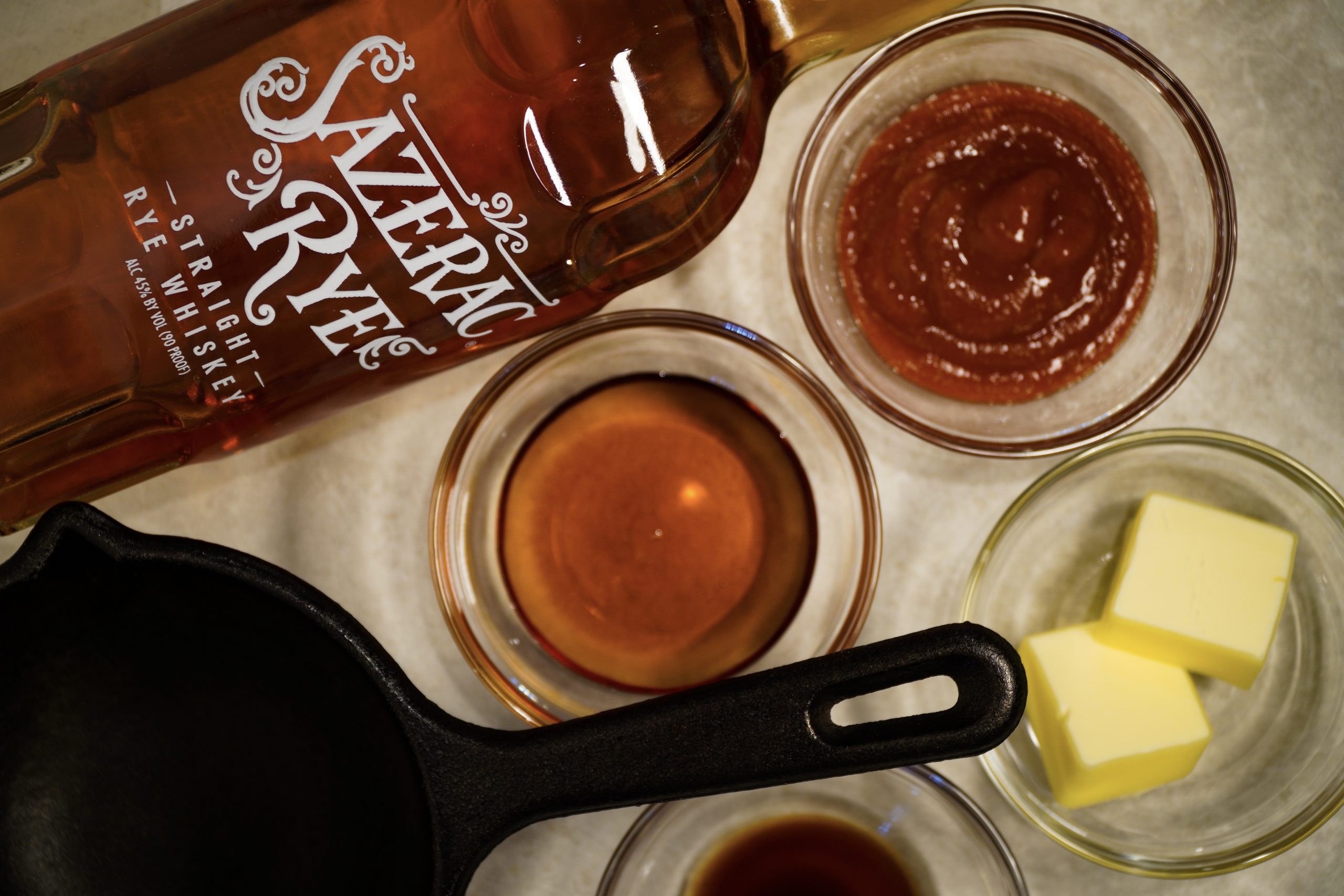 A few best practices when cooking with cedar planks.
Soak the planks before use. Just a few minutes submerged in water is a huge help. This will prevent them from easily catching fire while on the grill.

Keep a spray water bottle handy because if a plank catches fire you'll be able to quickly and easily put it out.

Serve whatever you're cooking on the cedar plank. It's mad impressive.
For more recipes with cedar planks, check out Smoked Arctic Char Wreath, Baked Wood Plank Salmon and Leaning Salmon with Roasted Garlic Aioli.
Fresh Is Best – Especially for Crab Stuffed Salmon
This, obviously, is a seafood dish. Seafood isn't quite like other proteins. It's much more delicate and spoils a lot faster. This can make it really intimidating to folks who don't cook it a lot. But, a lot of these concerns can be avoided by getting the freshest seafood possible. Skip the big chain grocery store (unless they specialize in seafood) and look up a local fishmonger. These amazing institutions can source the freshest of ingredients. They'll cut your worry in half and make the entire cook that much easier. Along with the best ingredient, they can also make recommendations for what in season and what goes best with the dish you're cooking.
Look up a fishmonger and check them out. Not just for this Crab Stuffed Salmon recipe, but for all of your seafood needs. It's something you'll never regret!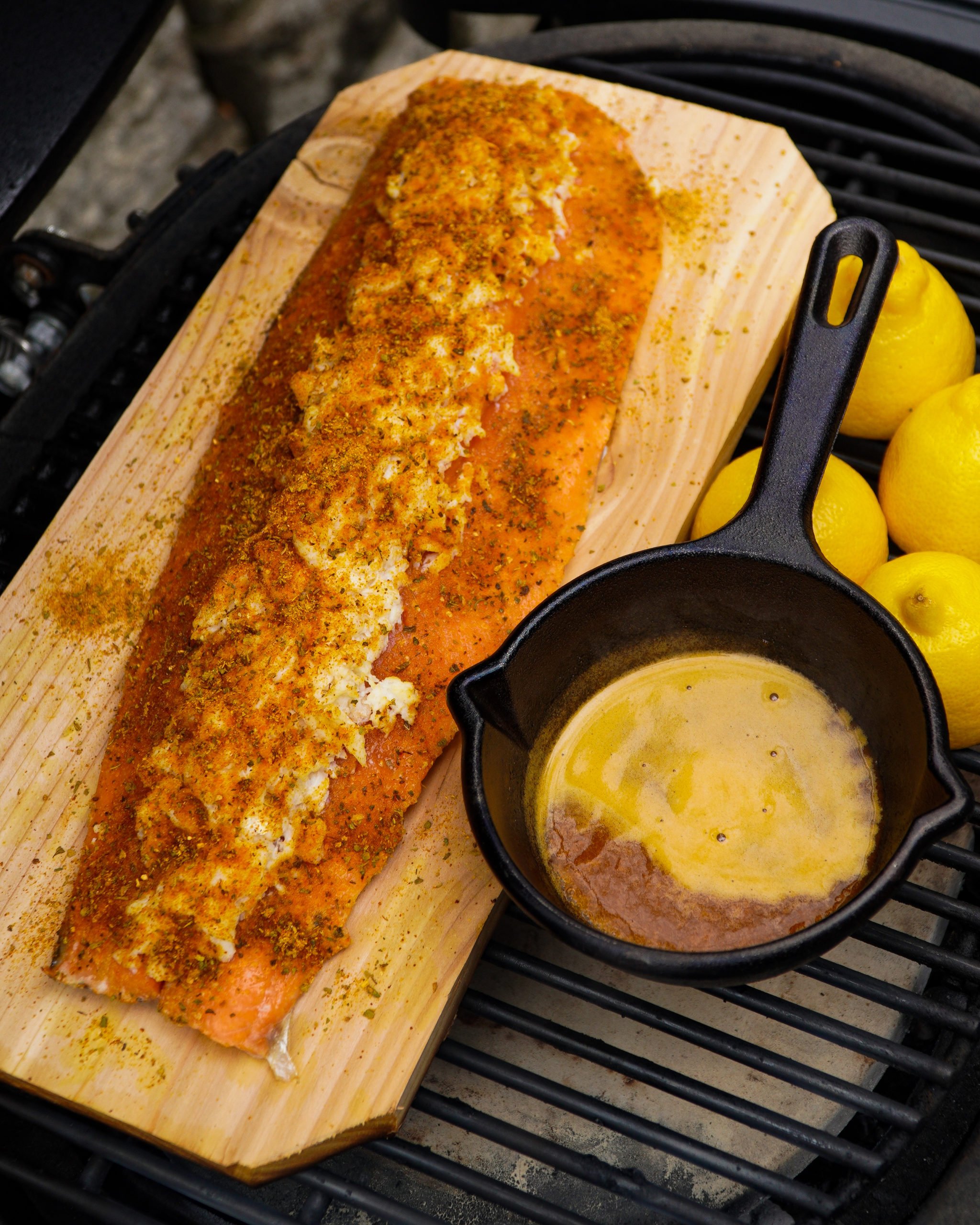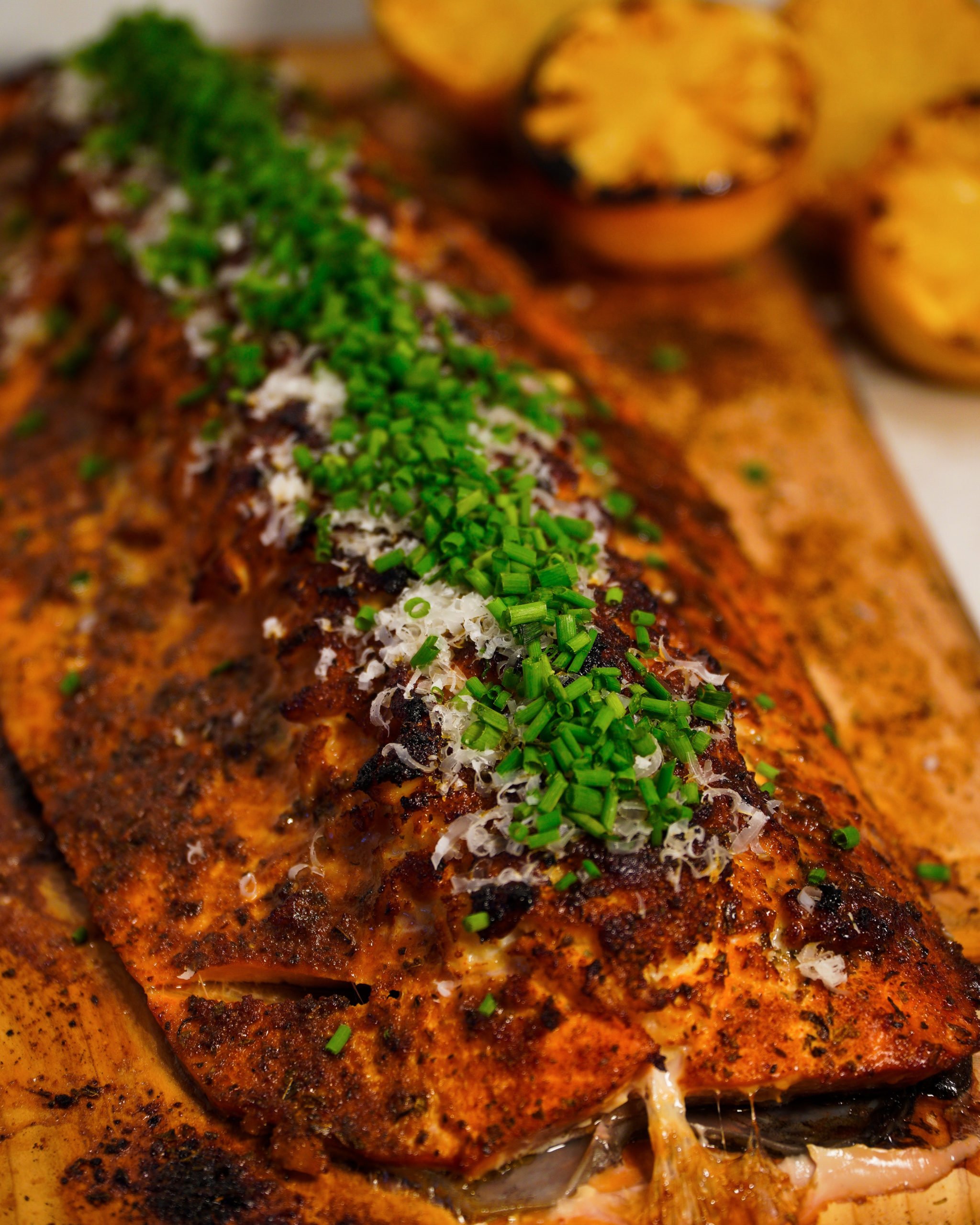 A Glaze to Compliment Our Crab Stuffed Salmon
Do you want an extra element that can take a dish over the top? If so, make a glaze. Make a glaze that compliments your dish. Sweet, spicy, salty, savory, or any combination you can think of. This bit of additional flavor adds a layer to the dish you're building – including this Crab Stuffed Salmon.
With this recipe, I knew I wanted to use the Lemon Chili Rye Rub. So, I made a glaze to compliment. I used Rye whiskey as part of the recipe. Also, some spice with the sriracha and some sweet with the maple syrup. A bit of Worcestershire sauce to add some zing and butter to cut it with some fat. All of these flavors lend to the recipe that I'm building and compliment it. Try it out on your next cook!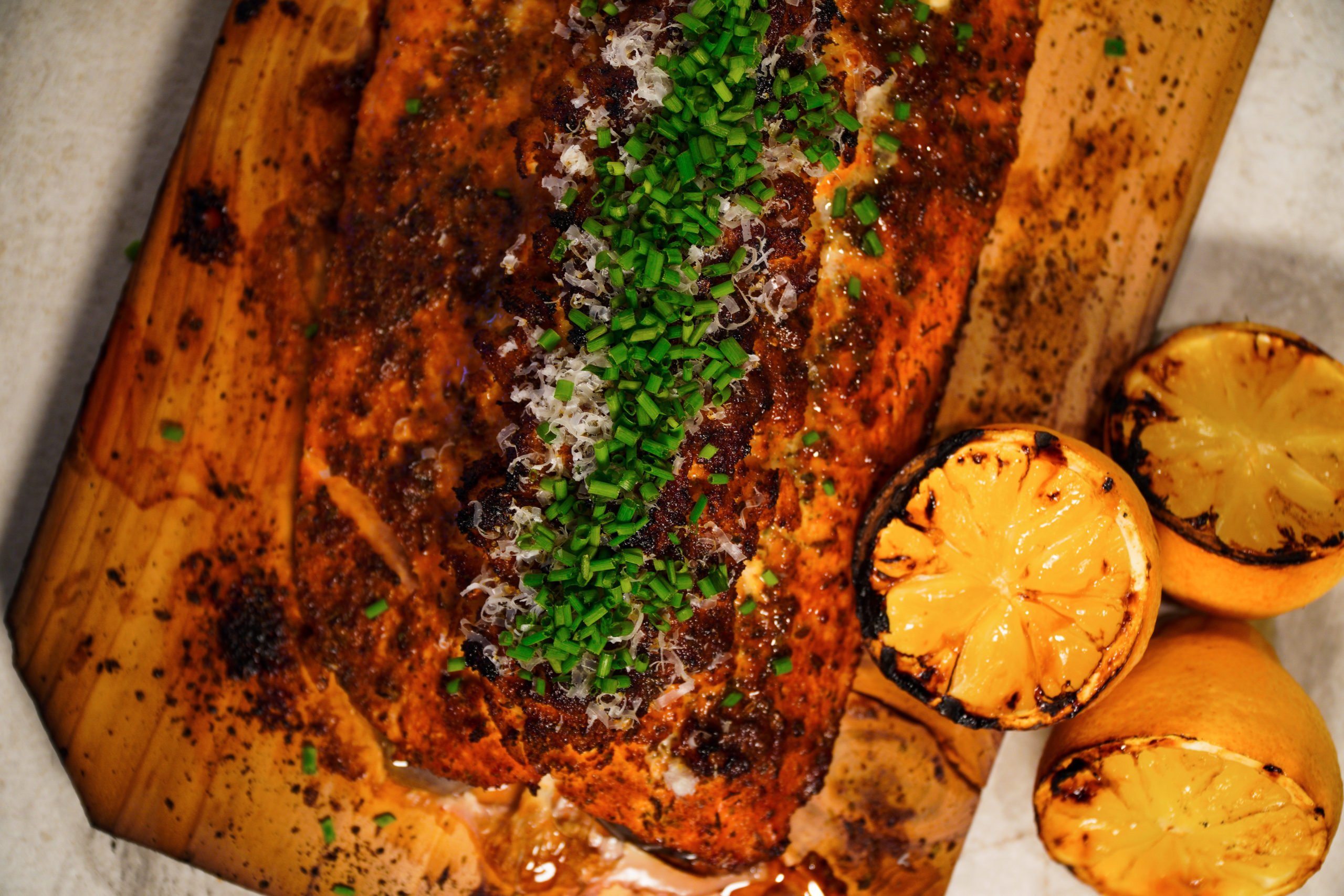 For more delicious recipes, check out my cookbook Food X Fire!
Needing more spice in your life? My spice line can help with that. Check them out here.
Crab Stuffed Salmon
Crab Stuffed Salmon is perfect for all you crab and salmon lovers.
Ingredients
Salmon
2-3

Lb

Sockeye Salmon Filet

½

Lb

Lump Crab Meat

Lemons

Cedar Plank

4

Tbsp

Grated Parmesan Cheese

4

Tbsp

Chives
Sriracha Rye Glaze
2

Tbsp

Unsalted Butter

1

Tbsp

Maple Syrup

2

Tbsp

Sriracha

3-4

dashes of Worcestershire Sauce

1

Tbsp

Rye Whiskey
Instructions
Pre heat grill to 400 degrees.

Cut Cedar Plank to size and wet plank, to prevent it from catching fire on the grill. This recipe can also be done with individual portions of salmon on smaller cedar planks.

Place salmon, skin side down, on cedar plank and make a vertical cut down the center of the salmon. Do not cut thru the skin of the salmon, we're just making a cavity.

Now that the salmon is opened up, stuff that opening with your lump crab meat. It's okay if it's over stuffed. No one ever complained about having too much crab.

Season the crab stuffed salmon with the OFT Lemon Chili Rye Rub.

Place the cedar plank salmon on the pre heated grill. Cook time should be about 40 min or until the salmon reaches 130 degrees internal. Once internal temp is reached allow the salmon to rest, covered, for 10 min.

During the last 10 min of cooking, glaze salmon 2-3 times with the Sriracha Rye Glaze.

Slices a few lemons and grill them on the hottest part of the grill. Serve long side the salmon.

Top rested salmon with the finely grated parmesan cheese and chopped chives. Slice, serve, and Enjoy!
Sriracha Rye Glaze
Combine Butter, Maple Syrup, Sriracha, Worcestershire Sauce, and Rye Whiskey in a small pot.

Warm over medium high heat, bringing to a simmer. Reduce heat and whisk occasionally.

Once reduced by half, glaze is ready to use.
Notes
*** Nutrition Disclaimer: We are not dietitians or nutritionist. Nutritional information on overthefirecooking.com comes from online calculators. While we attempt to make this information accurate, it should only been viewed as an estimate. ***
Nutrition
Serving:
1
g
|
Calories:
311
kcal
|
Carbohydrates:
3
g
|
Protein:
38
g
|
Fat:
15
g
|
Saturated Fat:
4
g
|
Polyunsaturated Fat:
4
g
|
Monounsaturated Fat:
4
g
|
Trans Fat:
1
g
|
Cholesterol:
112
mg
|
Sodium:
554
mg
|
Potassium:
847
mg
|
Fiber:
1
g
|
Sugar:
2
g
|
Vitamin A:
309
IU
|
Vitamin C:
7
mg
|
Calcium:
80
mg
|
Iron:
2
mg