Grilled Mojo Chicken takes smoked chicken to the next level! I took chicken quarters and placed them in a mojo marinated overnight. What is mojo? Well it's a fresh, citrus with a spice kind of marinade. I actually poured a small bowl of it on the side before adding the rest to a larger bowl with the chicken so that I could use it to baste the chicken as it was smoking. There's no reason to settle for dry and bland chicken, this simple recipe is all you need. 
Get Your Mojo On
I've been wanting to do a Grilled Mojo Chicken recipe for a while. The flavor profile originates in Cuba and stands on the pillars of garlic, oil and citrus juice. These three items are must haves for any Mojo Chicken recipe, so it's important to have all three. 
I love garlic, so I happily tossed several cloves into my food blender in preparation for the marinade. I am also a fan of citrus because it has this awesome way of adding a freshness and tanginess to food. It's not overpowering, but it's definitely noticeable. For this Grilled Mojo Chicken recipe I opted to use lime juice, orange juice and grapefruit juice all together. We get the sour from the limes, sweetness from the orange and a slight bitterness from the grapefruit. The marriage of all those flavors was fantastic. *chefs kiss*
For more delicious chicken recipes, check out my Smoked Chicken Thighs, Achiote Lime Brick Pressed Chicken and Maple Hot Chicken Lollipops.
Grilled Mojo Chicken
Speaking of the mojo marinate and it's flavors, that's actually how we kick off the execution of the Grilled Mojo Chicken recipe. So, let's dive in. 
Add all the mojo marinade ingredients into a blender except for the olive oil and serranos. It's worth noting that I added some of my Garlic Herb seasoning to this marinade. Not only does it add to that garlic kick, but it's full of so many other delicious herbs. If you'd like to snag a bottle of it, you can do so here. Okay, back to our Grilled Mojo Chicken. Blend all the ingredients together until smooth, then add in the olive oil. Blend again and then remove from the blender. At this point I add the sliced serranos. I did not blend these into the sauce, but instead folded them in. I enjoyed the presentation of the sliced serranos on the mojo chicken, and this also helps prevent the marinade from becoming too spicy. 
Next, pour a small amount of the marinade in a bowl and set it in the fridge. We will use this bit for basting the chicken as it cooks, so we don't want it to tough the raw chicken. Now, pour the remaining marinated over the chicken quarters in a large bowl. Mix the chicken around so that it all receives an even coating, cover the bowl and then set it in the fridge to marinate overnight. 
Smoked and Grilled Mojo Chicken
The great thing about marinating is that it makes cooking the following day a breeze. As dinnertime comes rolling around, light your charcoal and dump it on one end of your smoker. Situate the grill grate over the hot coals and then add on your mojo chicken. All we're doing here is searing the outside of the chicken. It'll take about two minutes.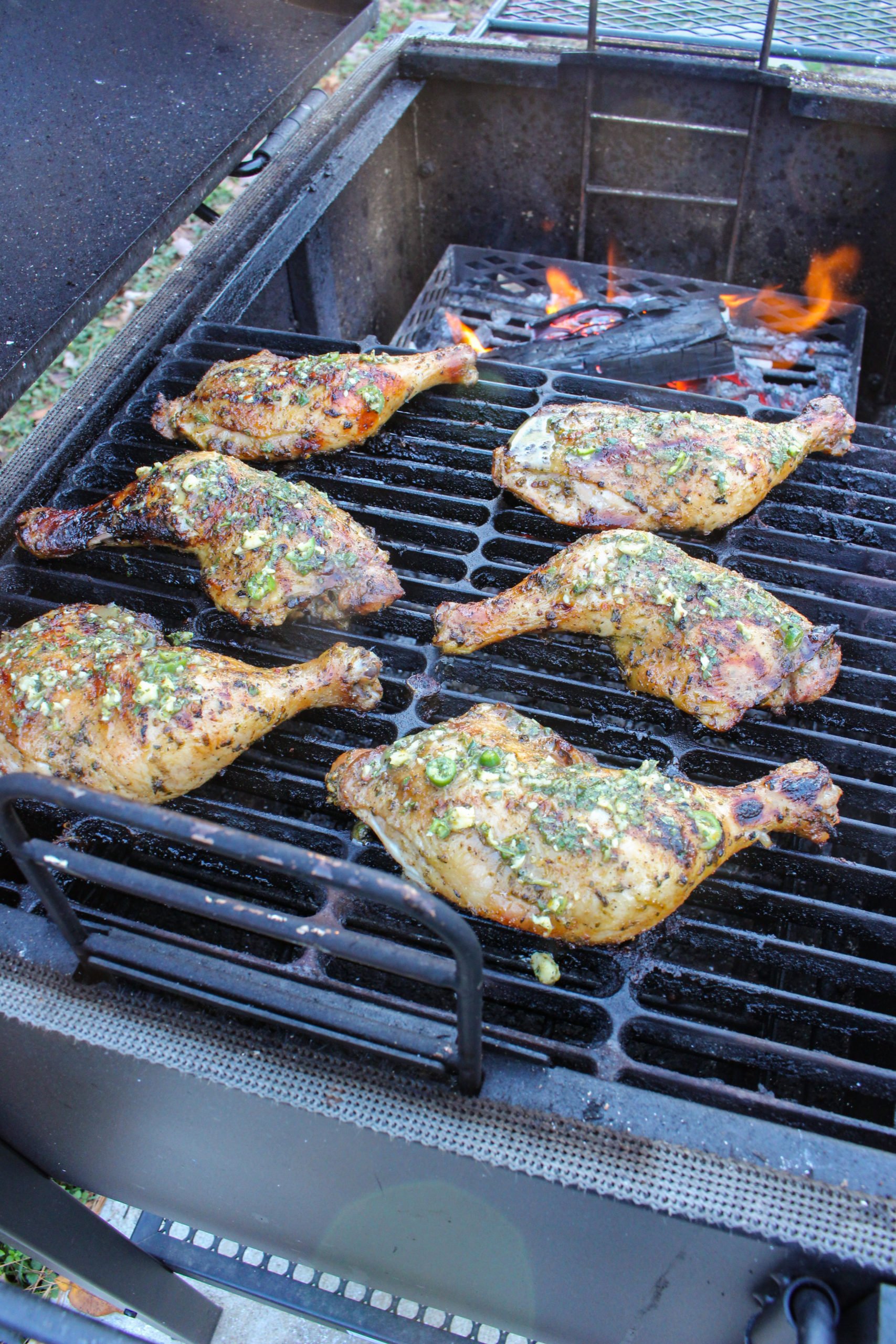 Want more of that citrus tang? Check out my Sweet Pineapple Teriyaki Salmon, Grilled Filets with Chile Vinegar Sauce and Grilled Santa Maria Tri-Tip recipes. 
After you've got your grill marks, we'll move the chicken to the opposite side of the grill, away from the coals. This allows the chicken to finish cooking indirectly. Leave the chicken to cook for another hour or so, until they have an internal temp of 170F. Right before they're done, baste the chicken quarters in the mojo marinade we had set aside the night before. 
After each chicken quarter has hit temp, pull the Grilled Mojo Chicken from grill and set on a serving dish! I served mine with some seasoned black beans and rice. It was so good I actually had it for breakfast again the following day, ha! Best enjoyed with friends and family. Cheers!
For more delicious recipes, check out my cookbook Food X Fire!
Needing more spice in your life? My spice line can help with that. Check them out here.
Grilled Mojo Chicken
Grilled Mojo Chicken for your next delicious dinner.
Ingredients
Chicken:
5-6

Chicken Quarters

Chopped Cilantro

for garnish

White Rice

for serving

Black Beans

for serving
Mojo Marinade:
4

Navel Oranges

juiced & 1 orange zested

5

medium Limes

juiced & 2 limes zested

1

Grapefruit

juiced

3

Serranos

thinly sliced

¼

cup

of Cilantro

10-12

Garlic Cloves

2

tbsp

of Fresh Oregano

1.5

tbsp

of Garlic Herb Seasoning

optional

1.5

tbsp

of Ground Cumin

1.5

tbsp

of Olive Oil

2

tsp

of Kosher Salt

2

tsp

of Black Pepper
Instructions
Add all of your ingredients for the Mojo Marinade (except serranos & olive oil) to a blender. Blend for only 4-5 seconds in order to begin the mixture, then add the olive oil. Blend until fully immersed, then once done add the sliced serrano peppers. Add ¼ cup of the marinade into a separate bowl to reserve for later before adding to chicken.

Add your chicken quarters to a food safe bowl and pour the remaining marinade over the top and mix thoroughly. Cover and place in the fridge, along with reserve marinade, to sit for at least 4 hours but ideally overnight.

Preheat your grill for a two zone indirect cooking at 300F.

Add your chicken to the high heat side of the grill to sear for about 2 minutes per side. Once the chicken has been seared, pull them to the cool side of the grill to finish cooking. Cook for about 1-1.5 hours until they reach 170F internal. About 5 minutes before the chicken is done, baste them with the reserve marinade. Pull the chicken off once done to rest for 5 minutes.

Serve the chicken with rice, beans, sliced limes and cilantro. Enjoy!
Nutrition
Serving:
1
g
|
Calories:
398
kcal
|
Carbohydrates:
27
g
|
Protein:
22
g
|
Fat:
24
g
|
Saturated Fat:
6
g
|
Polyunsaturated Fat:
5
g
|
Monounsaturated Fat:
11
g
|
Trans Fat:
1
g
|
Cholesterol:
118
mg
|
Sodium:
875
mg
|
Potassium:
614
mg
|
Fiber:
6
g
|
Sugar:
12
g
|
Vitamin A:
1006
IU
|
Vitamin C:
88
mg
|
Calcium:
150
mg
|
Iron:
4
mg