Bring the heat with these grilled Kung Pao Chicken Wings. No takeout needed, we're firing up the wings with all of the toppings right on your grill. This pile of wings does not disappoint, loaded with crunchy peanuts, sticky sauce, and the incredible punch of dried chiles. Everything comes together so fast you won't bother to make a side of rice. Grab a bone and let's go!
Bringing Back the Kung Pao Chicken Wings Tradition
Kung Pao chicken is widely known on our "westernized" Chinese menus, but it's origin is from southern China. Diced and marinated chicken is seared quickly with peanuts, chiles, and a variety of diced vegetables. The main differences between the authentic version and what we find in America are the floral Szechuan peppercorns, previously banned from import.
This recipe for Kung Pao Chicken Wings bridges the authentic with the new, utilizing ingredients from both worlds. Sweet red bell peppers counter the spicy chiles, and the Szechuan peppercorns are back.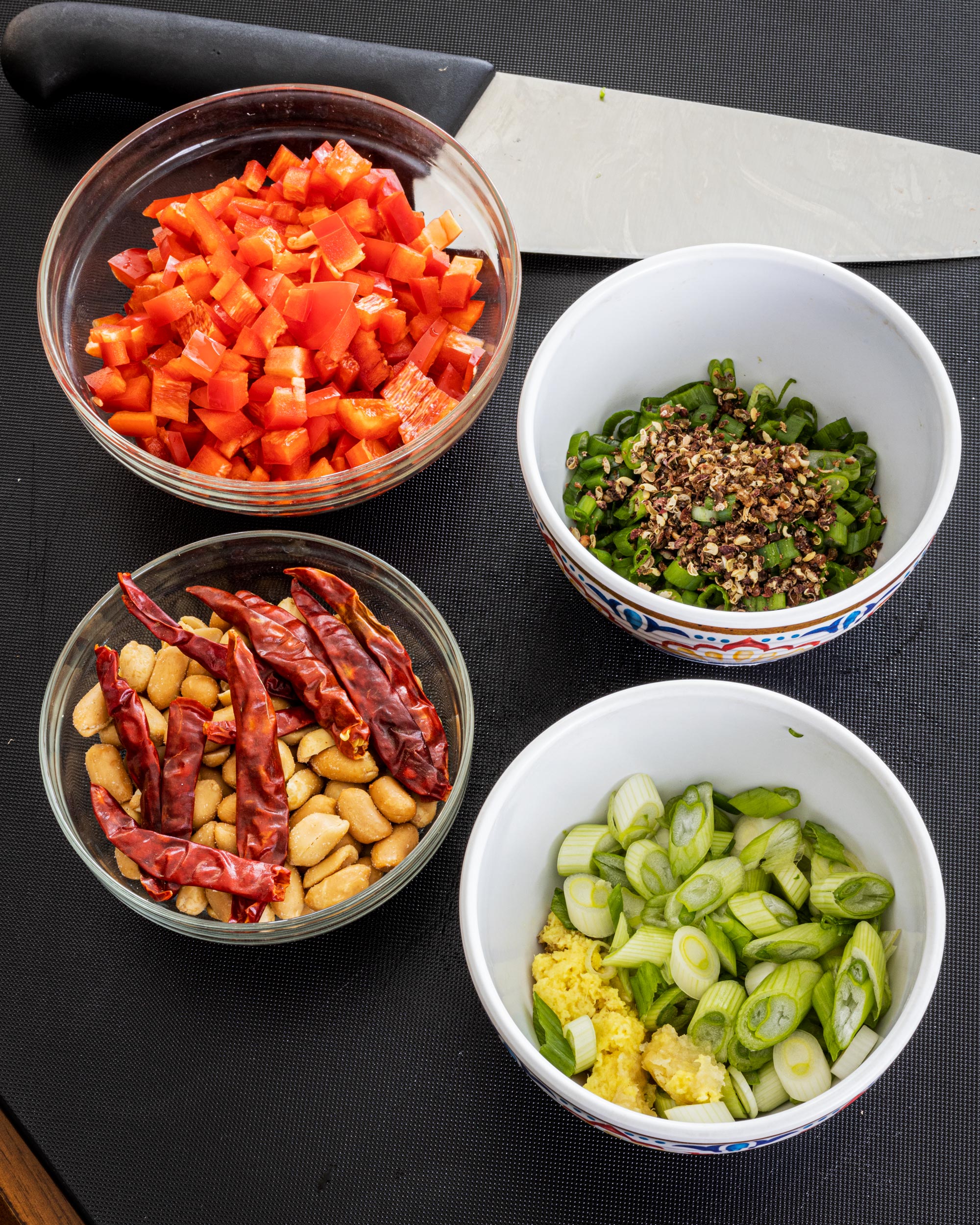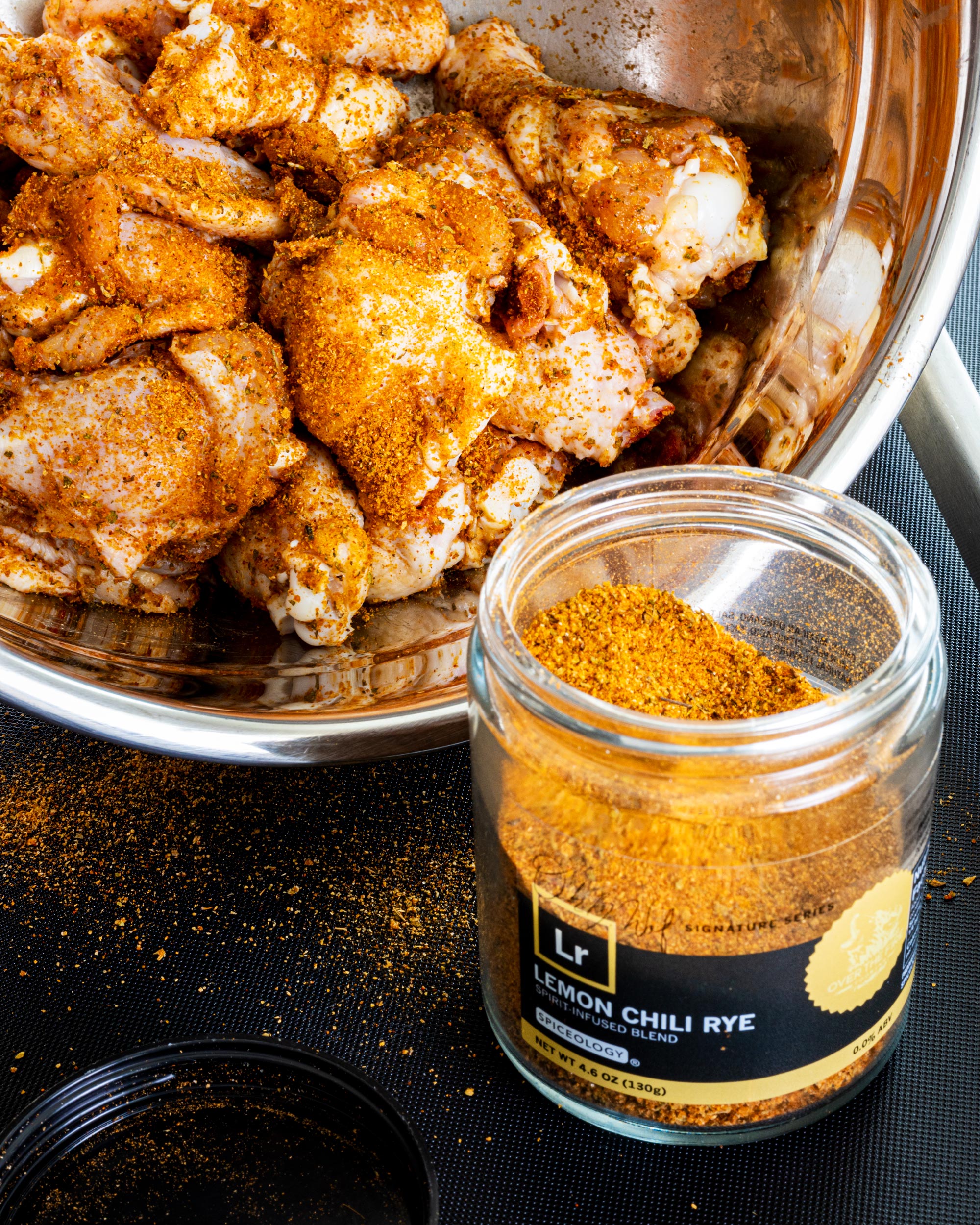 Craving wing? I always am… How about these Bourbon Bacon Chicken Wings, Maple Peach Sticky Wings, Honey Gochujang BBQ Wings and Garlic Parmesan and Beer Wings recipes?!
This isn't Takeout – It's Your Grilled Kung Pao
American Chinese takeout leave out a lot of the aromatics and heat that you'd have with traditional Chinese dishes, especially Szechuan. The flavor profiles tend to be sweeter, many times also utilizing local vegetables. If you're the type that loves Chinese food from a giant panda, you might need to buckle up when eating this dish.
These Kung Pao wings are stacked with fresh ginger, scallions, garlic, and Szechuan peppercorns to keep your tastebuds singing. The peppercorns are pretty special, also creating a tingly sensation on the tongue which causes you to crave more. Combine that sensation with the spicy chiles and your mouth completely craves more and more bites.
Be Ready to Fire Up Grilled Kung Pao Chicken Wings
As we make this dish, you'll realize that it's actually pretty simple. All the ingredients get added back to back in our skillet until it's done. However, it's important to stay ready for searing time. It comes in a moments notice and is important! The hardest part is prepping, but even that should only take you a few minutes.
Seasoning the wings is very simple, the recipe recommends using a blend of Lemon Chili Rye Seasoning and cornstarch which adds a crisp skin. Crispy helps, especially when we toss the wings in their wet sauce. The rest of the prep comes down to separating out the vegetables: A bowl of diced red bell peppers, a bowl of peanuts and chiles, a bowl of scallion whites with garlic and ginger, and a bowl of scallion greens with Szechuan peppercorns. Whew, it seems like a lot, but I promise it's easy peasy.


For more Lemon Chili Rye recipes, check out Lemon Chili Rye Rotisserie Chicken, Crab Stuffed Salmon and Smoked Leg of Lamb.
Indirect and Sear – The Two Grilled Kung Pao Chicken Wings Steps
Cooking the Kung Pao Chicken Wings indirectly on the grill will be the easiest way to pull this recipe together. Creating a hot spot of charcoal in the middle of your grates will give you the ability to cook the wings on the outside edge of the charcoal, while providing a hotspot to set the skillet on when the wings are ready.
Prepare the grill for a medium heat and cook the wings until they are at least 165-175F. Remove them from the grill, and get that skillet searing with some peanut oil right over the coals. You'll add in the ingredients one by one, and within minutes you'll have a sticky pile of addicting wings. Check out the full recipe below and enjoy!
For more delicious recipes, check out my cookbook Food X Fire!
Needing more spice in your life? My spice line can help with that. Check them out here.
Full Length Recipe Video on YouTube!
Print Recipe
Kung Pao Chicken Wings
Kung Pao Chicken Wings for a spicy, delicious chicken wing experience.
Ingredients
Ingredients
2

lb

chicken wings

3

tbsp

Lemon Chili Rye

1 1/2

tbsp

cornstarch

3

scallions

diced, greens and white separated

1

red bell pepper

finely diced

½

cup

roasted peanuts

8

dried red chiles

Chinese or chile arbol

2

garlic cloves

minced

2

tsp

fresh ginger

minced

1

tbsp

Szechuan peppercorns

ground

2

tbsp

peanut oil
Sauce Ingredients
2

tsp

cornstarch

3

tbsp

soy sauce

1

tbsp

Shaoxing wine

1

tbsp

white vinegar

2

tsp

white sugar
Instructions
Preheat the charcoal grill for medium heat, with the coals in the center. We will be cooking the wings indirectly, and then using the coals to heat up the skillet for searing.

Mix the cornstarch with the Spiceology Lemon Chili Rye seasoning. Add the chicken wings into a large bowl or plastic bag, and add the seasoning. Toss the wings to make sure they are coated evenly, and set them aside.

We'll prepare the rest of the ingredients, which will be added into the skillet later. Dice up the vegetables as instructed. Add the whites from the scallions to a bowl with the garlic and ginger. Set the peanuts and chiles together. The scallion greens can be added with the Szechuan peppercorns.

Mix the sauce ingredients together.

Set the wings on the grill, making sure they are not directly over the coals. They should be cooking indirectly. Allow them to cook on the grill for 6-7 minutes per side, flipping as needed. Close the lid on the grill to speed along the process. Grill the wings until they are about 170F internal temperature.

Remove the wings and set them aside.

Place a cast iron skillet directly over the coals and add the peanut oil, allowing it to heat up. Add a piece of red bell pepper to test the temperature, it should sizzle immediately if ready.

Add in the diced red bell peppers into the oil, stirring immediately. Cook for about 2 minutes until softened. Add in the chiles and peanuts next, stirring for about 30 seconds. Next add in the bowl of scallion whites, garlic, and ginger. Stir the ingredients in the skillet well, and cook for about 1 minute.

Take the chicken wings and add them into the skillet, tossing them gently to make sure they are frying with the ingredients. Add the sauce, continuing to stir and coating the wings. Cook for 1 minute, and add the scallion greens and Szechuan peppercorns. Toss to mix everything, and serve.
Nutrition
Calories:
712
kcal
|
Carbohydrates:
30
g
|
Protein:
42
g
|
Fat:
48
g
|
Saturated Fat:
11
g
|
Polyunsaturated Fat:
13
g
|
Monounsaturated Fat:
20
g
|
Trans Fat:
1
g
|
Cholesterol:
126
mg
|
Sodium:
1246
mg
|
Potassium:
1044
mg
|
Fiber:
6
g
|
Sugar:
11
g
|
Vitamin A:
2762
IU
|
Vitamin C:
227
mg
|
Calcium:
95
mg
|
Iron:
5
mg
Brad Prose is a professional recipe developer, food writer, and culinary photographer – the force behind Chiles and Smoke. His kitchen spotlights unusual and incredible flavors through a blend of fine dining and BBQ. Brad strives to inspire home cooks to use higher-end techniques and new ideas, applying them to the everyday food we know and love.