Not many recipes are quite the stunner like this Smoked Lamb Crown Roast. It is beautiful, intriguing, and actually super easy to make. The first key is grabbing some American Racks of Lamb. Got these locally in Nashville, supported by the American Lamb Board, then began prepping to make the crown. It is such a quick cook that you can prepare and impress your guests all in the same night!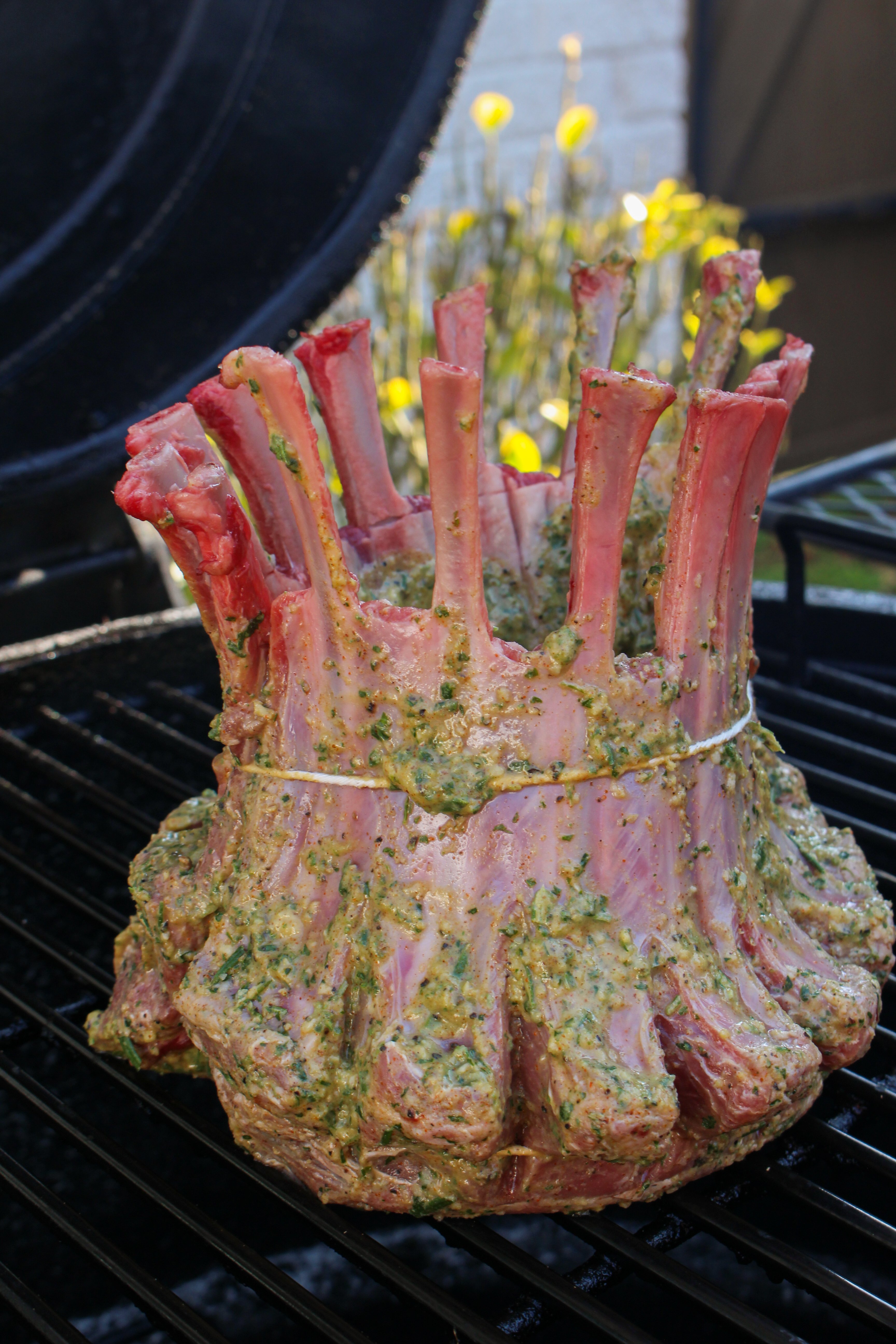 WHAT IS A LAMB CROWN ROAST?
A crown rack of lamb is a cooking technique where lamb rib racks are skillfully frenched, cleaned, and then precisely shaped into the look of a crown. This impressive dish offers an elegant presentation and is the perfect complement to your favorite side dishes. Plus, the crown roast rack of lamb is the perfect main dish for special occasions or the holiday table when you want to show off a stunning entree!
Want more delicious lamb recipes? Then make sure to check out our Rotisserie Leg of Lamb with Chimichurri Sauce, Grilled Lamb Arayes and Beer and Herb Braised Lamb Shanks Recipe!
Why You'll Love This Crown Roast of Lamb
You'll love this Lamb Crown Roast recipe for its perfect blend of elegance and flavor. The frenched and shaped lamb roast rib racks create a visually stunning crown shape, so it's naturally a showstopper for any special occasion. The herb paste also adds a burst of flavor without overwhelming the dish, creating a balanced and memorable meal.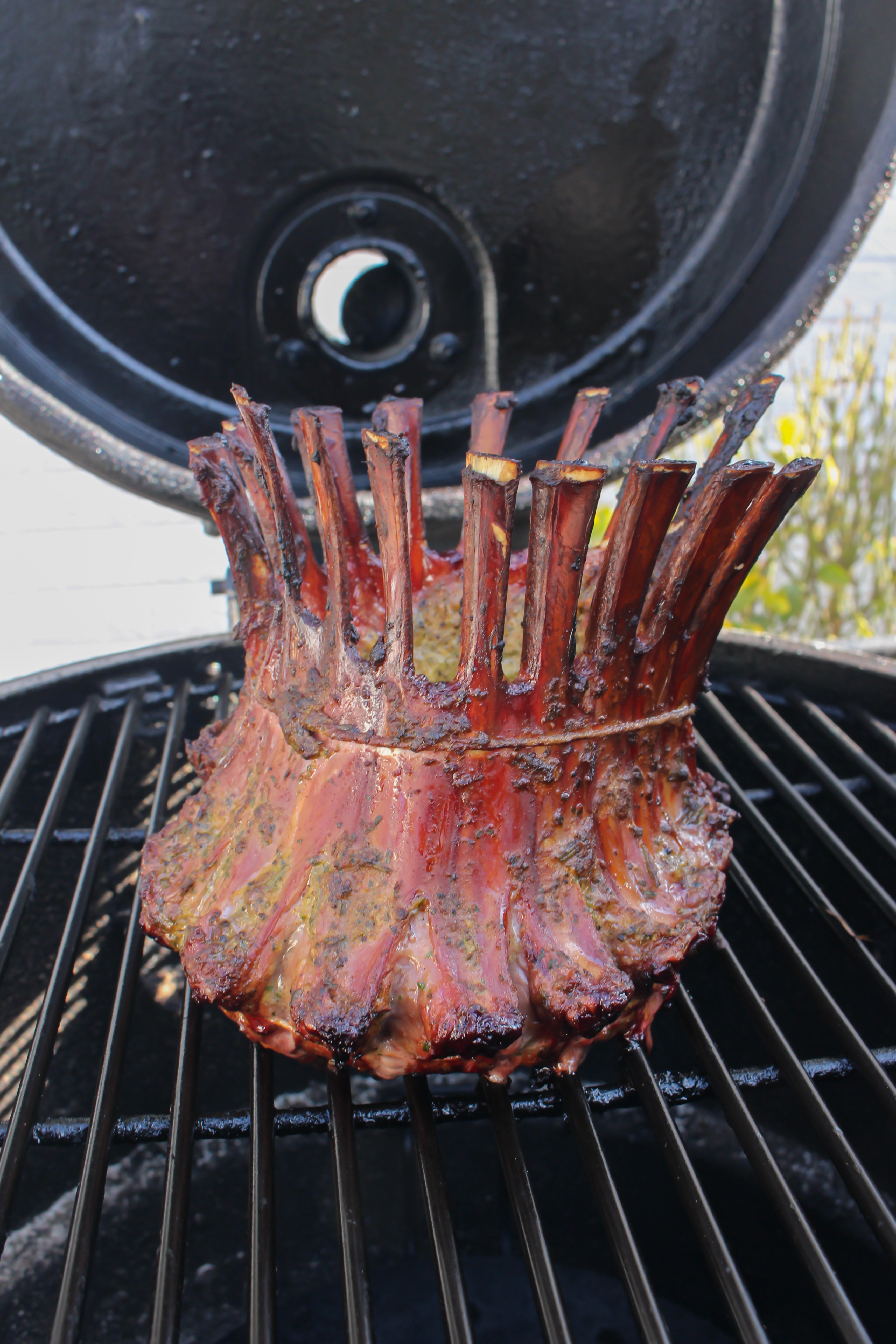 Lamb Crown Roast INGREDIENTS
LAMB:
Racks of Lamb frenched
Onion de-skinned
HERB PASTE:
Dijon Mustard – Adds a tangy and slightly spicy element to the herb paste.
White Wine Vinegar – Offers acidity to balance the richness of the lamb.
Parsley
Rosemary
Oregano
Garlic Cloves
Sea Salt
Pepper
Cayenne Pepper – Infuses a subtle spiciness to the herb paste.
Lemon (juiced) – Provides a citrusy brightness that cuts through the richness of the lamb.
Canola Oil – Helps bind the herb paste ingredients, making sure they stick to the lamb for maximum flavor infusion.
LEMON PARSLEY YOGURT:
Plain Yogurt – Use any kind of plain yogurt you like.
Parsley finely chopped
Garlic Cloves minced
Lemon juiced
Sea Salt
Black Pepper
Cayenne
Cumin
HOW TO MAKE LAMB CROWN ROAST
PREPPING IS KEY
The hardest part of this Smoked Lamb Crown recipe is making the crown itself. Overall, it is an easy thing to do; however, it can feel a little daunting if you do not know where to start. The first thing is grabbing some American racks of lamb.
Next, we need to make that rack of lamb a little more flexible. I will start by laying the lamb down so that the exposed bones are facing me. At the end of the bones, where they combine with the meat, there is a small groove where you would traditionally slice in-between in order to make single lamb chops.
This is a great place to make a ½ inch slice. Do that on all the bones of the rack of lamb, and you will notice that when you mold it into a circle, it is much more flexible! Repeat this for the second rack of lamb, and we are now in business.
Between the prepping and the making of the crown, you are also going to blend up an herb paste. This is a fun way to get tons of flavor onto the lamb without going overboard. Finally, blend up the herb paste and lather it all over the Smoked Lamb Crown.
Assembling THE LAMB CROWN
The next piece is making the actual crown. Now that the lamb is flexible, it can be molded easier, but it also means that it is more flimsy. One way that you can make sure your crown keeps a nice circular structure is to mold it around a circular object.
A nice peeled onion will do that trick! Now, you do not need to do this step, but it definitely helps later in the cooking process. If you are struggling with looking at a white onion in the center of the roast, then fill the middle with a lovely stuffing!

Grab your onion half and then start to mold the two racks around it with the bones facing outward. They should easily be able to touch. Once that is set, use some trussing string or butcher's twine to secure the lamb rack together.
You can either tie around the bones, around the base of the meat or do both. Either way, just make sure it is secure while still keeping the right shape. When you are done, set the prepared Lamb Crown in the fridge for 15 minutes.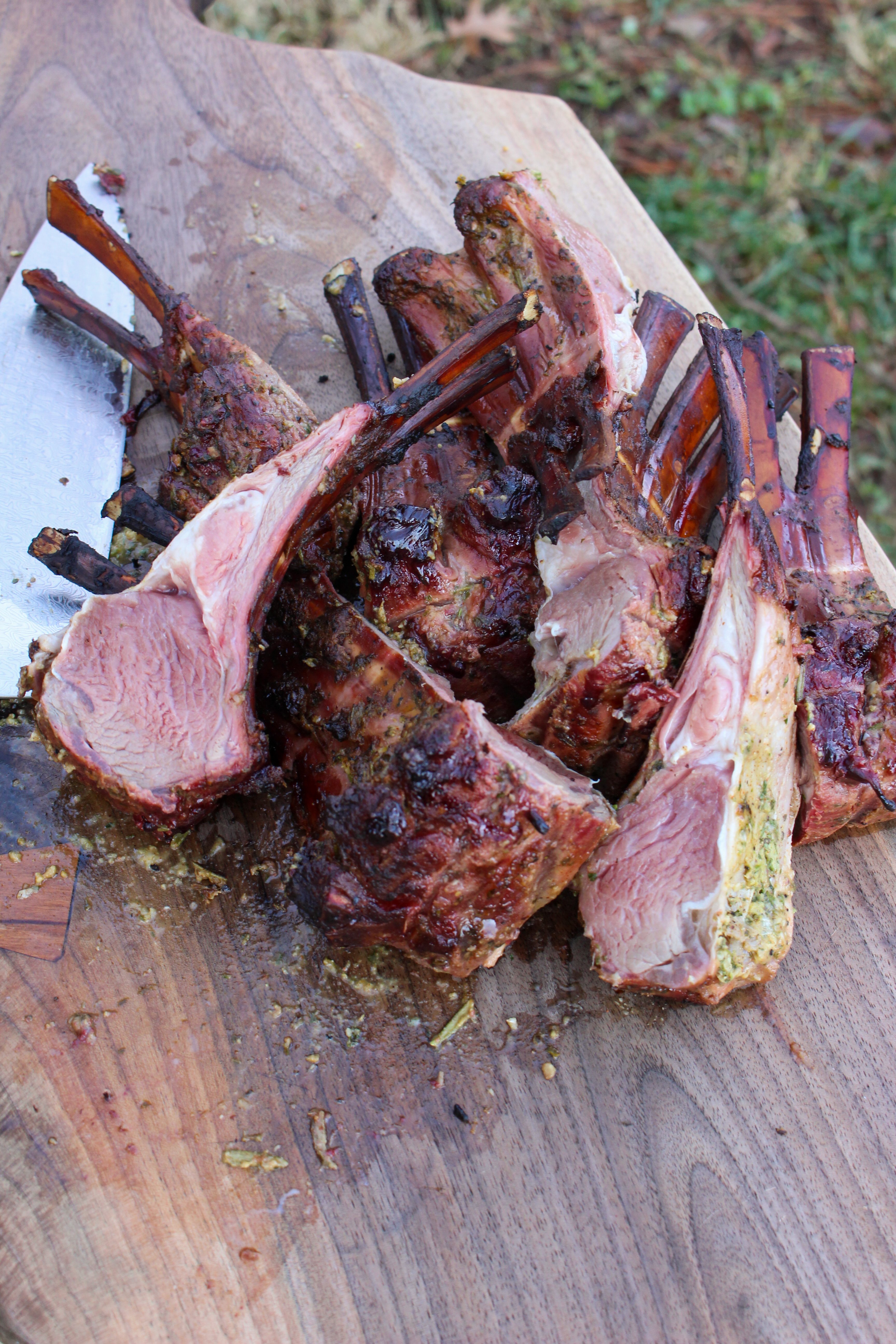 LET'S SMOKE THIS LAMB CROWN Roast
The last step is putting the whole thing on the grill! Preheat a fire to medium-low heat, about 300F. This is low enough to get a good smoke flavor but without making it too overbearing. I like to use a drum or offset smoker for this cook, but feel free to do it indirectly on your grill. Try using the 2-zone method for this cook if possible.
Transfer lamb onto the grill and let it cook for about 1-1.5 hours. If you are shooting for more medium-rare, then I would pull it once it reaches 135F internally before letting the meat rest for up to 10 minutes. For those that like a more cooked lamb, then pull it off around 145F. Either way, this smoked lamb crown roast will be beautiful!
LET'S TRY THIs LAMB CROWN Roast
Lastly, mix up the lemon parsley yogurt and slice it into the Smoked Lamb Crown. This is a quick and easy meal to cook over fire without breaking a sweat. It is smoky, herbal, and packed full of wood fire flavor. Just make sure to grab some local American Lamb, and you are ready to get cooking!
Tips
Use an instant-read thermometer to check the internal temperature of the lamb reaches at least 135 degrees F for medium-rare and 145F for medium.
Let your crown rack of lamb come to room temperature before smoking to ensure even cooking.
How to Store Leftovers and Reheat
Store leftover lamb in an airtight container in the fridge for 3-4 days. To freeze, wrap the lamb chops in plastic wrap and then aluminum foil. Freeze for up to 3 months. Before relating frozen lamb, make sure you bring it to room temperature.
To reheat:
Preheat the oven to 325F.
Wrap leftover lamb chops in aluminum foil and place on a baking sheet.
Bake for 10-15 minutes until the internal temperature reaches 145F.
What to Serve With a Lamb Crown Roast
Classic side dishes like Brussels sprouts, rice pilaf, or a flavorful risotto make excellent companions to the crown rack of lamb.
Lamb Crown Roast Recipe FAQs
Where can I buy a rack of lamb?
Your best bet for buying a rack of lamb is at your local butcher, but you can also get them online! If going to your local butcher shop, make sure to ask them for "Frenched," which means cutting down the excess fat and meat on the bones to expose them. 
How do I carve and serve a crown rack of lamb?
Use a sharp knife to carve the lamb between the rib bones to create individual lamb chops. Serve on a platter with your chosen sides. Then, simply enjoy the grand presentation of this delicious and posh dinner!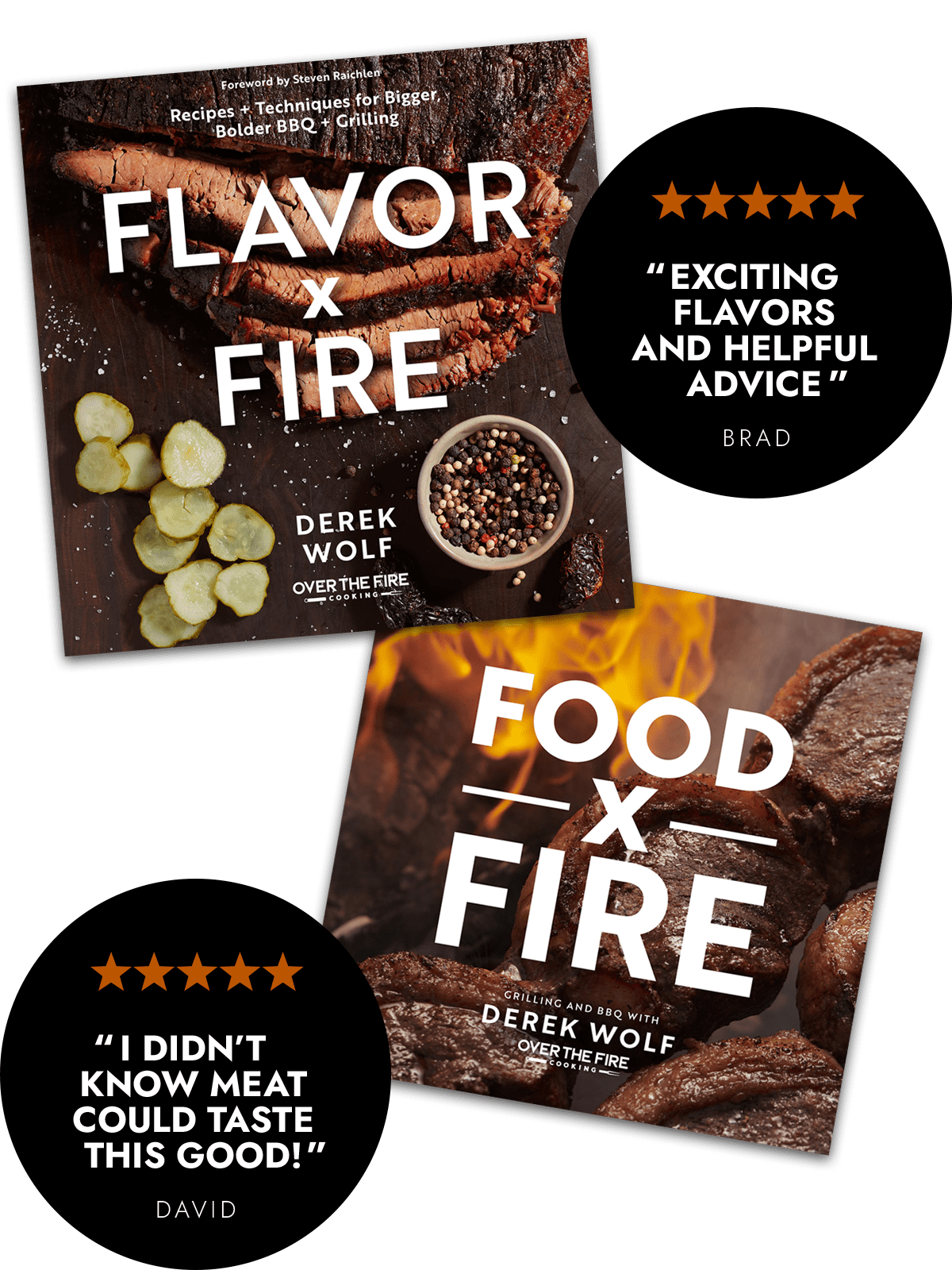 Get The Cookbooks!
Flavor X Fire & FOOD X Fire
All the major tastes—salty, sour, sweet, bitter, and umami—are explored in depth, along with an investigation of other components you should consider when it comes to flavor, such as aroma, heat, and texture.
Lamb Crown Roast
There are not many recipes that are quite the stunner like this Lamb Crown Roast. It is beautiful, intriguing and actually super easy to make.
Ingredients
Lamb:
2

Racks of Lamb

frenched

1

Onion

de-skinned
Herb Paste:
3

tbsp

of Dijon Mustard

2

tbsp

of White Wine Vinegar

2

tbsp

of Parsley

2

tsp

of Rosemary

2

tsp

of Oregano

8

Garlic Cloves

1

tbsp

of Sea Salt

1

tbsp

of Pepper

1

tsp

of Cayenne

1

Lemon

juiced

1

tbsp

of Canola Oil
Lemon Parsley Yogurt:
½

cup

of Plain Yogurt

2.5

tbsp

of Parsley

finely chopped

4

Garlic Cloves

minced

1

Lemon

juiced

1.5

tsp

of Sea Salt

1.5

tsp

of Black Pepper

1

tsp

of Cayenne

1

tsp

of Cumin
Instructions
Begin by laying one of your racks of lamb with the back of the bones facing your.

Find the groove at the knuckle of the bone where you would traditionally slice the rack into single cuts. Make a cut in between each bone at that groove going only ½ inch deep.

When the lamb is done being sliced, it should be able to bend easily because of the slices.

Repeat this for both racks of lamb and then set aside.

In a blender, mix together the ingredients for the herb paste.

Lather your racks of lamb in the herb paste thoroughly.

Next, let's make the racks into a crown. Place the onion on the cutting boards or any other small round object. You don't have to do this, but it will help keep form better.

Surround the object with the two racks of lamb so that the "sliced" side is facing outwards. Bring the racks of lamb next to each other so they are touching, and then tie them together using a trussing string. This can be done by tying the bones on top of the meat below.

Once it is ready, lather any excess herb paste onto the meat and place the crown into the fridge for 15 minutes.

Preheat your grill for indirect cooking at a medium-low temperature around 300F. Add some wood chips or chunks into the grill for additional smoke flavor.

Add your lamb crown onto the grill and cook indirectly for 1-1.5 hours until it reaches around 135F internal for medium rare.

While the lamb cooks, mix together the lemon parsley yogurt sauce.

When done, pull the lamb off and rest for 5 minutes. Slice, serve with the yogurt and enjoy!
Nutrition
Serving:
4
g
|
Calories:
1036
kcal
|
Carbohydrates:
16
g
|
Protein:
40
g
|
Fat:
91
g
|
Saturated Fat:
39
g
|
Polyunsaturated Fat:
8
g
|
Monounsaturated Fat:
38
g
|
Trans Fat:
0.02
g
|
Cholesterol:
193
mg
|
Sodium:
2902
mg
|
Potassium:
787
mg
|
Fiber:
4
g
|
Sugar:
4
g
|
Vitamin A:
884
IU
|
Vitamin C:
41
mg
|
Calcium:
159
mg
|
Iron:
6
mg