This Rosemary Garlic Lamb Chops recipe is out of this world good. Don't believe me? Just ask my wife! We have made it 3 times since I wrote this recipe. Find out some of my tips and tricks below to make it amazing.
Getting a Good Crust on Lamb Chops
Everyone is always looking for tricks to get an amazing crust on their food. While there might be a few tips that work, one of the biggest ways to ensure a good crust is setting out your Lamb Chops early.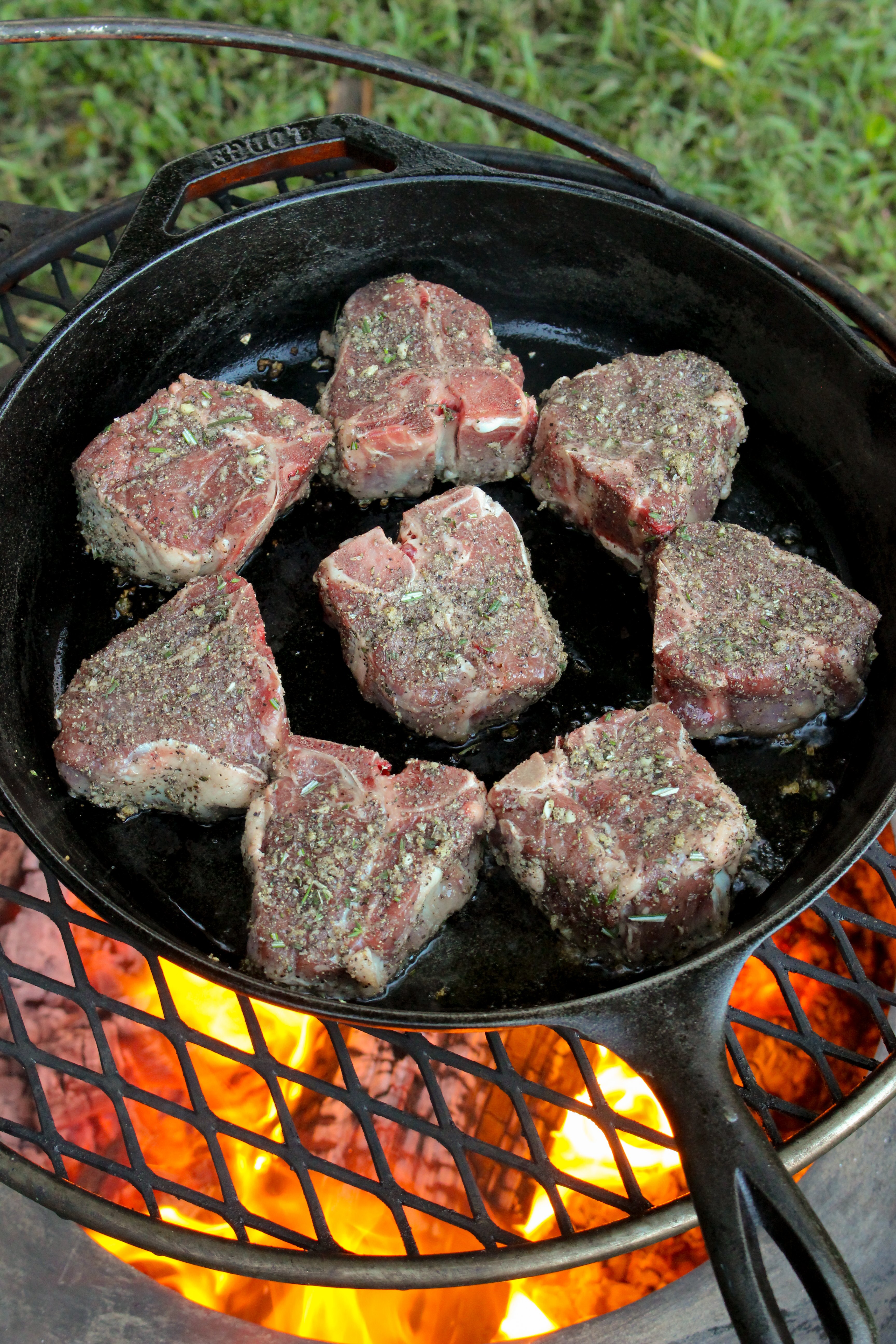 While I will admit that I love a deep sear using lots of oil on a skillet, the only real trick that works is making sure your meat is not cold. Cold meat will not create the outside crust that you are looking for no matter how hard you try. That is why on these Rosemary Garlic Lamb Chops, I let them sit out of the fridge for 15 minutes before cooking.
By letting your lamb chops sit out, you end up getting a better surface to cook. A bonus tip is making sure the meat is dry. That is why I did not oil the meat, but seasoned it and let the skillet do the rest of the work. Once you have gotten a great crust, let's chat about that pan sauce.
Let's Talk about this Pan Sauce
A good pan sauce can make all the difference in the world. What is a pan sauce you might ask? Well, it is utilizing the leftover treasures from the meat being cooked before and making a sauce with it. The first step to a pan sauce is deglazing the skillet.
I chose to deglaze the skillet on the Rosemary Garlic Lamb Chops recipe with cognac. Most liquor should do the trick so try bourbon, tequila, red wine, white wine and more. The alcohol will lift the leftover bits off the skillet and let you get to making the sauce.
Next, we are going to add garlic to brown. Getting the garlic to brown will create an intense aroma on the pan sauce we all want. Finally, we will add the butter, balsamic vinegar and dijon mustard. Mix that all together well. The biggest key here is not letting the skillet get too hot and "separate" the sauce. If the sauce becomes "gunky" and no longer smooth, then you will have to start over again. Make sure you move the skillet away from the high heat for this part!
Once the sauce is ready, we will let the lamb chops simmer in it until we are ready to eat.
Time to eat these Rosemary Garlic Lamb Chops
Dose those lamb chops in the pan sauce to your heart's desire, and then dive right in! Enjoy this delicious Rosemary Garlic Lamb Chops recipe with the whole family, or make it as a perfect date night addition. Either way, cheers!
Rosemary Garlic Lamb Chops
Need a quick and easy meal for date night over the fire. These Rosemary Garlic Lamb Chops perfect for exactly that. Just grab some red wine!
Ingredients
Lamb Ingredients:
8-10

Lamb Chops

2

tsp

of Rosemary

minced

6

Garlic Heads

minced

2

tsp

of Thyme

minced

1

tbsp

of Kosher Salt

1

tbsp

of Black Pepper

1

Lemon

juiced

1.5

tbsp

of Oil

Chopped Parsley

for garnish
Pan Sauce:
1

tbsp

of Cognac

4

Garlic Cloves

minced

2

tbsp

of Balsamic Vinegar

5

tbsp

of Butter

⅛

cup

of Dijon Mustard
Instructions
In a bowl, mix together the rosemary, minced garlic, thyme, kosher salt and black pepper. Pat your lamb chops dry and season thoroughly with the seasoning mixture. Set aside until you are ready to use.

Preheat your grill to medium high temperature (about 375F). Add a cast iron skillet on the grill 1-2 minutes before cooking with oil to preheat.

Add your lamb chops to the grill and cook for about 3 minutes per side or until they reach 145F internal for medium rare. Right before pulling them off, squeeze lemon juice over the top. Once done, pull them off and let rest.

Pull your skillet off the high heat to a more medium-low temperature (around 300F). Deglaze the skillet with the cognac. Next, add the garlic cloves and let brown (about 1 minute). Finally, add your butter, dijon mustard and balsamic vinegar. Mix together thoroughly. Move the skillet away from heat in order to prevent burning.

Once the pan sauce is ready to go, add your lamb chops back to the skillet to simmer for 1 minute. Top with chopped parsley and enjoy!