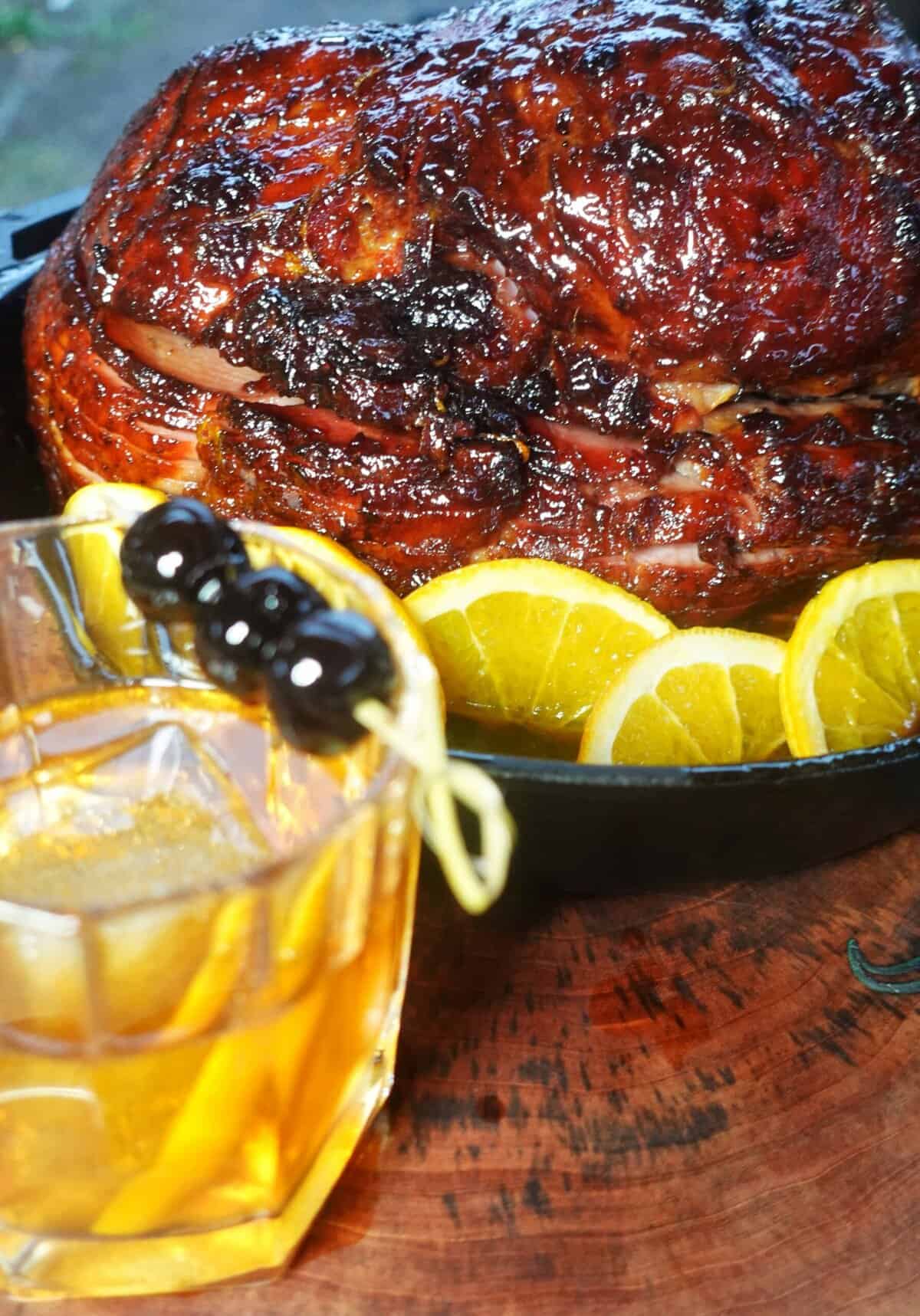 The holidays are upon us and that means its officially ham season! If you're inviting friends and family over to your house to partake in an epic feast, I have the perfect recipe for you. It's my Double Smoked Spiral Ham!
I cover this ham with a Bourbon Old Fashioned Glazed that is guaranteed to be a crowd pleaser. The sweet from the brown sugar and cherry preserves, the tart from the orange zest and juice and the complexity of the bourbon is the perfect pairing for this salty juicy protein.
Old Fashion – The Drink
It's tough to beat a bourbon old fashioned. It's a simple cocktail using bourbon, orange zest, high quality maraschino cherries, angostura bitters and bourbon. I felt this classic pairing of flavors would make for the perfect glaze for a ham. The sweet and tart fruitiness in the glaze compliments the salty pork perfectly.
While I did omit the bitters from the glaze, it still hits all the right notes and creates a deliciously sweet and savory glaze.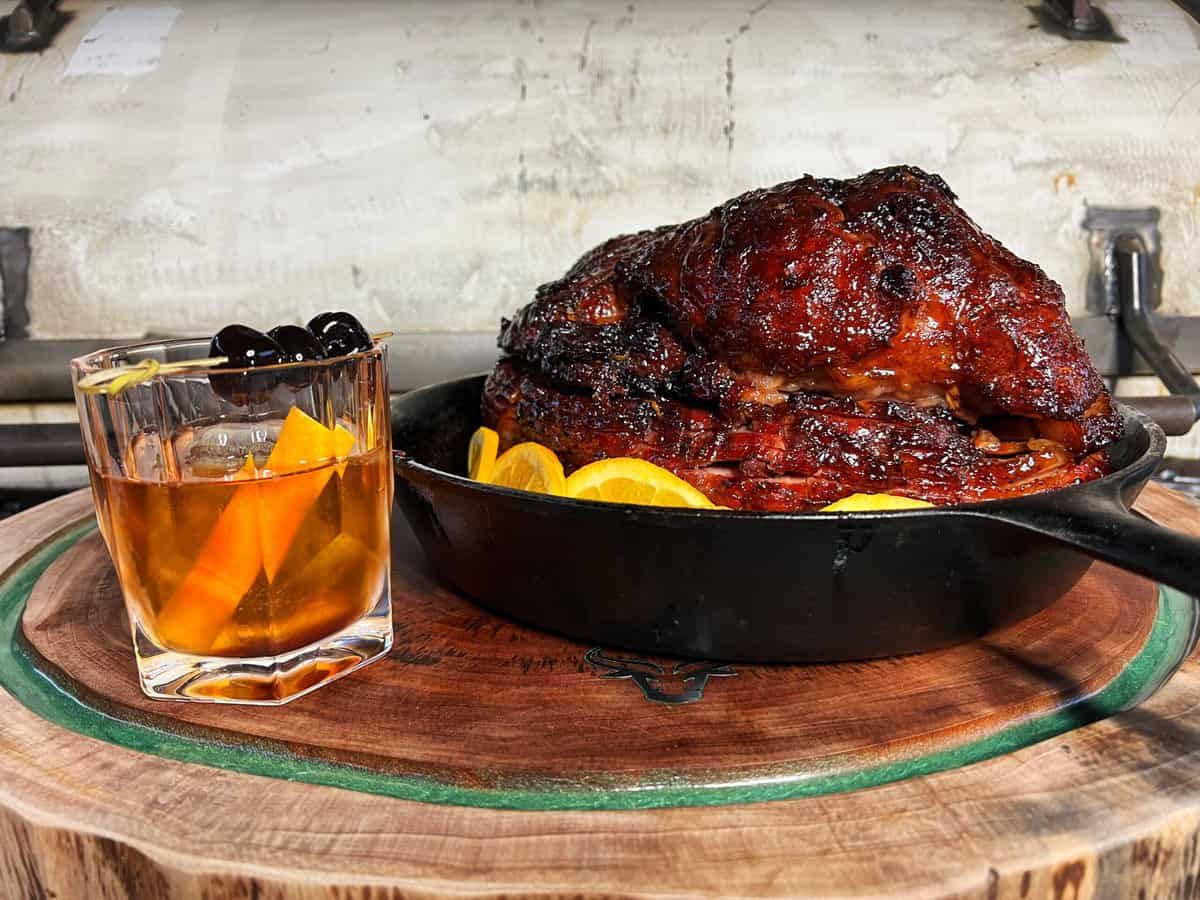 Where's the Spiral Ham
Shopping for a ham can seem a little daunting when practically every super-market has at least one brand. When looking for a ham for this recipe, you want one that has already been smoked and cured. Some come pre-sliced and these are often called a spiral cut ham. Some aren't precut which is perfectly fine. If you find yourself with a ham that is not precut, you can easily do this part yourself.
Take a sharp knife and make deep cuts in a cross hatch pattern. Make deep slices about 1/4'" apart into the ham going from one side to the other, then turn the ham 45 degrees and repeat. This will allow you get some of the rub and the glaze deep into the ham giving you full coverage flavor.
Double Smoked Spiral Ham – The Prep Work
Start out by unwrapping your ham on a clean workspace. You'll want to throw away the packet of glaze that generally comes with any store bought ham. Seriously, throw it right in the garbage, trust me this Bourbon Old Fashioned Glaze is way better.
Dry off the exterior of the spiral ham with some paper towels. Then remove any loose pieces or anything that might dry up and burn while cooking from the ham.
I suggest using a binder to help your rub adhere to the meat during the smoking process. Yellow mustard is always a good choice and it helps create a great color without really adding any flavor to the finished product.
I suggest this over an oil based product as oil might cause the rub to not stick as well.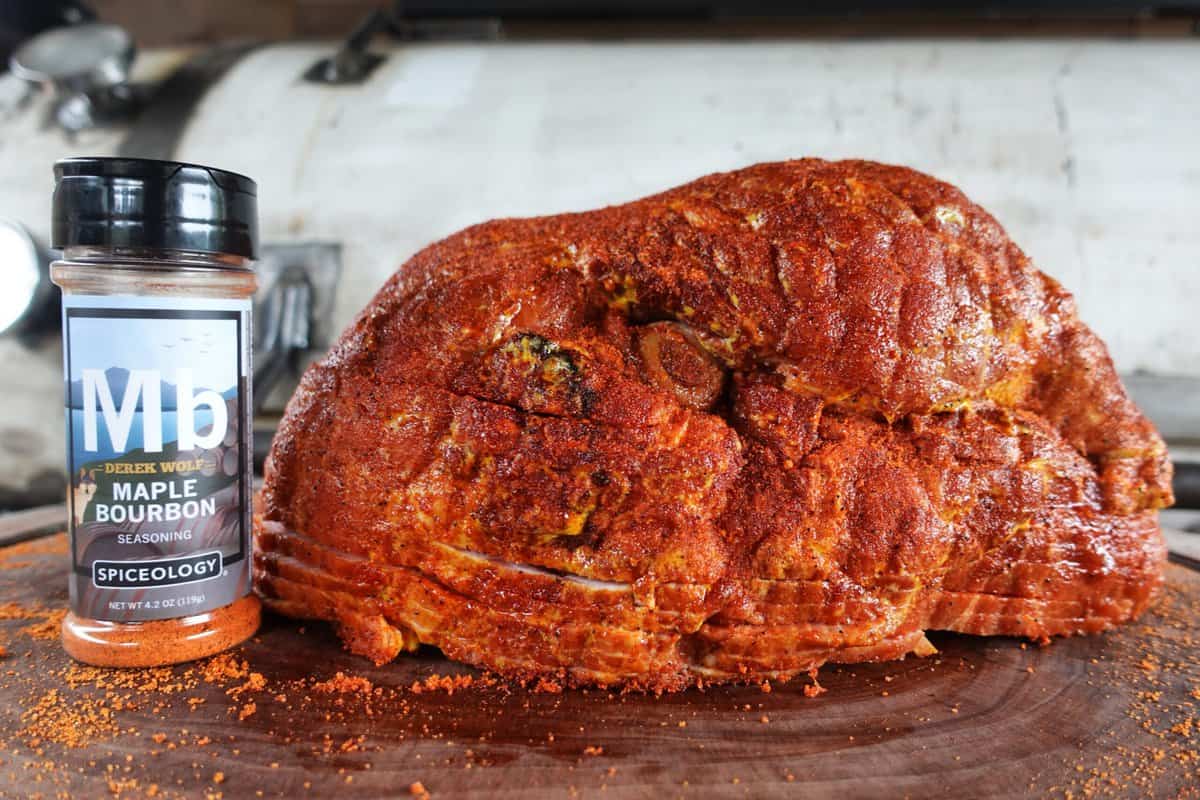 For more ham, check out my Cherry Chipotle Pineapple Glazed Ham, Smoked Pulled Ham Sandwiches and Cherry Chipotle Ham Steak and Eggs.
Double Smoked Spiral Ham – Round One
Once you have a thin coating of mustard on the whole ham, apply a nice heavy coating of your favorite BBQ rub. The Over the Fire Cooking: Maple Bourbon Rub from Spiceology is a perfect rub for this since it already has a sweet bourbon flavor.
Leave the meat sit on the counter to let the rub sweat and adhere to the ham while you fire up your smoker to 275 degrees F.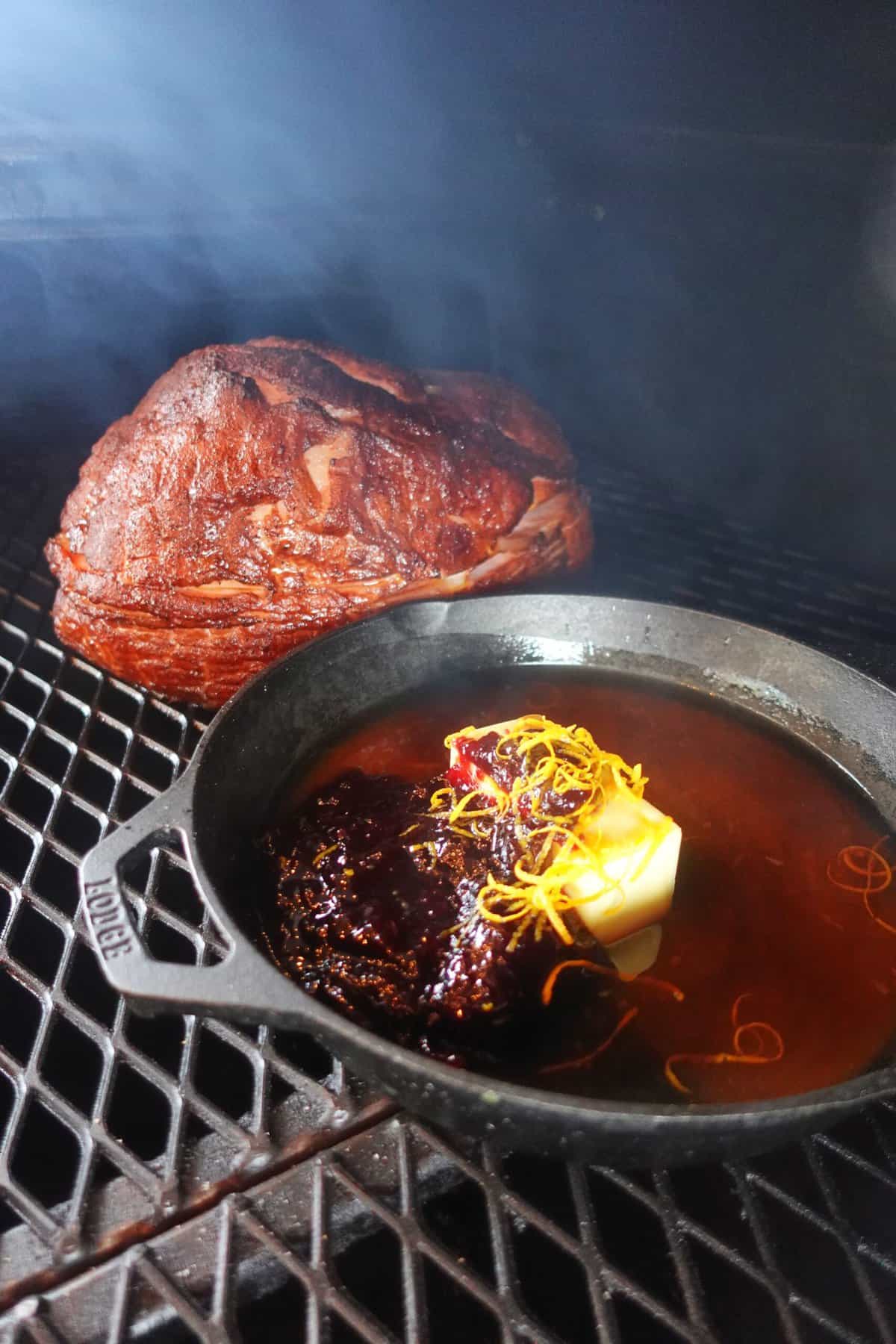 The wood you use is completely your preference, but I suggest something more mild. Any fruit wood or even pecan make a great choice for pork.
The time it takes to cook with very depending on the weight of your ham. I would give yourself at least 4 hours on the smoker. If its done early, its easy to keep warm without drying out.
Youll want to spritz the ham after about 2 hours to help prevent the exterior from drying out. Anything sweet will do such as apple juice, apple cider vinegar. You could even add a little bourbon and cherry juice to a spray bottle and use that.
Bourbon Old Fashion Glaze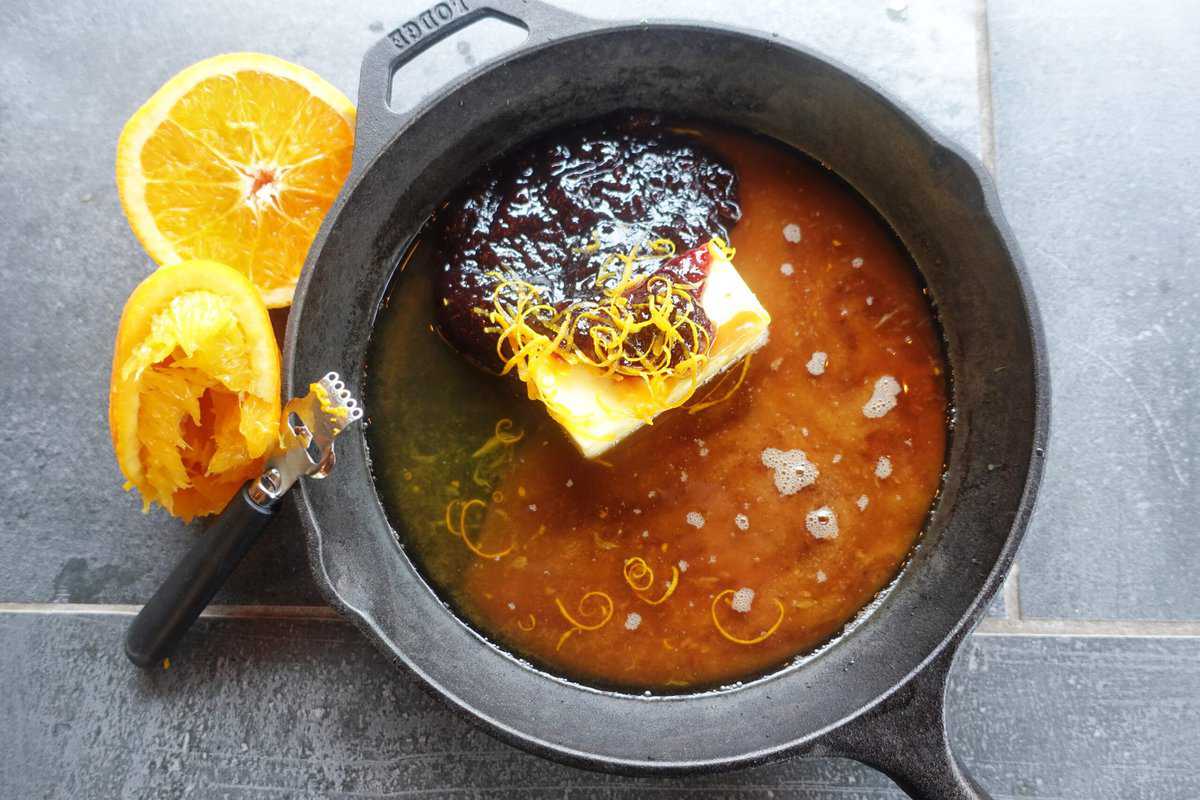 While the ham is smoking. You'll want to assemble the ingredients for your glaze in a cast iron pan. Use a fair amount of bourbon as some will cook out and you want those flavors to come through at the end.
Place the cast iron pan in your smoker to cook while your ham smokes. This can be in your smoker as long as you like so long as it doesn't render down too much and start to burn. I put mine in around the 2 hour mark.
For more with bourbon, check out my Seared Duck Breast with Bourbon Cherry Sauce, Bourbon Bacon Pecan Salmon and Ribeye with Bourbon Cream Sauce.
Double Smoked Spiral Ham – Round Two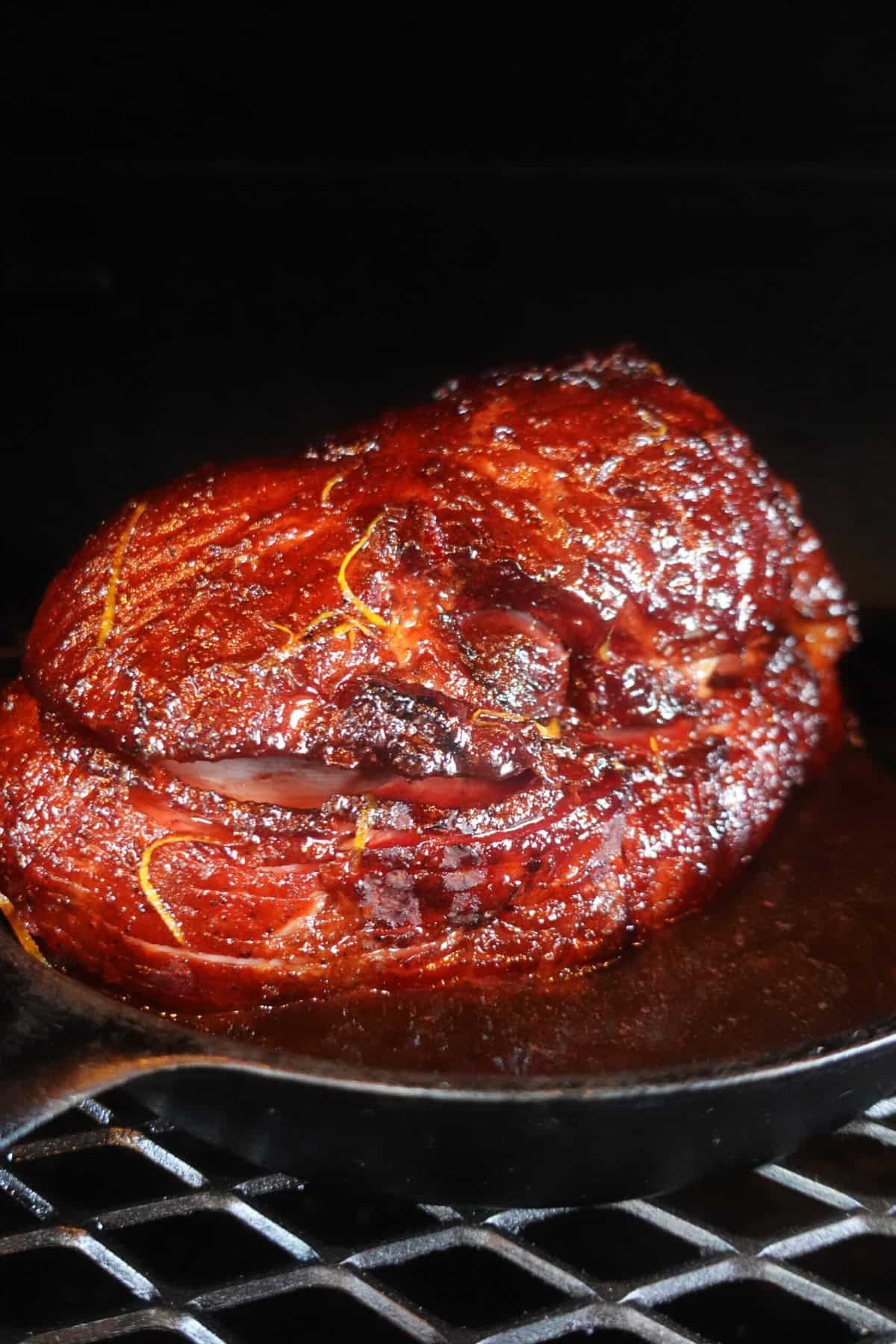 When your ham hits an internal temp of 130 degrees, take the ham and the glaze out of the smoker. Place your ham in a deep roasting pan and stir up the glaze to combine all the ingredients.
Pour about half of the glaze over the ham and return the ham and the glaze to the smoker. This will allow that glaze to tack up and really penetrate deep into the meet.
You'll let this go for about another 30 mins until the internal temp of the ham hits 140 degrees.
Serving
Once your Double Smoked Spiral Ham is done, remove it from the smoker and pour over the remaining glaze while it rests. There should be plenty of liquid at the bottom of the pan to pour over all the slices when you carve it up.
This recipe is guaranteed to impress each one of your guests sitting around the table this holiday season. I know that once you give this a try, you'll be looking for ham in your local supermarket all year round.
For more delicious recipes, check out my second cookbook Flavor X Fire or my first cookbook Food X Fire!
Needing more spice in your life? My spice line can help with that. Check them out here.
Print Recipe
Double Smoked Spiral Ham
Double Smoked Spiral Ham with an Bourbon Old Fashion Glaze
Ingredients
6-8

lb

smoked cured ham

Yellow mustard

Maple Bourbon Rub

or Your Favorite BBQ Rub

1

stick unsalted butter

1

cup

light brown sugar

1

cup

cherry preserves

Zest from one orange

Juice from one orange

¾

cup

bourbon
Instructions
Preheat to 275 degrees. Remove ham from packaging and pat dry with paper towels. Rub a thin coating of yellow mustard all over the ham. Apply a heavy coating of your bbq rub and coat all surfaces. Place your ham on the smoker and smoke for about 3-4 hours.

After the ham has been on the smoker for about 2 hours, place remaining ingredients in a cast iron pan and place inside your smoker. Let this cook down until the internal temp on the ham hits 130 degrees. Once the ham hits 130 degress remove the glaze and ham from the smoker.

Place the ham in a deep roasting pan and cover the meat with about half of the glaze mixture. Return the glaze and the ham to the smoker for approximately another 30 minutes, or until the internal temp of the ham hits 140 degrees.

Once the ham hits 140 degrees, remove from the smoker and pour over the remaining glaze. Let the ham rest for about 30 minutes before slicing. Reserve all the juice and glaze at the bottom of the pan and pour over all of the slices before serving. Then sit back enjoy all the smiles and praise this ham will surely bring each guest at your table. Enjoy!
Nutrition
Calories:
1102
kcal
|
Carbohydrates:
56
g
|
Protein:
74
g
|
Fat:
57
g
|
Saturated Fat:
20
g
|
Polyunsaturated Fat:
6
g
|
Monounsaturated Fat:
27
g
|
Trans Fat:
0.004
g
|
Cholesterol:
211
mg
|
Sodium:
4060
mg
|
Potassium:
1043
mg
|
Fiber:
0.5
g
|
Sugar:
47
g
|
Vitamin A:
3
IU
|
Vitamin C:
4
mg
|
Calcium:
55
mg
|
Iron:
3
mg
Nick Hill is the owner and founder of Salt & Fire BBQ! He's the newest addition to our Over the Fire Cooking family and has some amazing recipes to share with all of us! For more on Nick, check him out on Instagram @saltfirebbq.