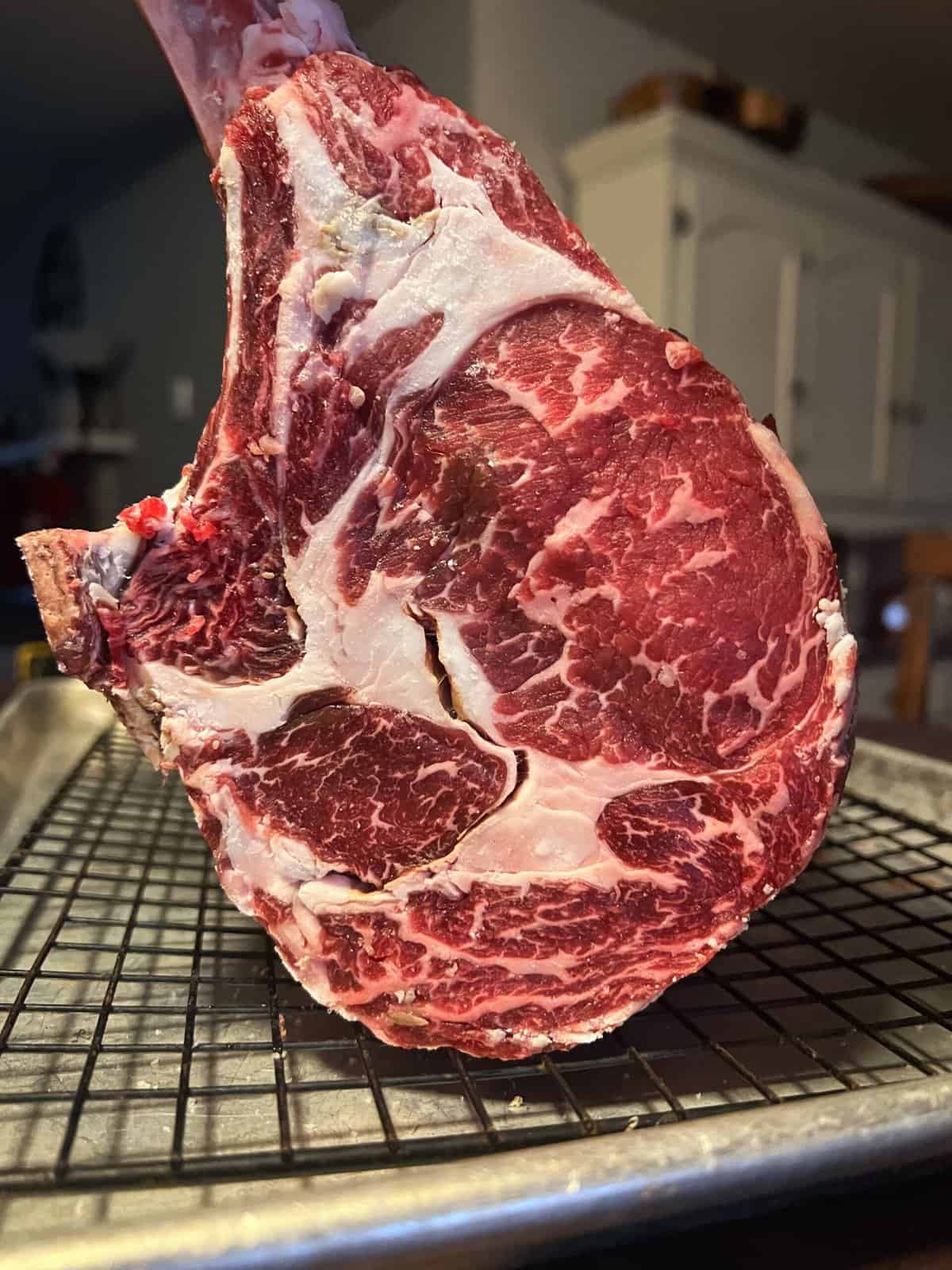 If you are looking for the most impressive and delicious cut of beef to put on your table this New Years, then look no further than this Dry Aged Prime Rib Roast. I was able to get my hands on this absolutely epic, 40 day dry aged, 7 bone tomahawk prime rib from my local butcher. As soon as I saw it, I knew I just had to have it.
So I saved my pennies and splurged on what was probably the most delicious beef I've ever had. Not only was it insanely delicious and tender because of the dry aging, it was also the most impressive center piece my kitchen table has ever seen.
Covered with a roasted garlic, horseradish and Dijon compound butter and smoked to a perfect medium rare, this New Years meal was nothing short of perfect. 
Where to Find Your Dry Aged Prime Rib Roast
You might be asking yourself what is dry-aging and why is it worth it. The answer isn't always yes. First off, dry aging adds a lot of good things to beef, but it also adds cost. You can absolutely enjoy this recipe with any prime rib you find on sale during the holidays. There are so many great sales out there. You can generally find one priced right enough to have a nice meal for you and your family.
However, if you feel so inclined, there are a lot of butcher shops out there that have a dry aging locker. If you talk to the right people, you can get your hands on one of these bad boys and really throw down for the in-laws this New Years. 
Benefits of Dry Aging
So what is dry aging? Why does it make this Dry Aged Prime Rib Roast so special? Dry aging is the process of placing larger primals and sub-primals of beef in a temperature controlled environment. They are left uncovered for a wide range of days.
This does a couple of things. First, the extended time creates natural bacteria and enzymes that break down some of the tough connective tissue within the muscle fibers. Secondly, it allows time for moisture to escape the meat, concentrating the myoglobin and greatly enhancing the beefy flavor. Thirdly, as this generally only happens when you hit at least 28 days of aging, other flavors start to occur creating an almost cheesy, nutty flavor profile. This does not mean the meat is bad, it means it's doing exactly what you want.
Dry Aging Duration
Typically, you need at least 28 days to really start to have an impact on the cut of meat. While there can be some improvement in quality in as little as ten days, if you're going to take the time, might as well add a few more weeks to it. I have found that 28 – 45 days is an ideal range for dry aging. The flavors you develop are a little more subtle and delicious. However, once you get past 45 days, things can get a little funky. However, there are plenty of people that are into that sort of thing.
One thing about dry aged beef is that it can lose up to 1/3 of its original weight due to evaporation and then when you have to trim off the inedible deckle that is created during the process, so plan ahead if you are trying to feed a crowd. Furthermore, if you're asking yourself if its worth it, then I say yes. But if you have to decide between your mortgage payment and a steak, I suggest the mortgage payment.
Roasted Garlic and Horseradish Compound Butter
For this Dry Aged Prime Rib Roast recipe, I used plenty of roasted garlic, Dijon mustard and horseradish and created a compound butter that is absolutely perfect for this cut. I've made a lot of compound butters in my day but this recipe is by far my favorite.
I started by roasting two whole bulbs of garlic. I cut off the top of the bulb to expose the cloves, used about 2 tsp of olive oil, salt and pepper, wrapped tightly in foil and baked at 400 degrees for about 45 minutes. Let cool and you can squish out all of the garlic with ease.
Then, I added the garlic to about 2 cups of softened butter, 2 tablespoons of horseradish, 3 tablespoons of Dijon mustard, ¼ cup fresh chopped parsley, 1 tablespoon each of salt and black pepper. Mix and mash thoroughly to combine.
For more compound butters, check out my Grilled Beef Short Ribs with Chimichurri Butter, Grilled Lobster with Hot Honey Butter and Coffee Crusted Ribeyes with Honey Chili Butter.
Seasoning The Dry Aged Prime Rib Roast
Now this is is a gigantic cut of meat. It can handle a lot of seasoning. So I salted the entire roast before coating the exterior with the compound butter. After salting, I spread an even layer of the compound butter on the entire surface of the exposed meat.
Let it rest in a cool space until you are ready for it to hit the smoker.
How to Cook Dry Aged Roasts
I wanted to smoke this at 225 degrees which is lower than I typically smoke things and the reason is that I wanted this thing to be wall to wall pink. The only way to accomplish that is to go low and slow the whole way. But don't worry, we'll get our sear at the end. That's the most important part!
I was planning on about 5-6 hours for it to hit my desired temp of 120 degrees internal temp. One thing to note is that dry aged beef cooks faster than non-dry aged meat. This is because of its reduced moisture content. It also means you want to bring this to a lower finished temp than you normally would by about 5 degrees. If you normally like 135 degrees for a finished temp, then plan for 130 degrees and you'll get satisfactory results.
Also, because we are smoking this at such a low temp, the carry over temp, (which is the amount of temperature the meat will increase as it continues to cook after you take it out of the heat source) will be much less than if you were cooking this roast at, say, 350 degrees.
For other holiday favorites recipes, check out my Smoked Pork Crown Roast, Bourbon Beef Wellington and Smoke Fried Turkey.
Adding the Dry Aged Prime Rib Roast to the Smoker
After my smoker was preheated, I started it bone side down with the bones closest to the heat source for the majority of the cook. There is typically more fat to render closer to the thinner side the roast. It sat this way for about 2/3rds of the cook. After which time I rotated it 180 degrees to be sure it cooked evenly all the way through.
Once the internal temp hit 120 degrees internal temp, I pulled the roast out of the smoker. I then let it rest for about 30 minutes before searing.
I believe resting the roast for at least 30 minutes is one of the most critical steps for this cook. This allows the muscle fibers to relax and redistribute the internal juices so that when you slice into it, the juices don't flow out and leave you with a dry roast.
After the 30 minutes was up, I figured the most impressive way to sear this impressive roast, was to hit it with 50,000 btu's of heat from my propane torch. This was a very fun way to get a perfect sear on the outside. Plus, because it was so hot, it only seared the exterior and didn't overheat any of the internal meat.
Aged Prime Rib Roast For the Holidays
What I was left with was the largest, most impressive slabs of prime rib I've ever had in my life. Perfectly medium rare and a deliciously smokey, flavorful crust. I'm quite certain every New Years dinner after this will only be a letdown. I hope you get a chance to enjoy the unique flavors of some quality dry aged beef at some point. If you ever get a chance to cook it, be sure to save this recipe! Hope y'all enjoy and have a wonderful holiday.
For more delicious recipes, check out my second cookbook Flavor X Fire or my first cookbook Food X Fire!
Needing more spice in your life? My spice line can help with that. Check them out here.
Dry Aged Prime Rib Roast
Dry Aged Prime Rib Roast for an insanely delicious feast.
Ingredients
14

lb

Tomahawk Dry Aged Prime Rib

2

cups

softened butter

2

large bulbs fresh garlic

2

tsp

olive oil

2

Tbsp

horseradish

3

Tbsp

Dijon Mustard

1

Tbsp

kosher salt plus additional salt for the roast and roasted garlic

1

Tbsp

fresh cracked black pepper
Instructions
Start by cutting the top off of both garlic bulbs, pour 2 tsp olive oil on garlic and use a small amount of salt and black pepper to taste, cover tightly in foil and put into a 400 degree oven for 45 minutes, or until golden brown and soft. Let cool.

Once the garlic has cooled, add the softened butter, roasted garlic, horseradish, Dijon, 1 Tbsp salt and 1 Tbsp black pepper into a mixing bowl and use a fork or potato masher to mix thoroughly until all ingredients are well combined. Cover tightly and keep at room temp until needed.

Trim any excess fat and connective tissue from your prime rib and apply a heavy coating of salt on the meat. You will use about 2 Tbsp for this roast. After its salted, spread an even layer of the compound butter on the entire prime rib except the back of the bones. Leave on the counter to rest while you preheat your smoker.

Preheat your smoker to 225 degrees. Once preheated, place roast in the smoker meat side up with the bones closest to the heat source. After about 4 hours, rotate the roast 180 degrees and continue smoking for another 1-2 hours or until the internal temp hits 120 degrees in the thickest part.

Once you've hit your desired temp, remove from the smoker and place on a resting rack tented with foil for at least 30 minutes. Now is the time to preheat your gas or charcoal grill to high heat. After your prime rib has rested, sear off all sides about 60 seconds each side. Or use your weed burner and hit it with 50,000 btu's of heat and get the job done in about 60 seconds total.

Place roast on cutting board and slice in between bones. Serve each slice with a little horseradish and your favorite au jus and Enjoy!
Nutrition
Calories:
283
kcal
|
Carbohydrates:
1
g
|
Protein:
1
g
|
Fat:
32
g
|
Saturated Fat:
20
g
|
Polyunsaturated Fat:
1
g
|
Monounsaturated Fat:
9
g
|
Trans Fat:
1
g
|
Cholesterol:
81
mg
|
Sodium:
877
mg
|
Potassium:
34
mg
|
Fiber:
0.5
g
|
Sugar:
0.3
g
|
Vitamin A:
953
IU
|
Vitamin C:
1
mg
|
Calcium:
18
mg
|
Iron:
0.2
mg