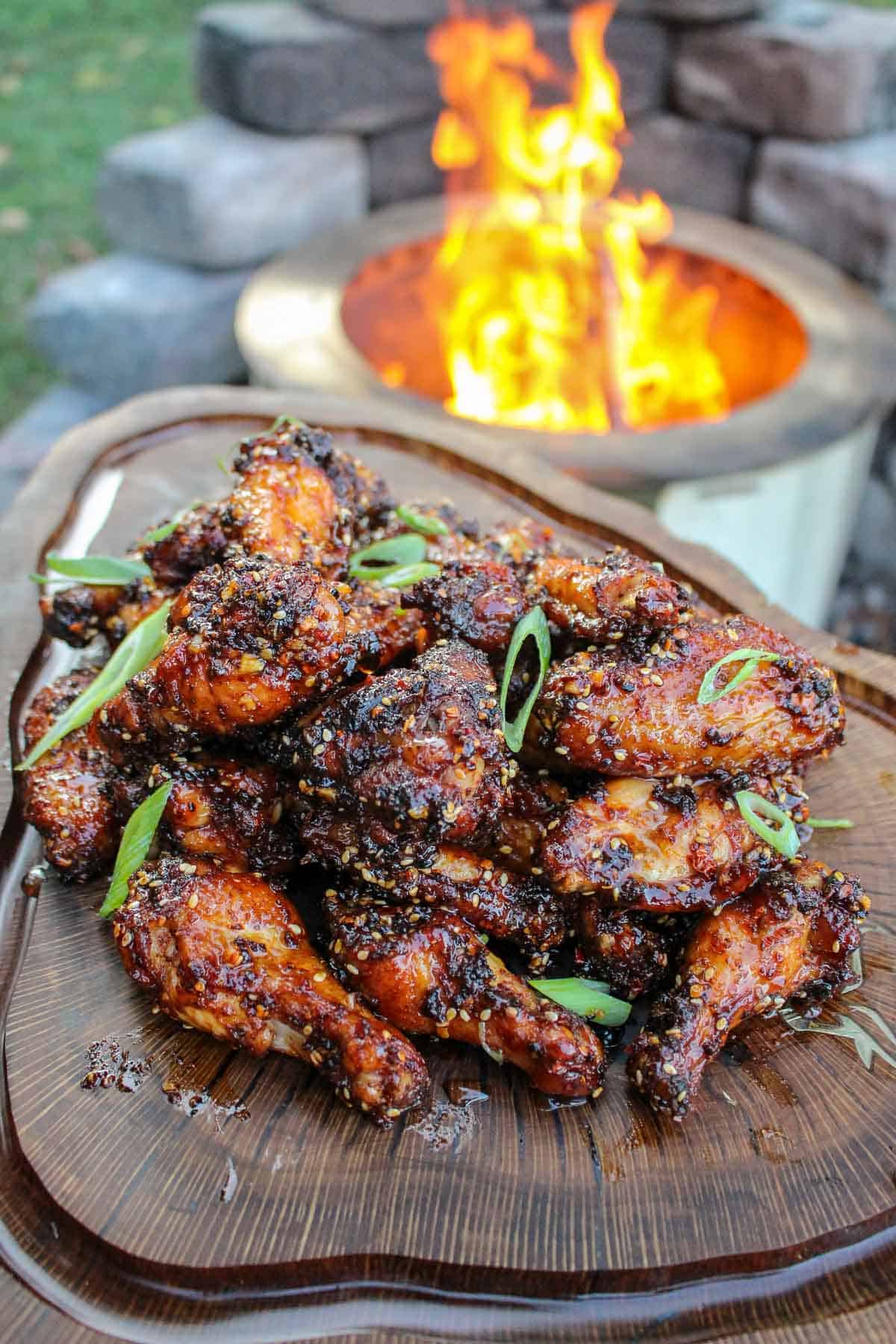 These Honey Chili Oil Chicken Wings are the best smoked wings with an Asian flair. Juicy chicken wings are smoked until tender, fried to crispy perfection, then tossed in a sweet and spicy chili oil glaze.
Love a fun twist on classic chicken wings? Try my Honey Chipotle Garlic Chicken Wings, Elote Style Chicken Wings, Kung Pao Chicken Wings, or Huli Huli Chicken Wings!
Season the Chicken for Honey Chili Oil Chicken Wings
Our Honey Chili Oil Chicken Wings start with a sweet, spicy, and tangy spice rub! Grab your two pounds of chicken wings from the fridge, then lather each one all over with yellow mustard. The mustard adds its own flavor to the meat and helps the rest of the seasonings stick!
Next, mix together brown sugar, kosher salt, smoked paprika, onion powder, granulated garlic, gochukaru flakes, ground cumin, black pepper, and cayenne powder. Sprinkle the seasoning mixture over the chicken, then mix it all up thoroughly to make sure it's well coated.
Set the now seasoned chicken off to the side to marinate for a few while you prep for cooking.
Let's Get Cooking
We're cooking our Honey Chili Oil Chicken Wings in two steps. Start with a low and slow smoke to make them extra tender, then fry them up in some oil for that delectable crispy finish.
So, let's get to it.
Preheat your smoker to a temperature of 250ºF for indirect cooking. Optionally, add some hickory wood chunks to the smoker to give the wings even more smoky flavor. I like to give them all the smokiness. Place the wings onto the smoker and let them cook for 1.5-2 hours.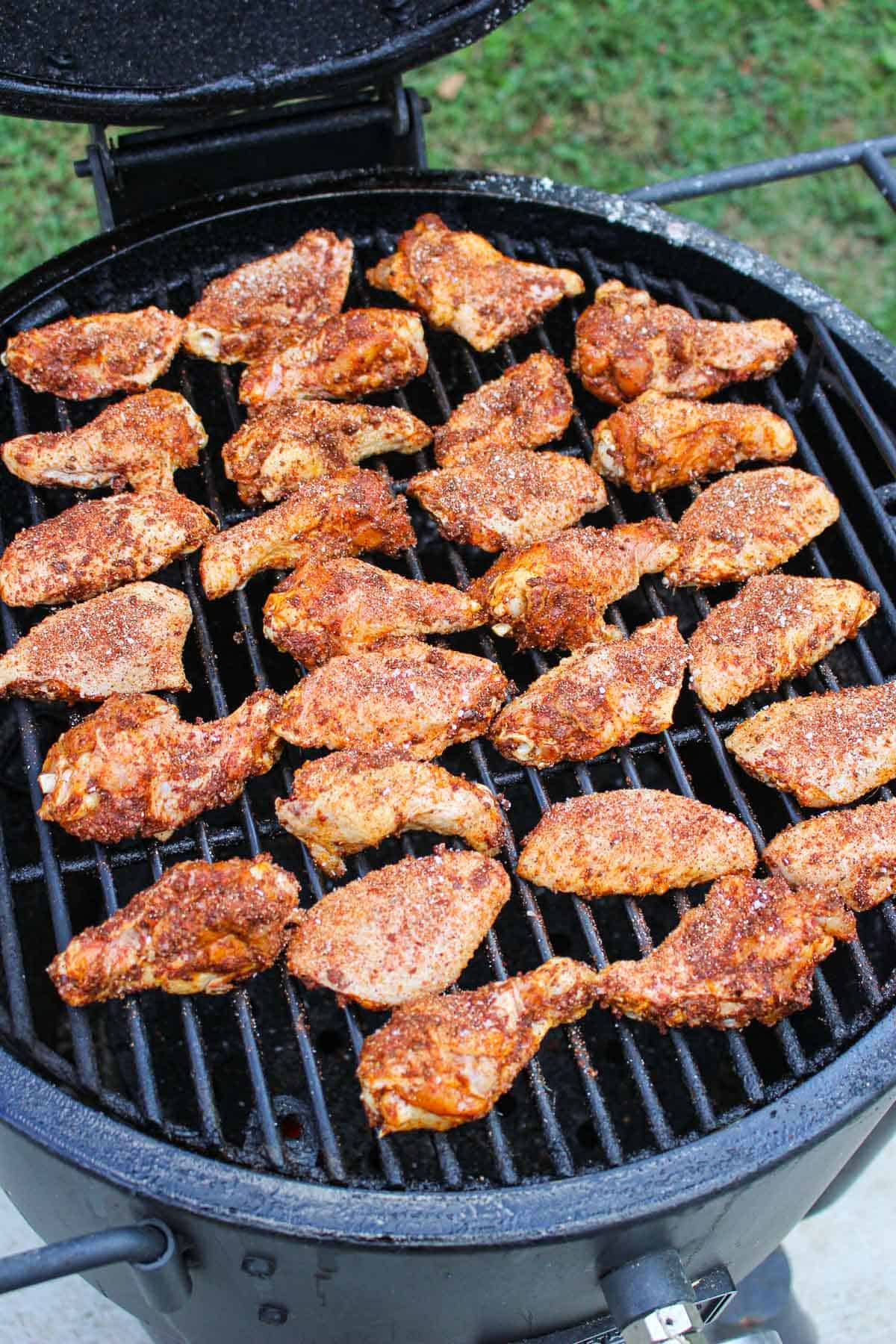 Next, add a dutch oven onto the smoker. Carefully pour in the frying oil. Leave 2-3 inches of room between the top of the oil and the edge of the pot. There will be likely be splatter as you fry the Honey Chili Oil Chicken Wings.
Bring the oil to a temperature of 325-350ºF, no more and no less. Why? Because we want it hot enough that the chicken gets nice and crispy, but not so hot that it burns. If the oil is too cold, you'll just end up with soggy wings!
Add the smoked wings into the hot oil and let them cook for two minutes, flipping and stirring occasionally so that they cook evenly.
Make the Glaze for Honey Chili Oil Chicken Wings
Our final step: the honey chili glaze! This glaze is so simple, the perfect balance of sweet and spicy, and absolutely delicious smothered on crispy chicken wings. I like to make the glaze while the chicken wings are frying so it's all ready to go at the same time.
So, add a skillet onto the smoker and add in chili oil, honey, minced garlic, and sesame seeds. Stir and heat until the mixture begins to simmer, then pull it off the heat and let it cool.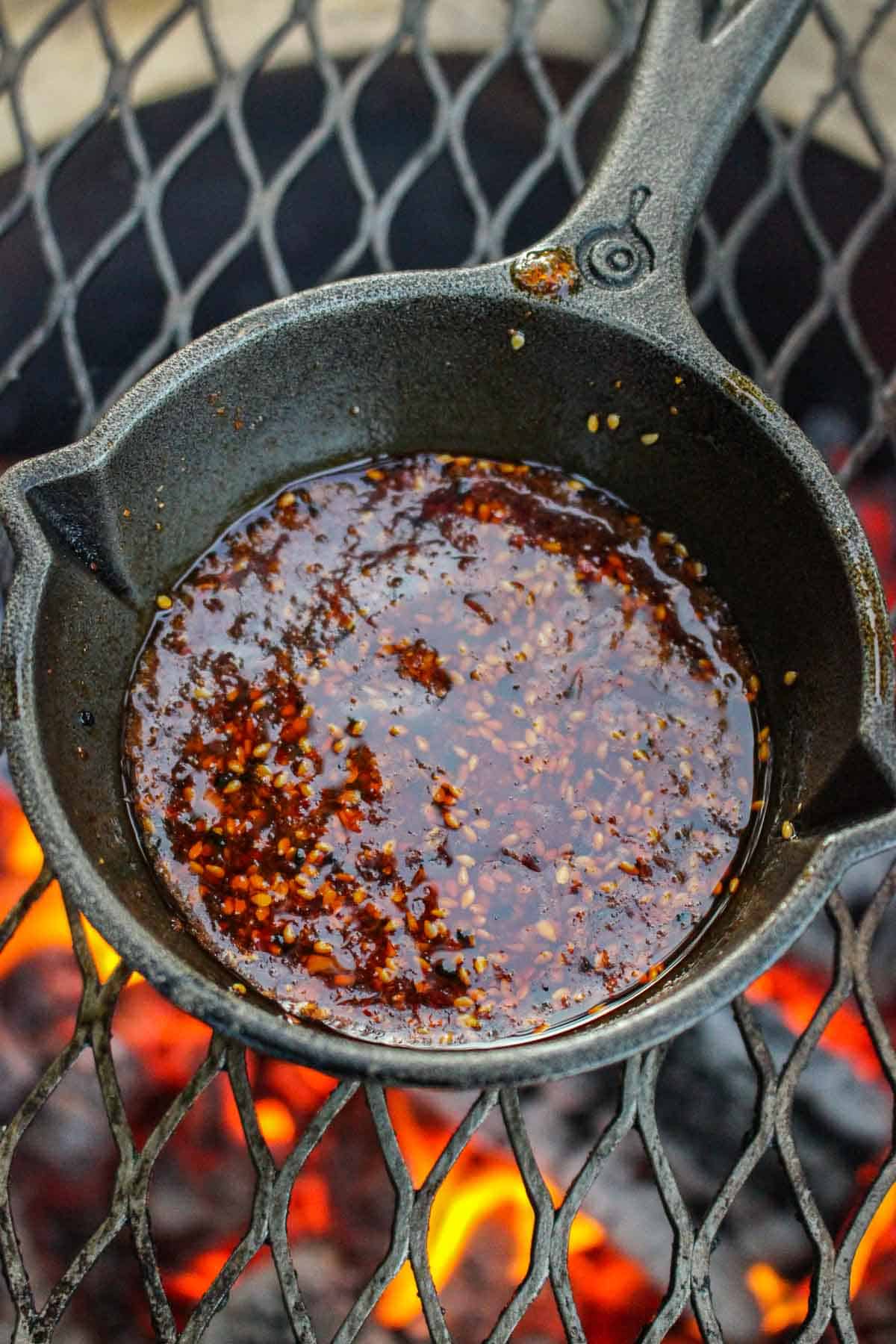 Loving this chili oil glaze? Try my Steak and Chili Oil Eggs too!
Finish and Serve!
Okay, let's mix it all up and dig in, because I know all of our mouths are watering at this point!
Pull the wings out of the frying oil and pat them dry with a paper towel to remove excess oil. Add them into a bowl, drizzle with the glaze, then toss it all up. Make sure that the wings are fully coated.
Finally, serve your Honey Chili Oil Chicken Wings garnished with scallions and enjoy. Maybe keep a couple napkins on-hand. These can get a little messy!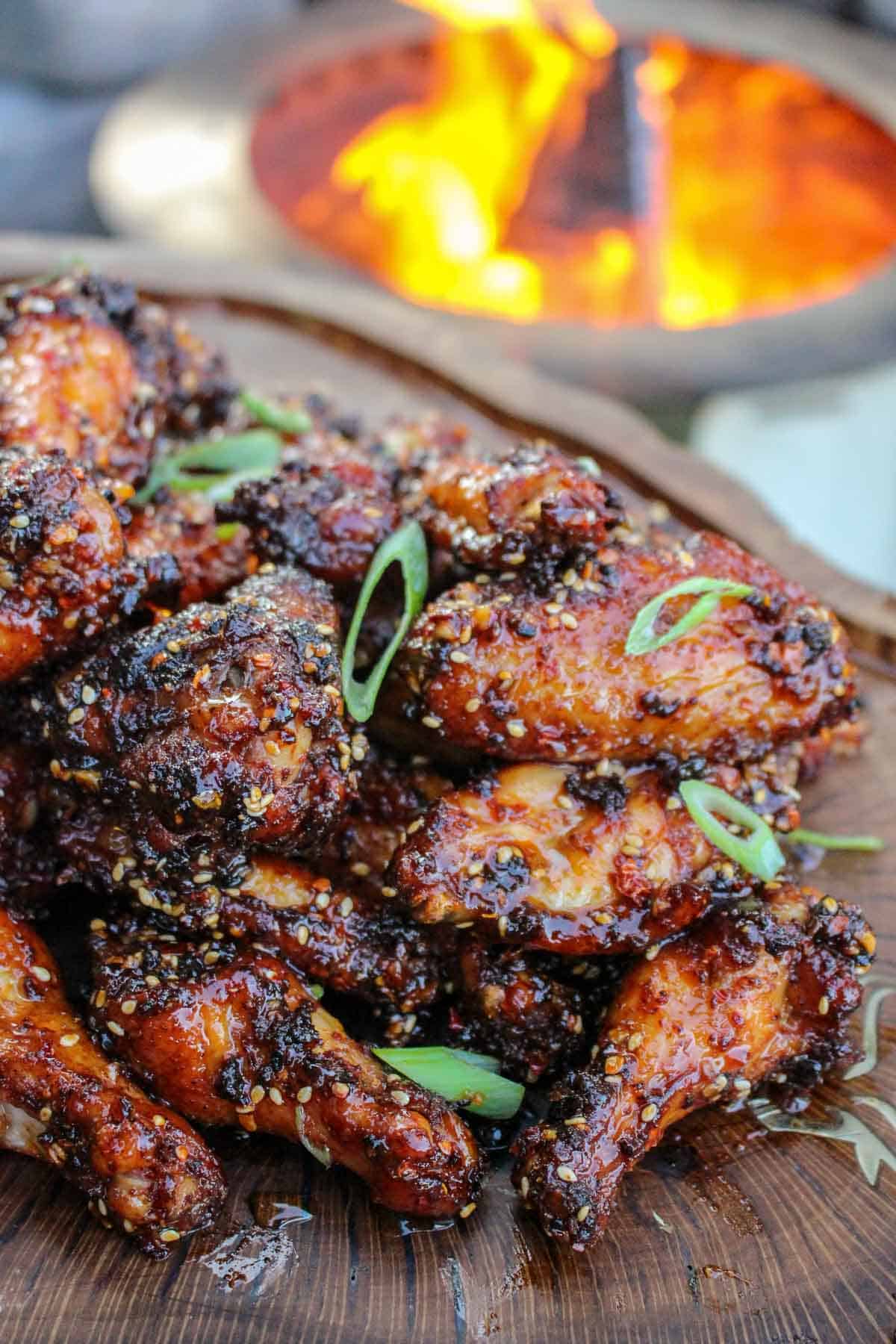 For more delicious recipes, check out my second cookbook Flavor X Fire or my first cookbook Food X Fire!
Needing more spice in your life? My spice line can help with that. Check them out here.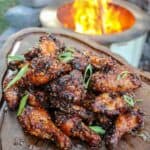 Print Recipe
Honey Chili Oil Chicken Wings
These Honey Chili Oil Chicken Wings are smoked until tender, fried to crispy perfection, then tossed in a sweet and spicy chili oil glaze.
Ingredients
Chicken:
2

lbs

Chicken Wings

Yellow Mustard

for binder

Sliced Scallions

for garnish

1

qt

Frying Oil
Seasoning:
2

tbsp

Brown Sugar

1.5

tbsp

Kosher Salt

1

tbsp

Smoked Paprika

½

tbsp

Onion Powder

½

tbsp

Granulated Garlic

½

tbsp

Gochukaru Flakes

2

tsp

Ground Cumin

2

tsp

Black Pepper

1.5

tsp

Cayenne Powder
Honey Chili Glaze:
2.5

tbsp

Chili Oil

2.5

tbsp

Honey

1.5

tbsp

Minced Garlic

¾

tsp

Sesame Seeds
Instructions
Lather your chicken wings in yellow mustard. In a bowl, mix all of the seasonings and add to the chicken. Mix thoroughly. Set chicken aside until ready to use.

Preheat your smoker to 250F for indirect cooking. Add some hickory wood chunks for added smoke flavor if desired.

Add your chicken wings to the smoker and cook for about 1.5-2 hours or until 165F internal. As the wings are close to done, preheat a grill, fire pit or stovetop for direct cooking. Add a dutch oven to it and *carefully* add your frying oil (leaving at least 2-3" of space from the oil and the top of the skillet). Heat up the frying oil for 325-350F.

Once the wings are done, pull them off and let them rest for 2-3 minutes. Carefully add wings to frying oil and cook for 2 minutes. Flip and stir occasionally.

As wings are frying, gently heat up the Honey Chili Glaze in a skillet until it begins to simmer. Once simmering, pull off and let cool.

Pull wings out of frying oil, pat dry with a paper towel and add to a tossing bowl. Cover the wings in the Honey Chili Glaze and toss thoroughly. Serve, garnish with scallions and enjoy!
Nutrition
Calories:
2533
kcal
|
Carbohydrates:
22
g
|
Protein:
24
g
|
Fat:
266
g
|
Saturated Fat:
43
g
|
Polyunsaturated Fat:
141
g
|
Monounsaturated Fat:
68
g
|
Trans Fat:
2
g
|
Cholesterol:
94
mg
|
Sodium:
2729
mg
|
Potassium:
346
mg
|
Fiber:
2
g
|
Sugar:
17
g
|
Vitamin A:
1669
IU
|
Vitamin C:
3
mg
|
Calcium:
58
mg
|
Iron:
3
mg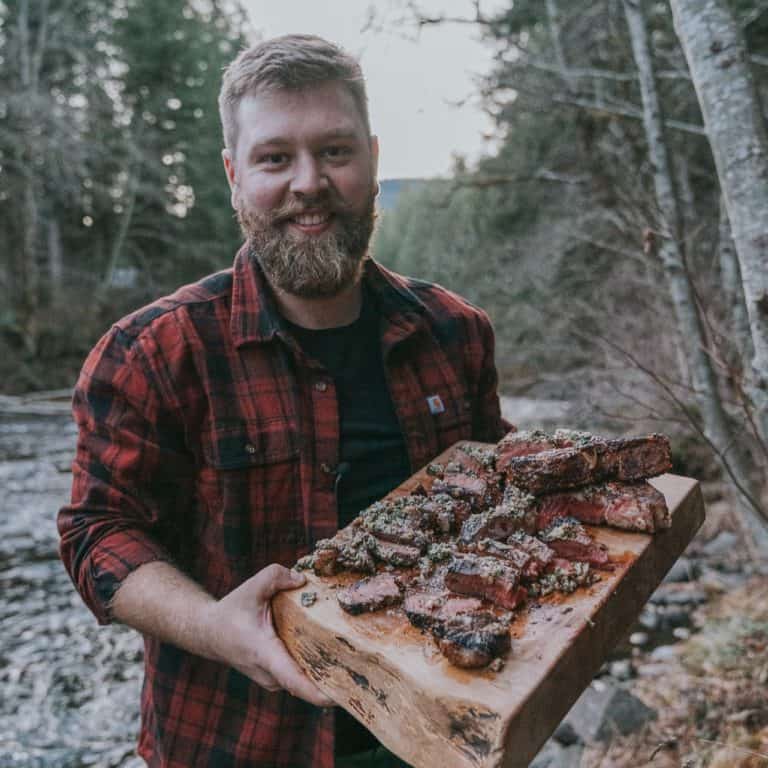 Derek is the driving force behind Over the Fire Cooking. He started cooking with live fire in 2016 and decided to start a social media page so his friends and family could follow the journey. Fast forward to today and Over the Fire Cooking has spread across multiple platforms with millions now following Derek's fire cooking journey. He's a southern fellow who enjoys everything from classic BBQ to Central and South American inspired dishes. Whatever he's cooking up, it's guaranteed to be so freakin' delicious!