These Honey Chipotle Garlic Chicken Wings are a sweet and spicy twist on a classic.
They're slathered in chipotle garlic seasoning, then grilled until juicy in the middle, perfectly crispy on the outside. They're finished off with a sticky, sweet, and spicy Honey Chipotle Garlic Sauce.
These wings are ready in just 50 minutes and are the perfect way to satisfy the inevitable chicken wing craving.
Looking for more killer wing recipes? Try my Elote Style Chicken Wings, Huli Huli Chicken Wings, Kung Pao Chicken Wings, or Bourbon Bacon Chicken Wings!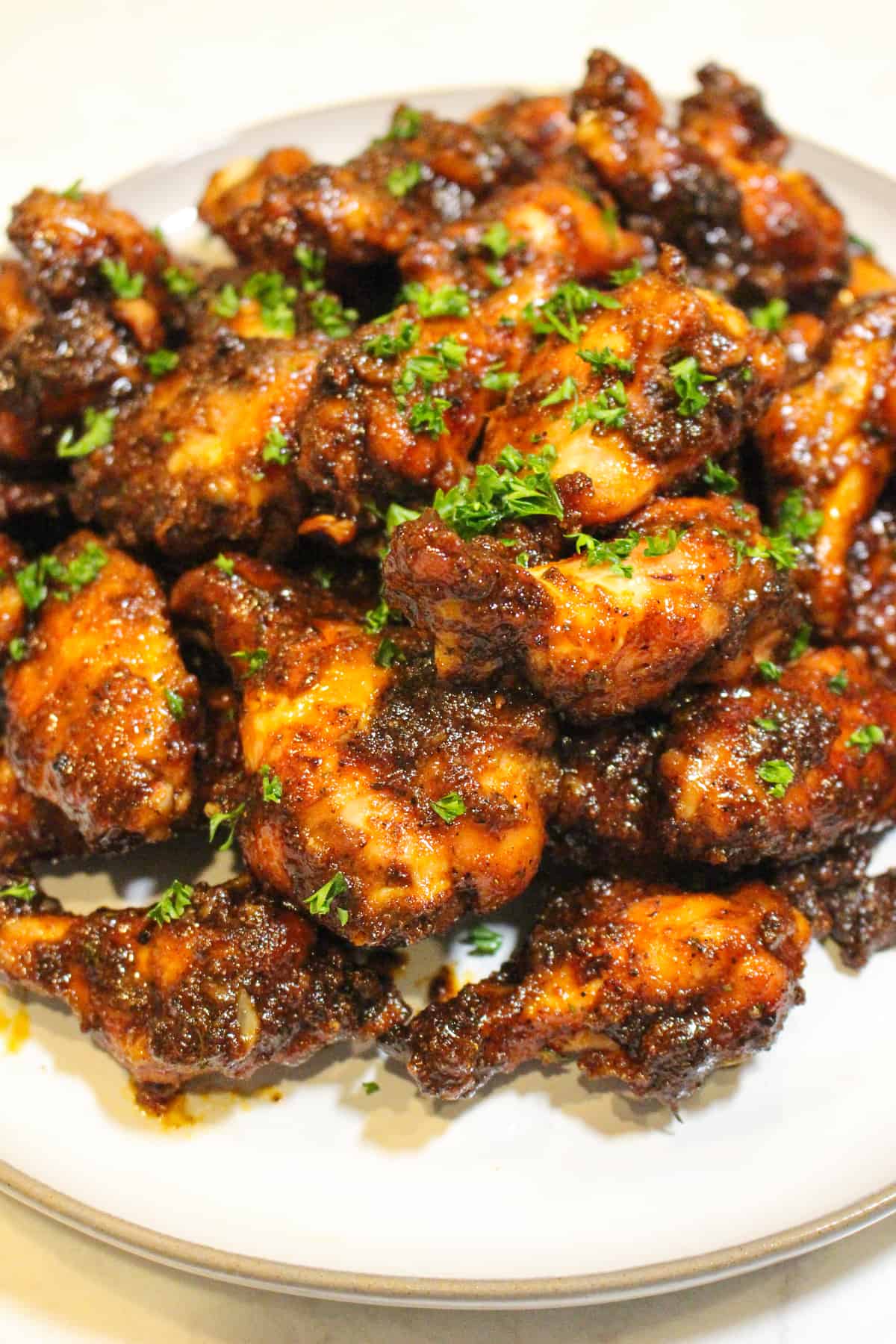 The Season for Seasoning
Okay, but let's be honest. It's always the season for seasoning. Any great recipe begins with great seasonings!
So, first, lather your chicken wings with canola oil, then mix together chipotle garlic seasoning and cornstarch. This is your spice rub. The seasoning obviously adds flavor while the cornstarch helps absorb moisture and give the Honey Chipotle Garlic Chicken Wings that delicious crispy exterior.
Rub the outside of the wings thoroughly with the seasonings, then set them aside.
Grill Your Honey Chipotle Garlic Chicken Wings
Next, let's cook. Preheat your grill to a medium-high heat of around 325ºF for direct cooking. Add the seasoned chicken wings onto the grill and let them cook for 8-10 minutes on each side. Keep an eye on them as they cook and move them around as needed to make sure they don't burn. No one likes charred Honey Chipotle Garlic Chicken Wings. Or maybe they do, in which case you can just let them burn up. (Just kidding. I don't recommend that, because it really isn't good.)
Use a meat thermometer to check that the internal temperature of the wings is 175ºF. then pull them off of the grill and keep them warm.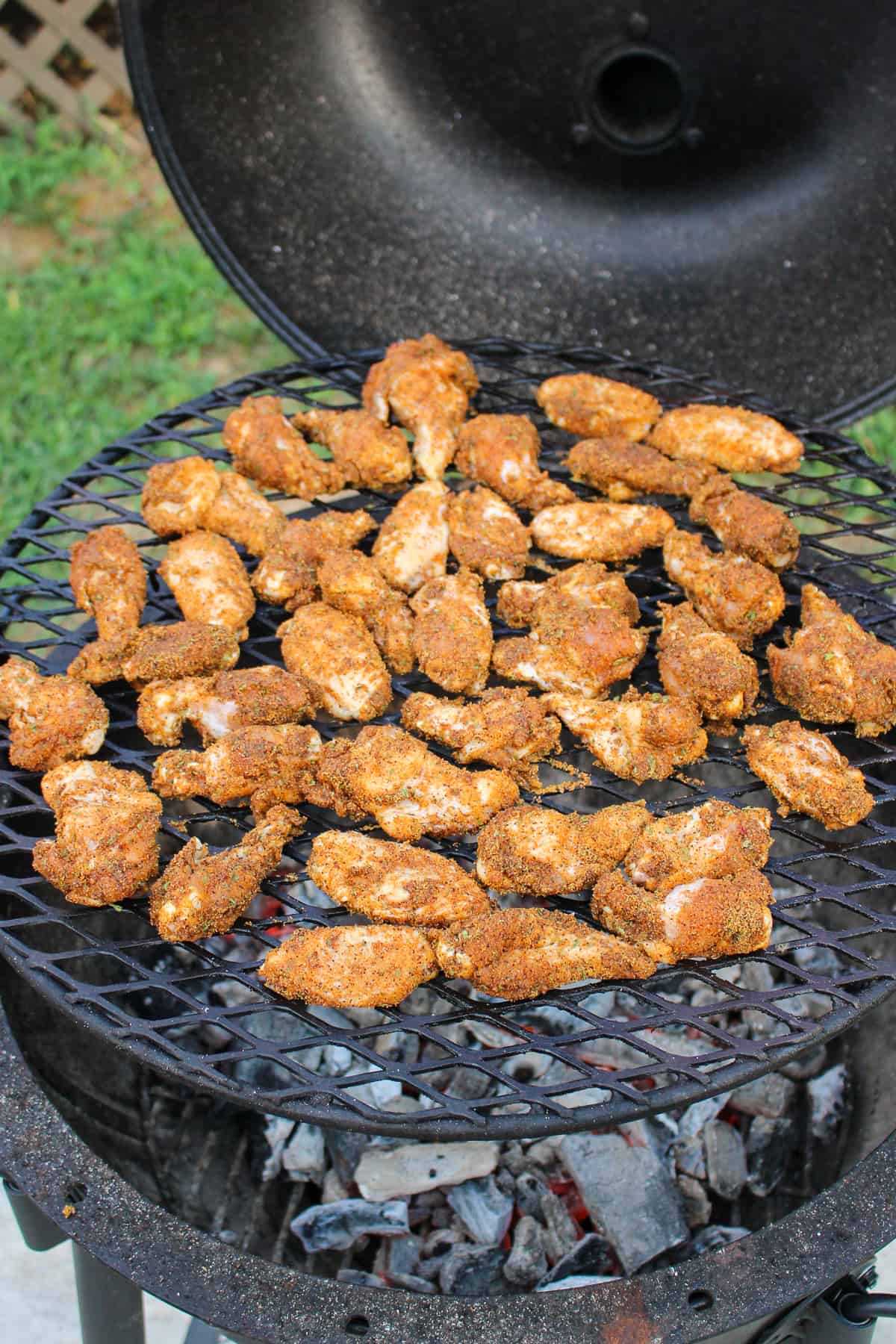 Let's Get Sauced!
Next up, the sauce for our Honey Chipotle Garlic Chicken Wings.
Add a cast-iron skillet to the hot grill and kick the heat up to 400ºF. To the skillet, add unsalted butter, brown sugar, honey, minced garlic, chipotle puree, and a couple tablespoons of bourbon or whiskey. Let it simmer for roughly 10 minutes, stirring constantly, until thickened. Make sure you keep a close eye on the sauce. The high heat can cause it to burn pretty quickly. If it does burn, ditch it and start over. Burnt Honey Chipotle Garlic Sauce is not the way to go.
Once it's nice and thick, pull the sauce off of the heat and let it cool for 10 minutes.
If you love the honey and chipotle combo, then you'll love my Honey Chipotle BBQ Lamb Ribs! 
Toss Things Up to Finish Your Honey Chipotle Garlic Chicken Wings
Lastly, it's time to combine the cooked chicken and the sauce to make our Honey Chipotle Garlic Chicken Wings.
So, add the wings to a large bowl and drizzle the sauce on top. Gently toss to coat the wings in the sauce. Be thorough because you want to get all that flavor on all sides.
To finish, garnish the wings with a sprinkle of chopped parsley, then dig in!
For more delicious recipes, check out my second cookbook Flavor X Fire or my first cookbook Food X Fire!
Needing more spice in your life? My spice line can help with that. Check them out here.
Print Recipe
Honey Chipotle Garlic Chicken Wings
These Honey Chipotle Garlic Chicken Wings are juicy, deliciously crispy and smothered in a sweet and spicy Honey Chipotle Garlic Sauce.
Ingredients
Chicken:
2

lbs

Chicken Wings

1

tbsp

Cornstarch

Canola Oil

as needed

Chopped Parsley

for garnish
Honey Chipotle Garlic Sauce:
1

cup

of Unsalted Butter

3

tbsp

Brown Sugar

2.5

tbsp

Honey

2

tbsp

Minced Garlic

2

tbsp

Chipotle Puree

2

tbsp

of Bourbon or Whiskey
Instructions
Begin by lathering your chicken wings in oil and mixing your Chipotle Garlic Seasoning with the corn starch. Season the wings thoroughly and set to the side.

Preheat a grill to medium heat (around 325F) for direct cooking.

Add your chicken wings to the grill and cook for about 8-10 minutes per side or until they reach 175F internal. Make sure to rotate them as necessary to prevent burning. Once done, pull the wings off and keep warm.

Add a cast iron skillet to the grill and kick up the heat to 400F. Add all your ingredients for the Honey Chipotle Garlic Sauce and let simmer over the heat, consistently stirring, until the sauce has thickened (about 10 minutes). Watch your heat so that the sauce does not burn! If it does begin to burn, trash it and try again. Once the sauce is good, pull it off and let it cool for 10 minutes.

Add your chicken wings to a bowl and toss them in the sauce. Garnish the wings with chopped parsley, serve and enjoy!
Nutrition
Calories:
867
kcal
|
Carbohydrates:
44
g
|
Protein:
26
g
|
Fat:
67
g
|
Saturated Fat:
35
g
|
Polyunsaturated Fat:
6
g
|
Monounsaturated Fat:
20
g
|
Trans Fat:
2
g
|
Cholesterol:
216
mg
|
Sodium:
201
mg
|
Potassium:
612
mg
|
Fiber:
13
g
|
Sugar:
21
g
|
Vitamin A:
2471
IU
|
Vitamin C:
3
mg
|
Calcium:
516
mg
|
Iron:
12
mg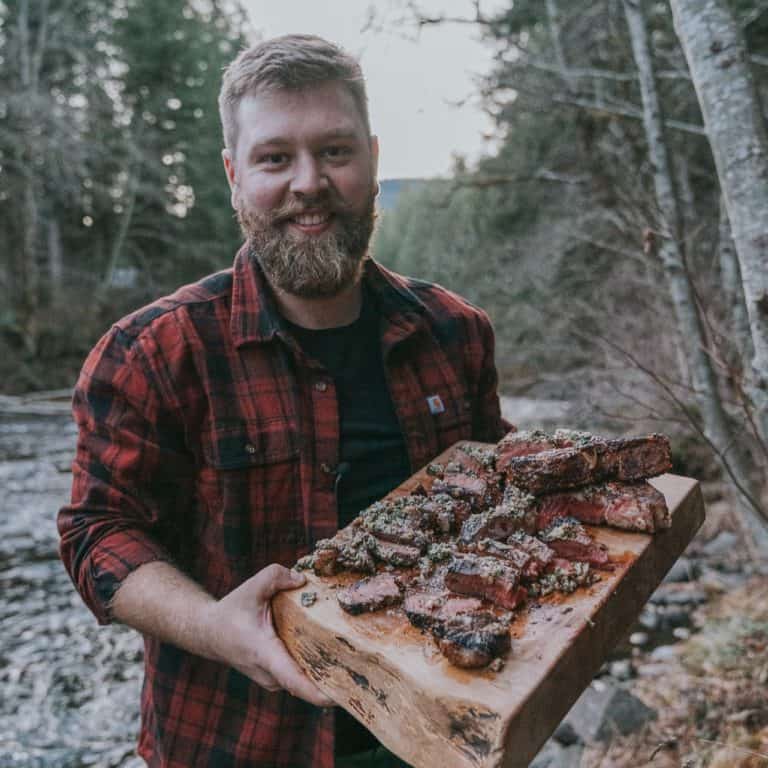 Derek is the driving force behind Over the Fire Cooking. He started cooking with live fire in 2016 and decided to start a social media page so his friends and family could follow the journey. Fast forward to today and Over the Fire Cooking has spread across multiple platforms with millions now following Derek's fire cooking journey. He's a southern fellow who enjoys everything from classic BBQ to Central and South American inspired dishes. Whatever he's cooking up, it's guaranteed to be so freakin' delicious!