Crispy Honey Garlic Chicken Wings are a sweet and spicy twist on a classic. These delicious chicken wings are one of my favorite appetizers. Perfect for game day and cooked to crispy perfection!
They're slathered in chipotle garlic seasoning, then grilled until juicy in the middle and perfectly crispy on the outside. I also finished them off with a sticky, sweet, and spicy Honey Chipotle Garlic Sauce!
These wings are ready in just 50 minutes and are the perfect way to satisfy your craving for delicious wings.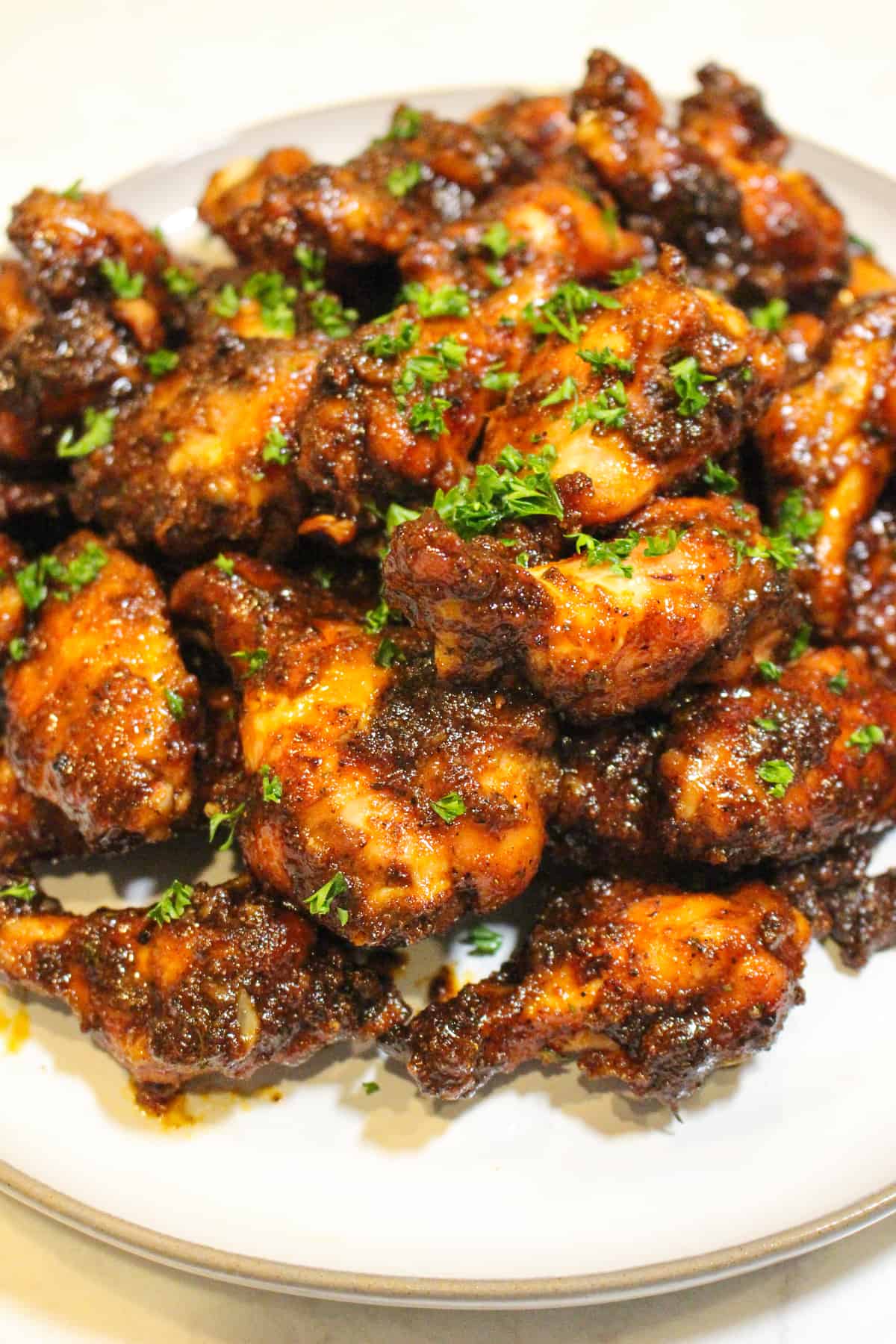 Looking for more killer wing recipes? Try my Elote Style Chicken Wings, Huli Huli Chicken Wings, Kung Pao Chicken Wings, or Bourbon Bacon Chicken Wings!
Why You'll Love This Recipe
If you want a recipe that's sure to please a crowd, look no further than this crispy chicken wing recipe. These party wings have a lot going for them. First off, they've got that perfect crispy skin that makes every bite a delight.
However, what really sets them apart is that mouthwatering honey garlic sauce. It's got just the right mix of sweetness and also savory garlic goodness. And here's the best part – you can serve these wings as a main dish or as a tasty appetizer to get your meal started.
​
Ingredients
CHICKEN:
Chicken Wings – You'll need two pounds of chicken wings for this recipe.
Chipotle Garlic Seasoning – This is my personal spice blend that infuses the chicken wings with a smoky, garlicky, and slightly spicy flavor.
Corn Starch – Helps create a crispy, crunchy exterior while locking in the juices.
Canola Oil – We slather the wings with oil to give them that golden brown crispy skin.
Chopped Parsley for garnish
HONEY CHIPOTLE GARLIC SAUCE:
Unsalted Butter –Adds richness and a velvety texture to the sauce, balancing the heat from the chipotle and the sweetness from the honey.
Brown Sugar – Brings sweetness and depth to the sauce and balances out the heat from the chipotle puree.
Honey – Adds sweetness and helps create a sticky sauce.
Minced Garlic – Provides a robust and savory flavor.
Chipotle Puree – Delivers smokiness and a pleasant level of heat.
Bourbon or Whiskey – Adds a hint of smoky sweetness to the sauce.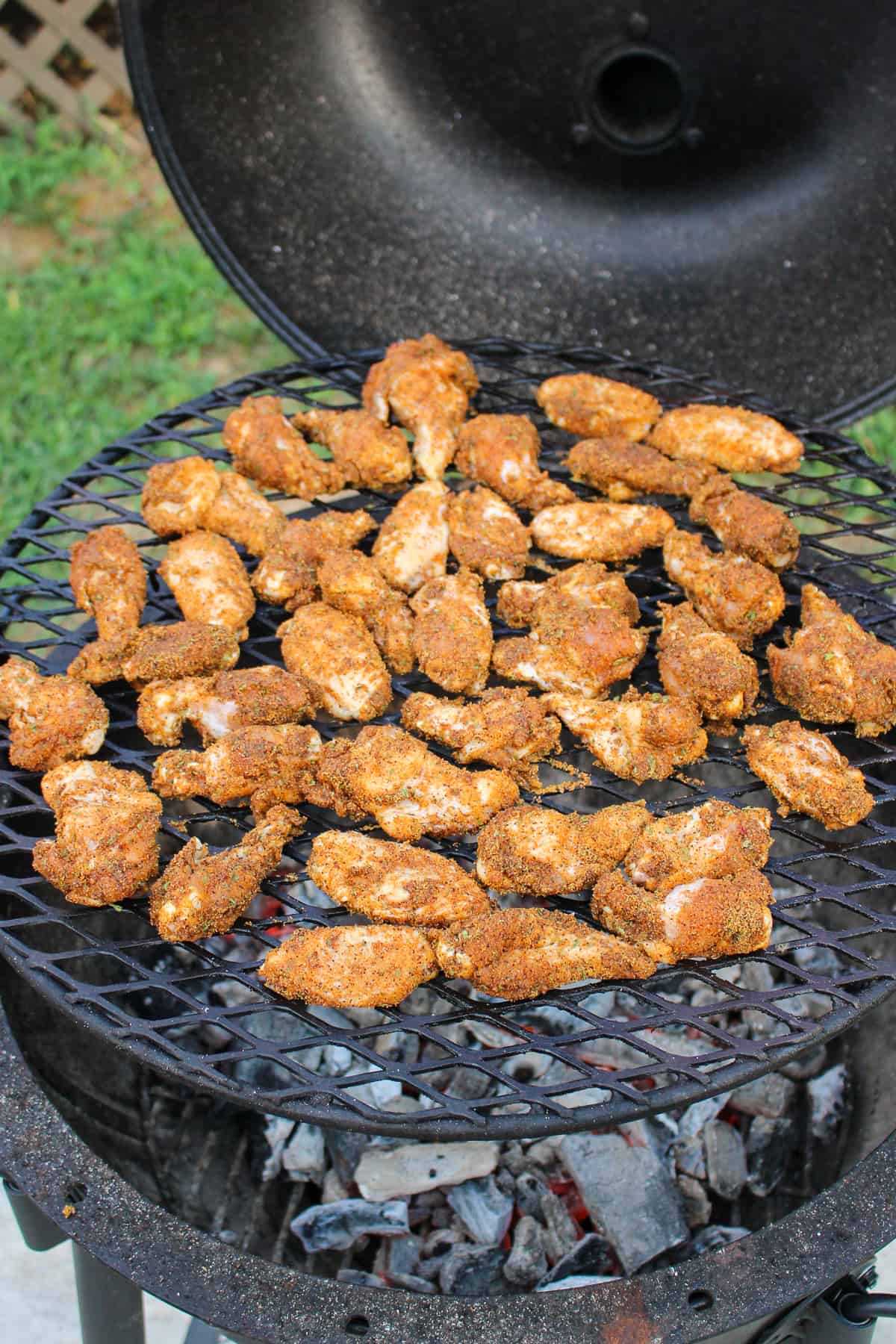 How to Cook Honey Garlic Chicken Wings
THE SEASON FOR SEASONING
Okay, but let's be honest. It's always the season for seasoning because any great recipe begins with great seasonings!
So, first, lather your chicken wings with canola oil, then mix together chipotle garlic seasoning and cornstarch. This is your spice rub. The seasoning obviously adds flavor while the cornstarch helps absorb moisture and gives the Honey Chipotle Garlic Chicken Wings that delicious, crispy exterior.
You could also sub this seasoning for Nashville Hot if you want spicier chicken, or Maple Peach if you want something sweeter.
Rub the outside of the wings thoroughly with the seasonings, then set them aside.
Add flavor to everything you're cooking
shop over the fire spice lines

GRILL THE CHICKEN WINGS
Next, let's cook. Preheat your grill to a medium-high heat of around 325F for direct cooking.
Add the seasoned chicken wings onto the grill and let them cook for 8-10 minutes on each side. Keep an eye on them as they cook and move them around as needed to make sure they don't burn, because no one likes charred Honey Chipotle Garlic Chicken Wings.
Use a meat thermometer to check that the internal temperature of the wings is 175F. Then, pull them off of the grill and keep them warm.
MAKE THE SAVORY SAUCE
Next up, we make our homemade Honey Garlic Sauce.
Add a cast-iron skillet to the hot grill and then kick the heat up to 400F. To the skillet, add the sauce ingredients – unsalted butter, brown sugar, honey, minced garlic, chipotle puree, and a couple tablespoons of bourbon or whiskey. Let it simmer for roughly 10 minutes, stirring constantly, until thickened.
Make sure you keep a close eye on the sauce because the high temperature can cause it to burn pretty quickly. If it does burn, ditch it and start over.
Once it's nice and thick, pull the sauce off of the heat and let it cool for 10 minutes.
If you love this honey and chipotle combo, then give it a try on some Lamb Ribs!
TOSS THE WINGS WITH THE Honey Garlic SAUCE
Lastly, it's time to combine the cooked chicken and the sticky honey garlic sauce to make our Honey Garlic Wings.
Add the wings to a large bowl and then drizzle the sauce on top. Gently toss to coat the wings in the sauce. Be thorough because you want to get all that flavor on all sides.
To finish, garnish the coated wings with a sprinkle of chopped parsley, then dig in!
honey garlic chicken wings Tips
Place the wings in a single layer on the grill for even cooking.
Pat the chicken wings dry with paper towels before cooking. This simple step removes excess moisture, furthermore resulting in super crispy skin.
More Chicken Wing Recipes
How to Store Leftovers and Reheat
Store leftover wings in an airtight container in the fridge for 3-4 days. Freeze uncoated wings for up to 6 months. Then, make the sauce at a later time to coat them.
To reheat:
Preheat your oven to 350F and place wings on a prepared baking sheet lined with a wire rack.
Bake for 12 minutes, flipping halfway through to promote even cooking.
Reheat the sauce in a small saucepan over the stovetop and toss your wings in it once reheated.
You can also reheat your wings in the air fryer at 350F for 2-3 minutes or until crispy and reheated.
What to Serve with Honey Garlic Chicken Wings
If you're serving your crispy chicken wings for a party, serve them up alongside some celery sticks, Steak Sliders with Beer Cheese and Burger-Stuffed Onion Rings.
If you're serving your wings as a meal, pair them with some buttery corn on the cob, mac and cheese, or some creamy mashed potatoes!
Recipe FAQs
Can I make these homemade chicken wings in the air fryer?
Yes! To make air fryer Honey Garlic Chicken Wings:
1. Preheat your air fryer to 400F.
2. Prep the recipe like normal.
3. Place the wings in a single layer in the air fryer basket.
4. Air fry for around 20 minutes until the internal temperature reaches 165F.
Can I use boneless wings instead?
Absolutely! Just make sure to adjust the cooking time, as boneless wings don't need to cook as long as bone-in wings.
Can I make the wing sauce less spicy?
Yes! Simply reduce the amount of chipotle puree in the sauce.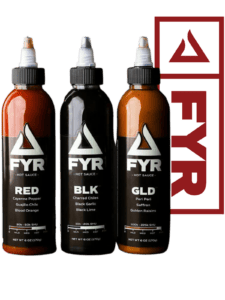 Get stoked for life
This sauce is FYR!
Born from a deep passion for food and flavor. Whether you're grilling in the backyard or live fire cooking around the world, we have what you need to transform every meal into an adventure.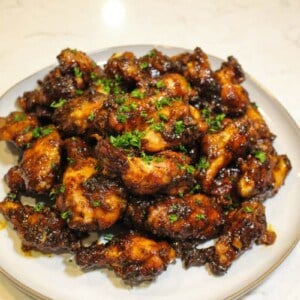 Honey Chipotle Garlic Chicken Wings
These Honey Chipotle Garlic Chicken Wings are juicy, deliciously crispy and smothered in a sweet and spicy Honey Chipotle Garlic Sauce.
Ingredients
Chicken:
2

lbs

Chicken Wings

1

tbsp

Cornstarch

Canola Oil

as needed

Chopped Parsley

for garnish
Honey Chipotle Garlic Sauce:
1

cup

of Unsalted Butter

3

tbsp

Brown Sugar

2.5

tbsp

Honey

2

tbsp

Minced Garlic

2

tbsp

Chipotle Puree

2

tbsp

of Bourbon or Whiskey
Instructions
Begin by lathering your chicken wings in oil and mixing your Chipotle Garlic Seasoning with the corn starch.

Season the wings thoroughly and set to the side.

Preheat a grill to medium heat (around 325F) for direct cooking.

Add your chicken wings to the grill and cook for about 8-10 minutes per side or until they reach 175F internal. Make sure to rotate them as necessary to prevent burning.

Once done, pull the wings off and keep warm.

Add a cast iron skillet to the grill and kick up the heat to 400F.

Add all your ingredients for the Honey Chipotle Garlic Sauce and let simmer over the heat, consistently stirring, until the sauce has thickened (about 10 minutes). Watch your heat so that the sauce does not burn!

Once the sauce is good, pull it off and let it cool for 10 minutes.

Add your chicken wings to a bowl and toss them in the sauce.

Garnish the wings with chopped parsley, serve and enjoy!
Nutrition
Serving:
4
g
|
Calories:
867
kcal
|
Carbohydrates:
44
g
|
Protein:
26
g
|
Fat:
67
g
|
Saturated Fat:
35
g
|
Polyunsaturated Fat:
6
g
|
Monounsaturated Fat:
20
g
|
Trans Fat:
2
g
|
Cholesterol:
216
mg
|
Sodium:
107
mg
|
Potassium:
612
mg
|
Fiber:
13
g
|
Sugar:
21
g
|
Vitamin A:
2102
IU
|
Vitamin C:
3
mg
|
Calcium:
516
mg
|
Iron:
12
mg