There are not many recipes that are quite the stunner like this Smoked Lamb Crown. It is beautiful, intriguing and actually super easy to make. The first key is grabbing some American Racks of Lamb. Got these locally in Nashville supported by the American Lamb Board, then began prepping to make the crown. It is such a quick cook that you can prepare and impress your guests all in the same night!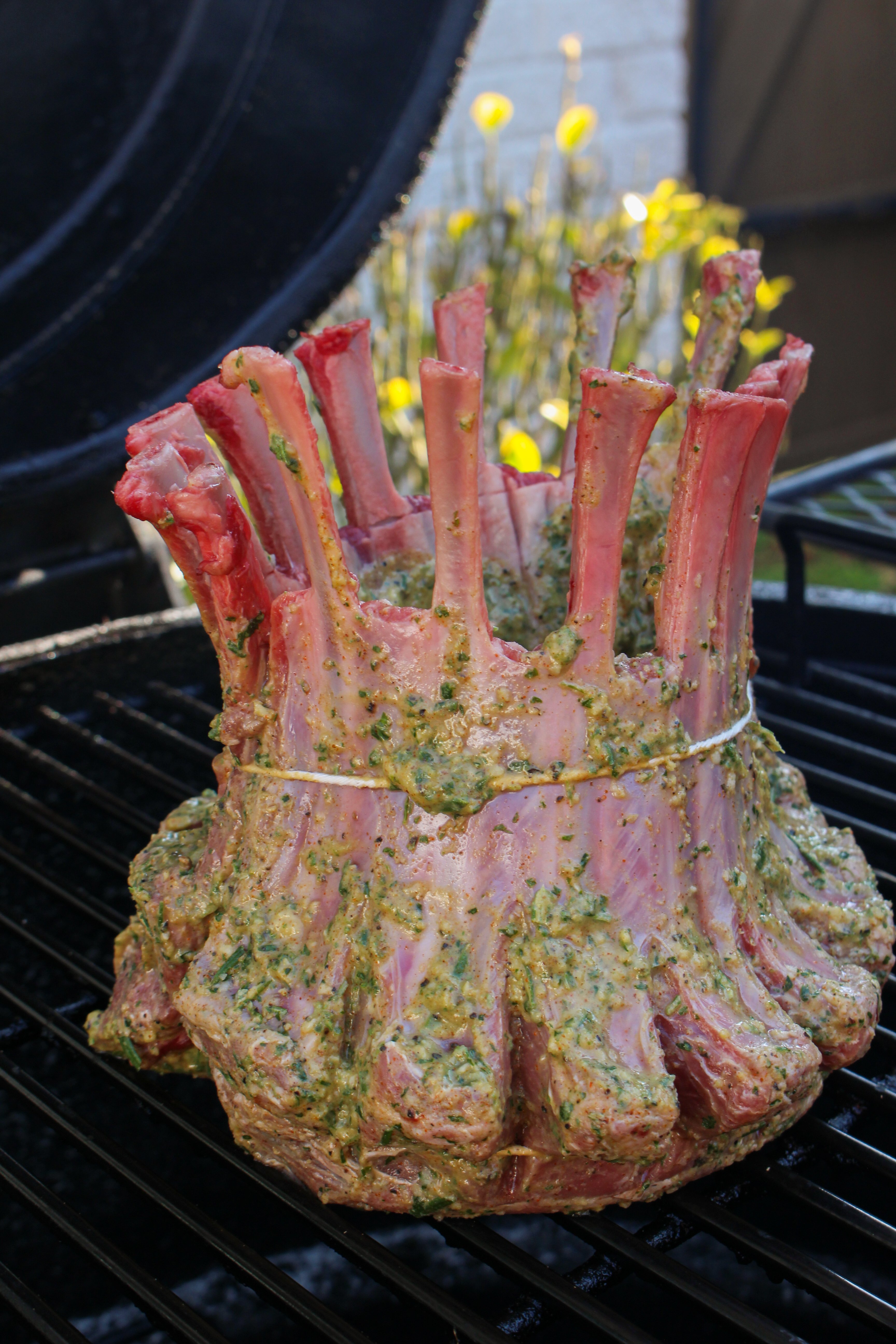 Prepping is Key
The hardest part of this Smoked Lamb Crown recipe is making the crown itself. Overall, it is an easy thing to do; however, it can feel a little daunting if you do not know where to start. The first thing is grabbing some American rack of lamb.
Next, we need to make that rack of lamb a little more flexible. I will start by laying the lamb down so that the bones are facing me. At the end of the bones where they combine with the meat, there is a small groove where you would traditionally slice in-between in order to make single lamb chops. This is a great place to make a ½ inch slice. Do that on all the bones of the rack of lamb and you will notice that when you mold it into a circle it is much more flexible! Repeat this for the second rack of lamb, and we are now in business.
Between the prepping and the making of the crown, you are going to blend up an herb paste. This is a fun way to get tons of flavor onto the lamb without going overboard. Finally, blend up the herb paste and lather it all over the Smoked Lamb Crown.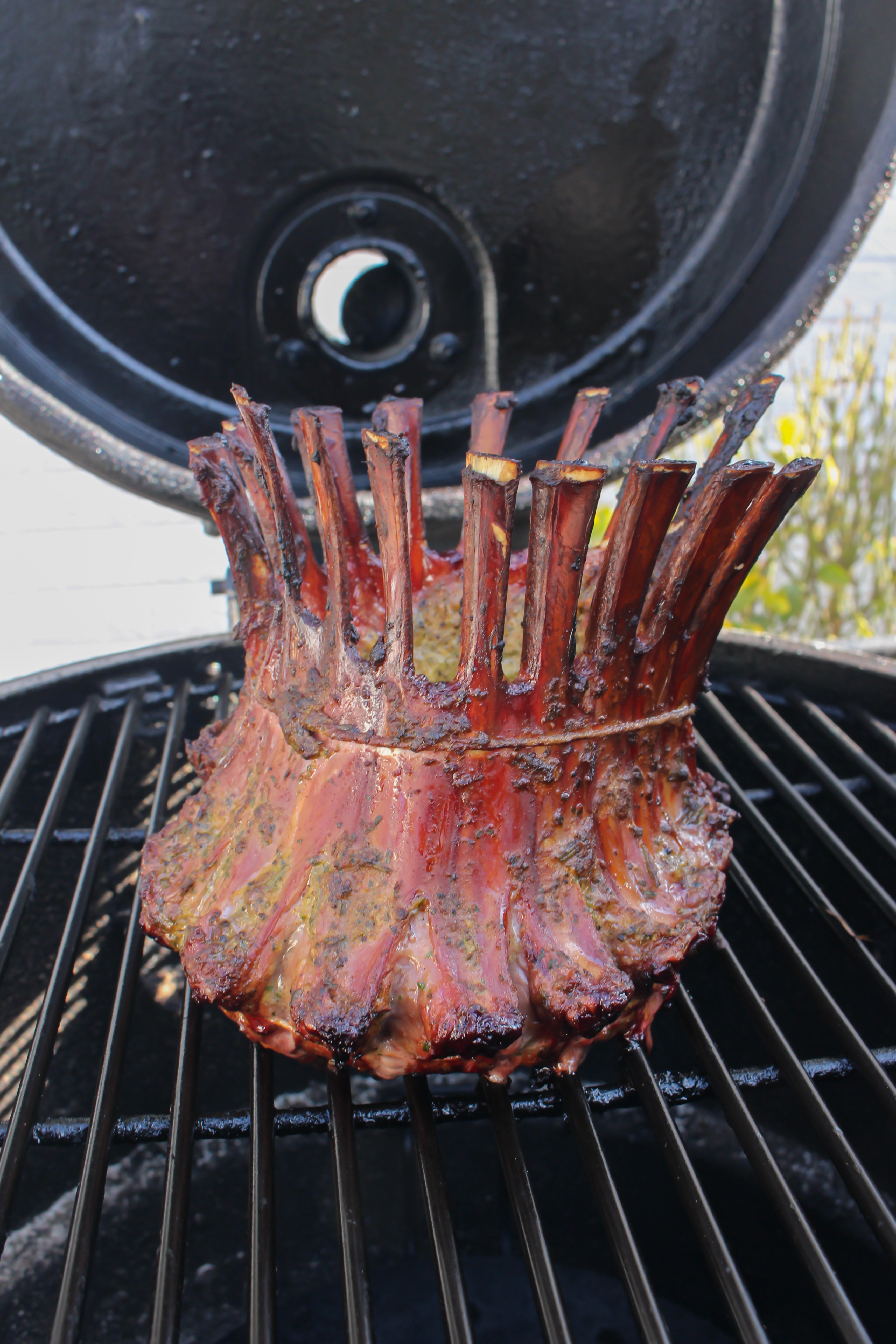 How to make the Lamb Crown
The next piece is making the actual crown. Now that the lamb is flexible it can be molded easier, but it also means that it is more flimsy. One way that you can make sure your crown keeps a nice circular structure is mold it around a circular object. A nice peeled onion will do that trick! Now, you do not need to do this step, but it definitely helps later in the cook. If you are struggling with looking at a white onion in the middle of your Smoked Lamb Crown, then fill the middle with stuffing!
Pull the onion out and mold the two racks around it with the bones facing outward. They should easily be able to touch. Once that is set, use some trussing string to secure the lamb rack together. You can either tie around the bones, around the base of the meat or do both. Either way, just make sure it is secure while still keeping the right shape. When you are done, set the prepared Lamb Crown in the fridge for 15 minutes to set.
Now let's Smoke this Smoked Lamb Crown
The last step is putting it on the grill! Preheat a fire for medium-low heat about 300F. This is low enough to get good smoke flavor without making it too overbearing. I like to use a drum or offset smoker for this cook, but feel free to do it indirectly on your grill. Try using the 2-zone method for this cook if possible.
Place the Lamb Crown onto the grill and let it cook for about 1-1.5 hours. If you are shooting for more medium-rare, then I would pull it once it reaches 135F internal before letting it rest of rup to 10 minutes. For those that like a more cooked lamb, then pull it off around 145F. Either way, this Smoked Lamb Crown will be beautiful!
Let's try this Smoked Lamb Crown ASAP!
Lastly, mix up the lemon parsley yogurt and slice into the Smoked Lamb Crown. This is a quick and easy meal to cook over fire without breaking a sweat. It is smoky, herbal and packed full of wood fire flavor. Just make sure to grab some local American Lamb, and you are ready to get cooking!
Also, make to check out #TheLambChallenge – Holiday Edition by visiting @fanoflamb on IG and FB, commenting on the giveaway posts with a lamb recipe you'll enjoy for the holidays and be entered to win great prizes. Check more here: https://www.americanlamb.com/new-events/thelambchallenge-holiday-edition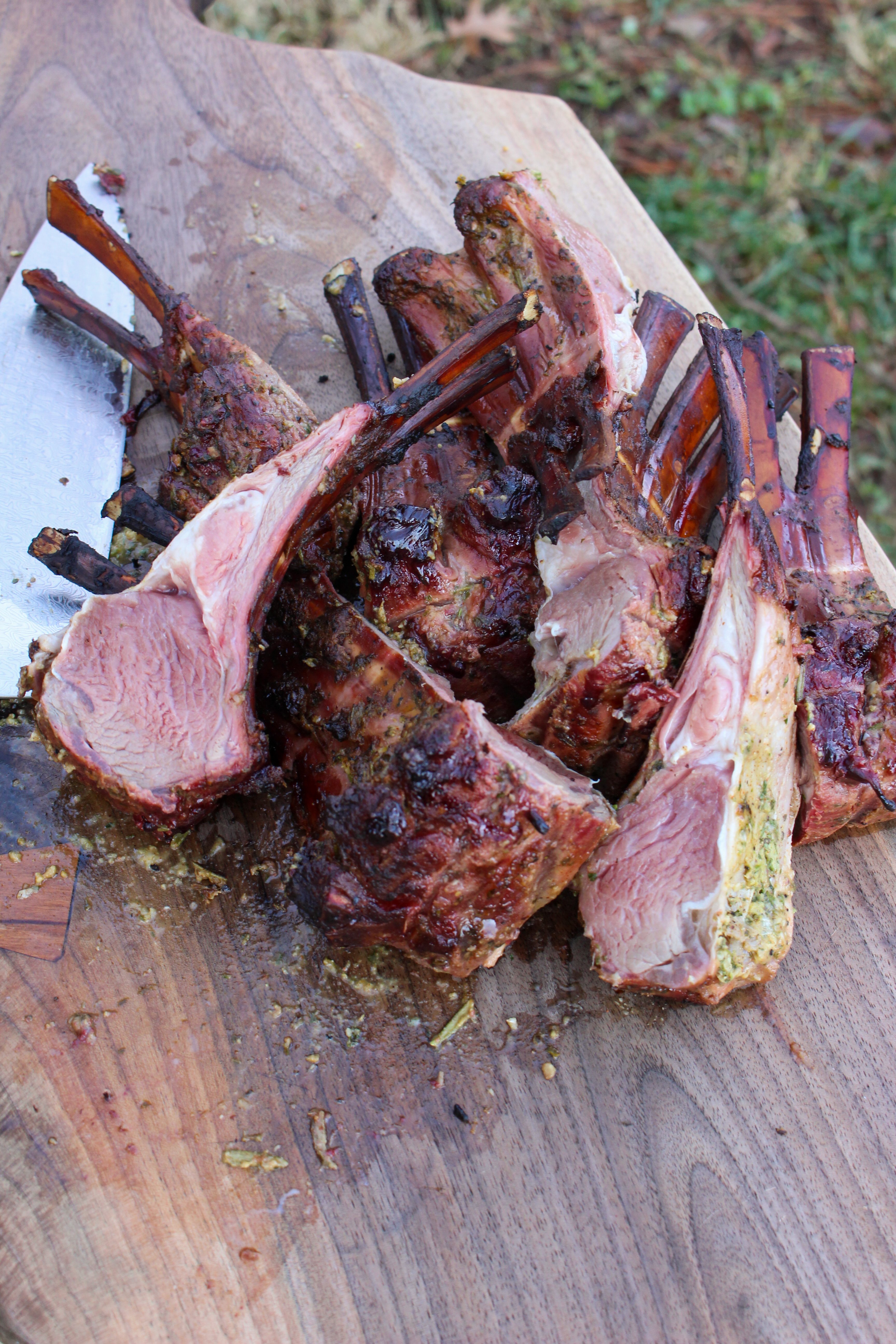 Smoked Lamb Crown
There are not many recipes that are quite the stunner like this Smoked Lamb Crown. It is beautiful, intriguing and actually super easy to make.
Ingredients
Lamb:
2

Racks of Lamb

frenched

1

Onion

de-skinned
Herb Paste:
3

tbsp

of Dijon Mustard

2

tbsp

of White Wine Vinegar

2

tbsp

of Parsley

2

tsp

of Rosemary

2

tsp

of Oregano

8

Garlic Cloves

1

tbsp

of Sea Salt

1

tbsp

of Pepper

1

tsp

of Cayenne

1

Lemon

juiced

1

tbsp

of Canola Oil
Lemon Parsley Yogurt:
½

cup

of Plain Yogurt

2.5

tbsp

of Parsley

finely chopped

4

Garlic Cloves

minced

1

Lemon

juiced

1.5

tsp

of Sea Salt

1.5

tsp

of Black Pepper

1

tsp

of Cayenne

1

tsp

of Cumin
Instructions
Begin by laying one of your racks of lamb with the back of the bones facing your. Find the groove at the knuckle of the bone where you would traditionally slice the rack into single cuts. Make a cut in between each bone at that groove going only ½ inch deep. When the lamb is done being sliced, it should be able to bend easily because of the slices. Repeat this for both racks of lamb and then set aside.

In a blender, mix together the ingredients for the herb paste. Lather your racks of lamb in the herb paste thoroughly. Next, let's make the racks into a crown. Place the onion on the cutting boards or any other small round object. You don't have to do this, but it will help keep form better. Surround the object with the two racks of lamb so that the "sliced" side is facing outwards. Bring the racks of lamb next to each other so they are touching, and then tie them together using a trussing string. This can be done by tying the bones on top of the meat below. Once it is ready, lather any excess herb paste onto the meat and place the crown into the fridge for 15 minutes.

Preheat your grill for indirect cooking at a medium-low temperature around 300F. Add some wood chips or chunks into the grill for additional smoke flavor.

Add your lamb crown onto the grill and cook indirectly for 1-1.5 hours until it reaches around 135F internal for medium rare.

While the lamb cooks, mix together the lemon parsley yogurt sauce.

When done, pull the lamb off and rest for 5 minutes. Slice, serve with the yogurt and enjoy!