Pineapple Sriracha Shrimp Bowls for the perfect sweet, spicy tang we all know and love. My good friends at Oklahoma Joe just dropped a new grill, the Blackjack Kettle Charcoal Grill, which gave me the perfect opportunity to throw down on some shrimp bowls. I made a quick pineapple marinade for these shrimp and completed the meal with sriracha mayo and cilantro lime rice. Throw it all in a pineapple bowl for that extra wow factor.
Pineapple Sriracha Shrimp Bowls Preparation
There's nothing like a pineapple bowl to catch someone's attention. You know what they say, you eat with your eyes first, and these Pineapple Sriracha Shrimp Bowls came ready to play. I actually started this recipe by taking a whole pineapple and slicing down the middle from top to bottom. Next, I hollowed out each side of the pineapple to create the pineapple bowls. I did this process first because we'll use the pineapple from the inside of the bowls as part of our shrimp marinade, so make sure to save it.
Now that our pineapple bowls are ready, we can move to the shrimp marinade. I used large prawn shrimp for this recipe and tossed them in a bowl. It's important to note that I left the shells on the shrimp for this recipe. The shell will help retain moisture as the shrimp cook, and because we're marinating the shrimp we know that they'll still carry that delicious flavor all the way through the cooking process. I tossed each of the marinade ingredients into a large bowl along with the shrimp and then mixed it all together by hand. Then move the pineapple sriracha shrimp to the fridge and let them marinade for 15-20 minutes.


Pineapple Sriracha Shrimp Bowls Sidekick
While the shrimp marinade, let's prep the sriracha mayo and cilantro lime rice. The shrimp will cook fast, so it's nice to have these already done. For the sriracha mayo, simply mix all the ingredients together in a large bowl, and then transfer to a squeeze bottle. Set that in the fridge to chill until we're ready for it.
Next, cook the rice. While the rice was cooking, I went out and prepped the grill. I started up a few charcoal chimneys and dumped them into my Oklahoma Joe's Blackjack Kettle Charcoal Grill once the coals were bright orange in color. Close the lid to the smoker and let it preheat to a high heat (around 400F). As the smoker preheats, head back inside to finish out the rice. All you have to do is add some chopped cilantro lime juice and give it a mix. Now, set that aside and we'll move to the shrimp.


Pineapple Sriracha Shrimp Bowls for Dinner
Once the smoker is preheated, grab the shrimp from the fridge and let's get to cooking. I placed each of the shrimp on the grill and then closed the lid to the smoker. Since these are large prawn shrimp they'll need to cook for one and a half to two minutes per side. As time passes, flip the shrimp. Continue this process as needed until the shrimp are no longer translucent and the outside shells are bright orange/red in color. Now, pull them from the grill.
All that's left to do is put it all together. Grab the pineapple bowls from the fridge along with the sriracha mayo and rice. I started by placing a couple spoonfuls of rice on the top side of each pineapple bowl. Then stuff as much pineapple sriracha shrimp into the opposite side of those pineapple bowls. Top each bowl with a drizzle of sriracha mayo and wham! A dinner that tastes even better than it looks. Best enjoyed with friends and family. Cheers!
Print Recipe
Pineapple Sriracha Shrimp Bowls
Pineapple Sriracha Shrimp Bowls for the perfect sweet, spicy tang we all know and love. Pretty to look at, even better to devour!
Ingredients
Shrimp:
2

lbs

of Large Prawns

shell on & deveined
Marinade:
1/2

cup

of Soy Sauce

2

tbsp

of Pineapple

puréed

1.5

tbsp

of White Wine Vinegar

1.5

tbsp

of Sriracha Sauce

1

tbsp

of Black Garlic Sauce or Minced Garlic

1

tbsp

of Garlic Chili Paste

1.5

tsp

of Ginger Paste

1.5

tsp

of Sesame Seed Oil
Sriracha Mayo:
1/2

cup

of Mayonnaise

1.5

tbsp

of Sriracha

1

Lime

juiced
Cilantro Lime Rice:
1-2

cups

of Cooked White Rice

2

tbsp

of Cilantro

chopped

2-3

Limes

juiced
Pineapple Bowl:
2

Pineapples

cut in half and carved out into a bowl

Sesame Seeds

for garnish

Chopped Cilantro

for garnish
Instructions
Add the shrimp to a food safe bowl along with all ingredients for the marinade. Mix together thoroughly and set in the fridge for 15-20 minutes.

In a bowl, mix together all the ingredients for the sriracha mayonnaise. Set in the fridge until ready to use. Add to another bowl the cilantro rice ingredients and mix. Set aside until ready to use.

Preheat your Oklahoma Joe's Blackjack Kettle Charcoal Grill to high heat (about 400F).

Take your shrimp out of the marinade and discard excess marinade. Add the shrimp to the grill to cook for 2 minutes a side. Once the shrimp are nicely charred and no longer translucent, pull off and set aside.

Begin building your meal with the carved out pineapple as the bowl. Add a healthy scoop of rice to each bowl along with 5-7 shrimp. Garnish with the sriracha mayonnaise, chopped cilantro and sesame seeds. Serve and enjoy!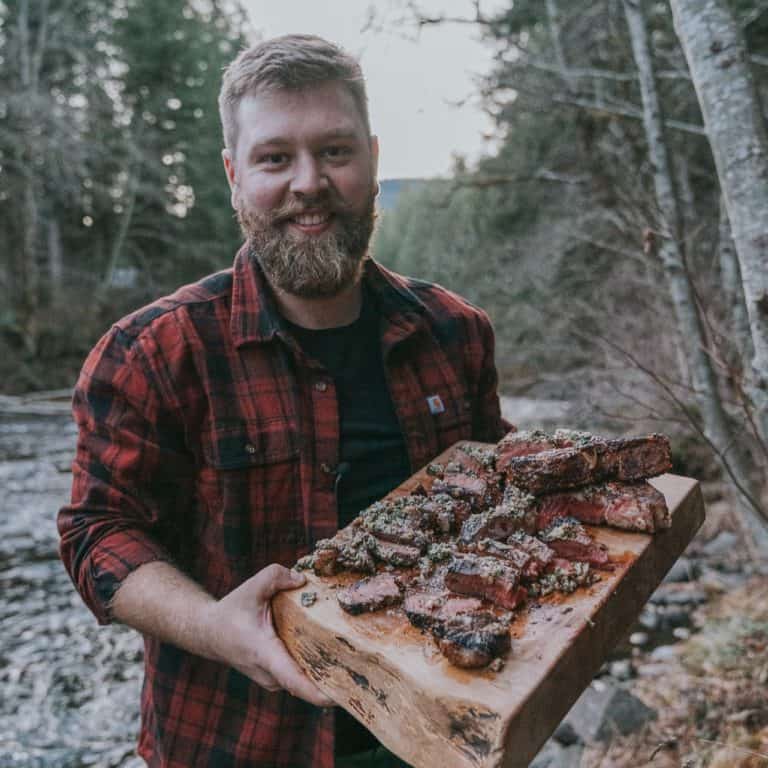 Derek is the driving force behind Over the Fire Cooking. He started cooking with live fire in 2016 and decided to start a social media page so his friends and family could follow the journey. Fast forward to today and Over the Fire Cooking has spread across multiple platforms with millions now following Derek's fire cooking journey. He's a southern fellow who enjoys everything from classic BBQ to Central and South American inspired dishes. Whatever he's cooking up, it's guaranteed to be so freakin' delicious!