Ever wanted to cook directly on the coals? Most of the time people use steak for this! I decided to switch things up by using tomahawk pork chops. The idea is the same, but the flavors can be totally different. So what are tomahawk pork chops though?
Post Sponsored by Cowboy Charcoal
What are Tomahawk Pork Chops?
Tomahawk pork chops are pork chops with the bone still on! They are delicious and full of flavor. They are also perfect for cooking on the coals because they can withstand the heat and create an amazing crust. Overall, it is a fun switch up to normal cooking on coals.
Have you ever cooked on the coals?
If not then that is fine! I have created a couple of tips that will help you when cooking on the coals for these tomahawk pork chops:
Firstly, pork is a bit tougher than steak so you must be careful to watch the meat constantly in order for it to cook properly.Once the pork is on the coals, then it is show time! Just be warned that flare ups may occur, so be ready to move the tomahawk pork chops around in case.
Secondly, you must make sure the charcoals are white hot when you put the meat on! This is important because it makes sure that nothing sticks to the crust & that everything is clean. Lastly, make sure you are using a natural lump charcoal like Cowboy Charcoal. Natural lump charcoal is best because it avoids using chemicals that some briquettes tend to have. These guys are the ideal charcoal to cook on top of!
If you have any more questions about cooking on the coals for these tomahawk pork chops recipe, then read my how-to guide before cooking!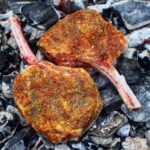 Tomahawk Pork Chops
Deliciously good tomahawk pork chops cooked right on the coals with Cowboy Charcoal!
Ingredients
2

tomahawk pork chops

1

tbsp

of mustard

1

tbsp

of garlic powder

1

tbsp

of onion powder

1

tbsp

of paprika

1

tbsp

of black pepper

1

tbsp

of sea salt
Instructions
When the pork chops are at room temperature, lather in mustard to help the other spices stick. Season the pork chops additionally with all the spices above. (Optional) Add some tin foil to the bone of the meat if you do not want it to burn.

Use some Cowboy Hardwood Lump Charcoal to light fire and let burn for 10-15 minutes. Once charcoal is white hot, disperse over grill evenly for direct grilling.

Place pork chops on top and let cook for 10 min per side or until internal temperature is 170F. Once cooked, dust it off and place on a cutting board to rest for 2 minutes.

Serve & enjoy!
Recipe Notes
Equipment Needed: Cowboy Charcoal, tongs, cutting board & knife.
This article does contain affiliate links to products that we personally use and support. Purchasing an affiliate product does make us a small commission at no cost to you. This helps us continue creating for our website. All words and opinions are our own, and we appreciate your support!