Crab Stuffed Lobster Tail is surf, surf and more surf! Today, I've got a lobster tail, stuffed with crab and "garnished" with shrimp. Is this the triple threat of all seafood dishes? Yes, I believe it is!
I prepped and seasoned all three proteins before combining them and placing them on the smoker. It wasn't long until I was enjoying all my seafood favorites! Whether you are a seafood lover, or simply someone who can't decide what they want, this recipe is for you!
Crab Stuffed
We'll start this recipe with the crab because it's actually the piece that holds this Crab Stuffed Lobster Tail together… Literally. First, take your lump crab and place it in a large bowl. Then, add all the crab ingredients to the bowl and mix. I used a spoon to carefully mix everything together. You want the mixture to be consistent, but also don't want to overstir and break apart all the lump crab.
It's worth noting that I added a decent bit of panko crumbs to this mixture. This is my not so secret ingredient that will help hold the mixed crab together. It thickens the crab stuffing and also gives it a bit of texture that really enhances the entire dish.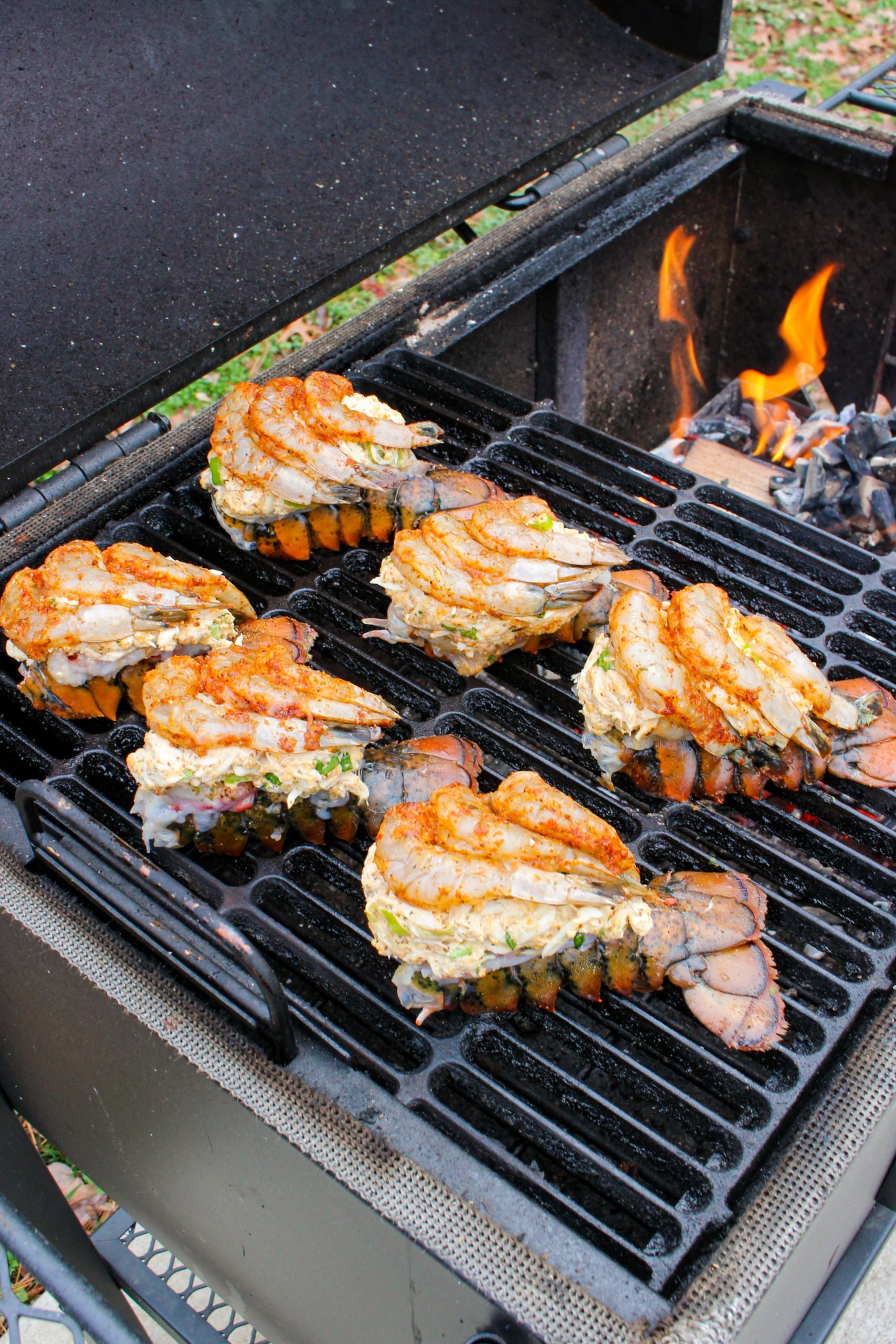 For more lobster recipes, check out Grilled Garlic Butter Lobster, Lobster Skewers with Bang Bang Sauce and Stuffed Cajun Lobster Mac & Cheese.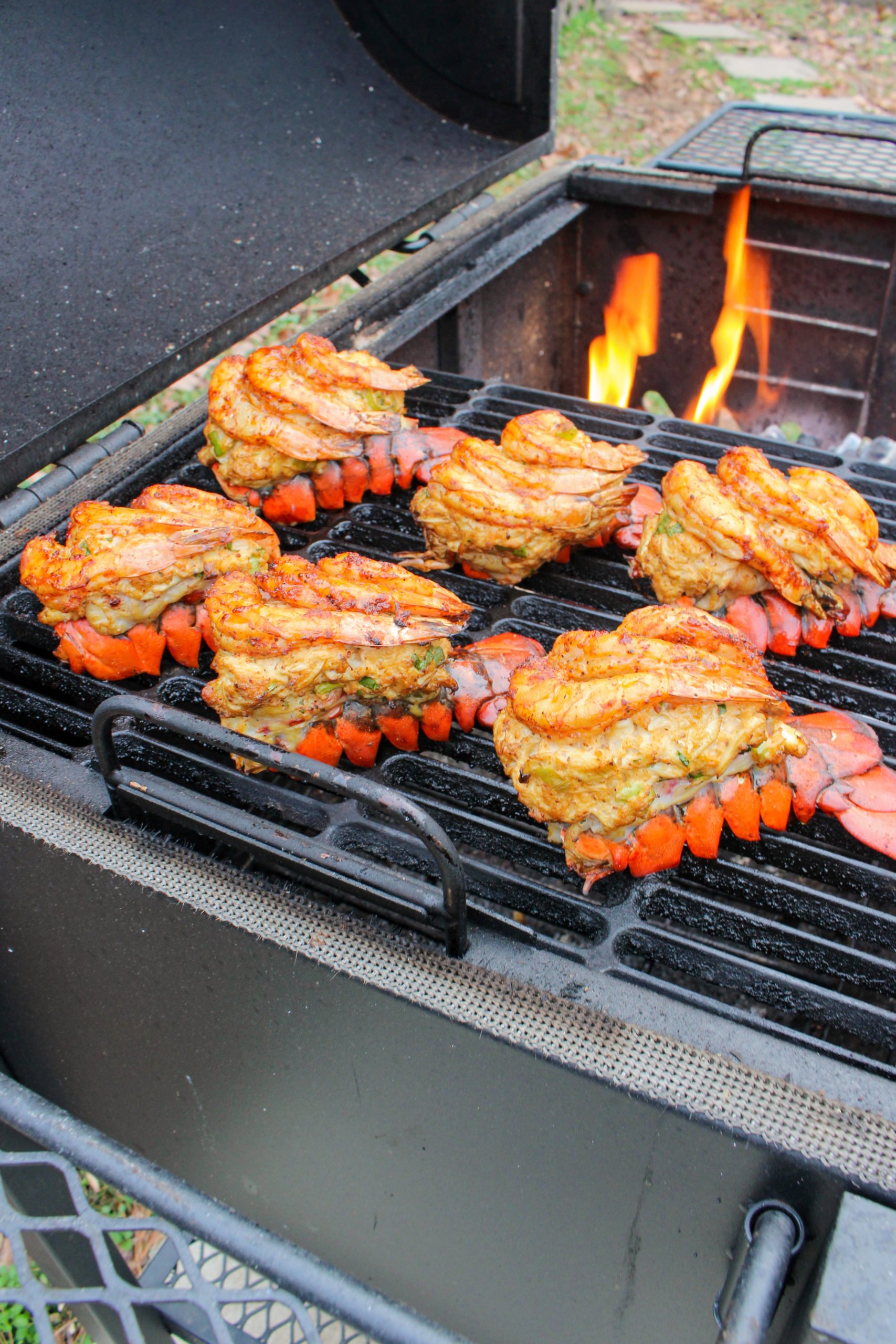 Shrimp Garnish
Up next for the Crab Stuffed Lobster Tail is the shrimp. Now, each lobster tail can only hold three shrimp. Yours might be able to hold more or less depending on the size of your lobster. However, I knew three was about my max. With that in mind, I decided to season them with something I knew would be distinctive and pack a flavor punch. So you know what I did?! I seasoned it with my Smoked Chipotle Mezcal seasoning!
A bit smokey, a bit citrusy and a bit peppery is the perfect fit for the shrimp on top. The flavor is unique enough to stand out on it's own, but also lends itself well to the other flavors happening throughout this Crab Stuffed Lobster Tail dish.
For more with my Smoked Chipotle Mezcal check out my Smoked Pulled Ham Sandwiches, Smoked Tequila Butter Shrimp and Grilled Lobster Tail Skewers.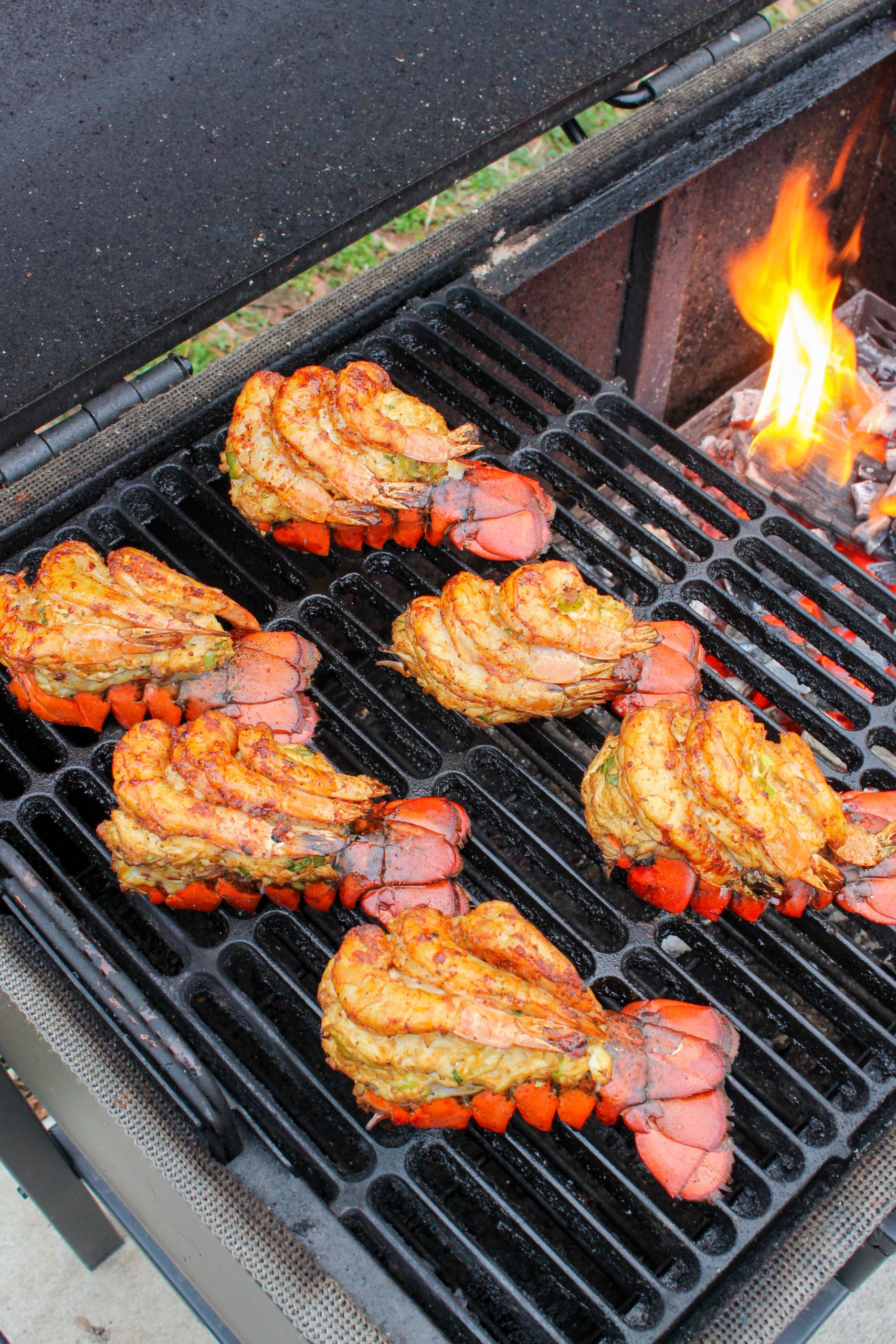 Stuffed Lobster
Last but definitely not least, the lobster. Now to say the lobster puts the team on its back for this Crab Stuffed Lobster Tail recipe is an understatement (and a bad dad joke, but oh well). Cut open each lobster tail and carefully pull the meat up and lay it open across the shell.
I always like to make small, shallow cuts across the top of my lobster tails before seasoning them. This creates a larger surface area for seasoning to latch onto. So, I made my shallow cuts and proceeded to season the lobster with my Chipotle Garlic seasoning. If you have this seasoning, you know how versatile and delicious it is. I knew that on the lobster alone it would be delicious, a smoky kind of spice with flairs of garlic. However, the thing about working with seasoning for this recipe is that it needs to be something that works on all three proteins, not just one. Chipotle Garlic was the obvious choice for my Crab Stuffed Lobster Tail.
For more with Chipotle Garlic, check out my Chipotle Garlic Butter Shrimp, Chipotle Garlic Chili Con Carne and Chipotle Garlic Buffalo Chicken Legs Recipe recipes!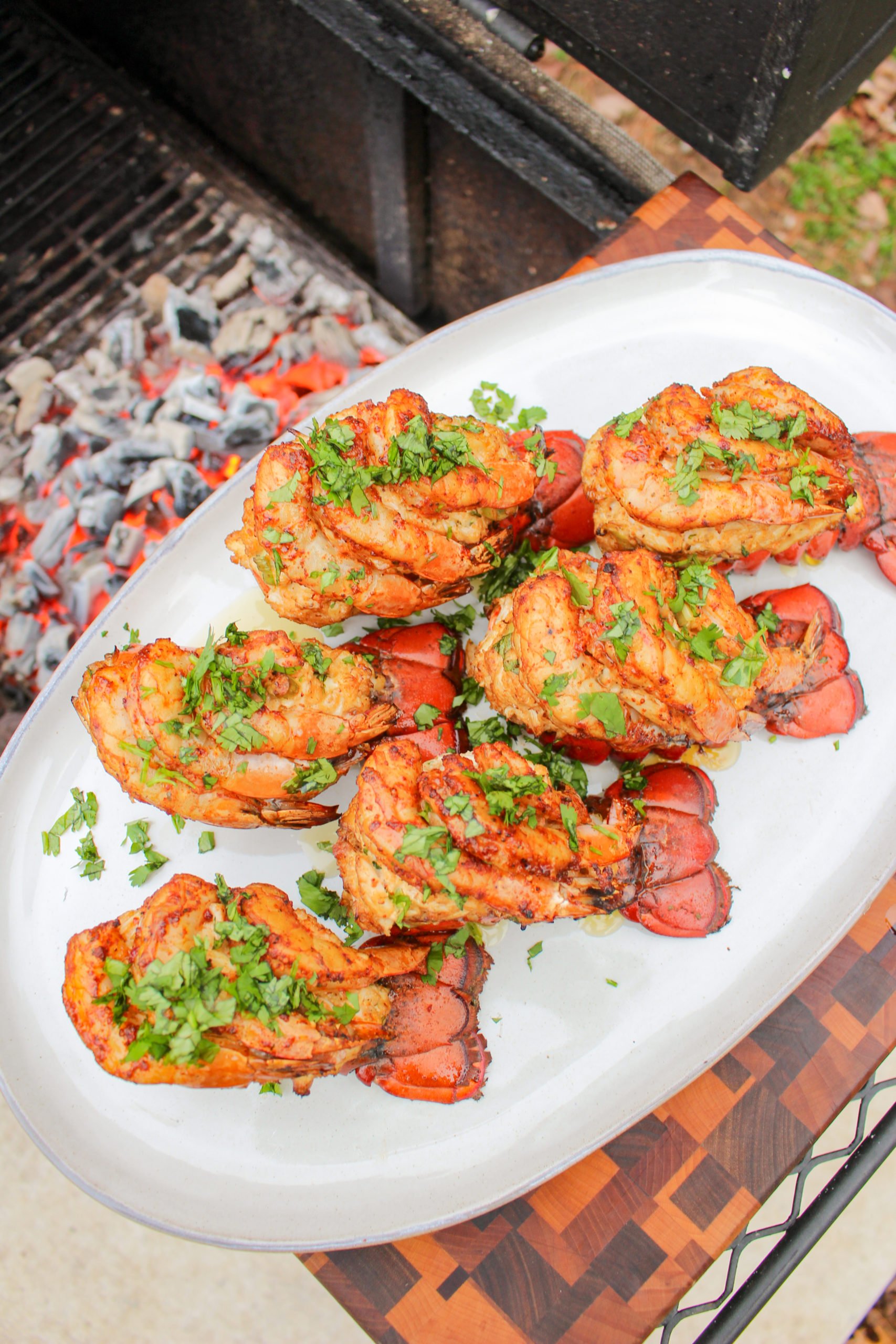 Crab Stuffed Lobster Tails – What's Left?
Well, all that's left to do now is put a big hunk of crab stuffing on top of the lobster tail and add your three shrimp to the top. Take the Crab Stuffed Lobster Tails out to the smoker and carefully place them on the grill. Once the lobster and shrimp meat is no longer translucent, pull them from the grill and serve! I served mine with a Garlic Butter that's super easy to make and is an awesome drizzle or dipping (or both) sauce for this epic dish. 
Best enjoyed with friends and family! Cheers!
For more delicious recipes, check out my cookbook Food X Fire!
Needing more spice in your life? My spice line can help with that. Check them out here.
Crab Stuffed Lobster Tail
Crab Stuffed Lobster Tail for the ultimate seafood dinner!
Ingredients
Crab Stuffing:
2

cups

Lump Crab

shredded

¾

cup

Mayonnaise

⅔

cup

Panko Crumbs

2.5

tbsp

Dijon Mustard

1

tbsp

Hot Sauce

1

tbsp

Chopped Scallions

1

tbsp

Chopped Cilantro

2

tsp

Seafood Seasoning
Garlic Butter:
½

cup

Clarified Butter

2

tbsp

Garlic Paste

1

tbsp

Chopped Scallions
Instructions
In a bowl, mix together all the ingredients for the crab stuffing until you have the consistency like crab cakes (all the ingredients are sticking together). If you want it thicker, then add more mayonnaise. If you want it crunchier, then add more panko crumbs. In another bowl, add your shrimp and season with smoked chipotle mezcal or your favorite seafood seasoning. Set both the crab stuffing and shrimp aside until ready to use.

Using kitchen shears, cut in the middle of the top of the lobster shell all the way down to the tail. Try to avoid cutting the meat. Once fully cut, use a spoon to go underneath the top of the shell to separate the meat from the shell. Carefully lift the meat up and out from the shell (while still attached at the base of the tail). Lay the meat on top of the shell. Using a knife, make shallow slits lengthwise down the meat. Repeat this for all the lobster tails.

Lather your lobster tails with oil and then season them with Chipotle Garlic seasoning or your favorite seafood seasoning. Next, take 2-3oz of the crab stuffing and mold it into a flat oval shape. Place that on top of a lobster tail and then add 2-3 shrimp on top of the crab. Secure using toothpicks if needed. Repeat this until all your lobster tails have crab and shrimp on top. Place the stuffed lobster tails onto a tray and place in the freezer for 10 minutes to firm.

Preheat your smoker to a medium-high temperature of 375F. Feel free to add wood chips or chunks for additional smoke flavor.

Once the smoker is ready, add the lobster tails on and cook indirectly for 15-20 minutes. The lobster tails are done when they turn from translucent to completely white (or the internal temperature is 145F).

About 10 minutes before the lobster tails are finished cooking, add your basting skillet to the smoker. Melt your clarified butter in the skillet then slowly integrate the rest of the Garlic Butter ingredients. Mix together thoroughly, then lightly glaze the outside of the lobster tails before they come off the smoker. Save some butter for dipping at the end!

When the lobster tails are done, pull them off and let them cool for 2 minutes. Baste with a little more butter and chopped cilantro. Serve and enjoy!
Nutrition
Calories:
515
kcal
|
Carbohydrates:
8
g
|
Protein:
36
g
|
Fat:
38
g
|
Saturated Fat:
13
g
|
Polyunsaturated Fat:
14
g
|
Monounsaturated Fat:
9
g
|
Trans Fat:
1
g
|
Cholesterol:
262
mg
|
Sodium:
1138
mg
|
Potassium:
480
mg
|
Fiber:
1
g
|
Sugar:
1
g
|
Vitamin A:
84
IU
|
Vitamin C:
8
mg
|
Calcium:
154
mg
|
Iron:
2
mg